As many indicators point to a widespread capitulation of the cryptocurrency market, attention is becoming focused on whether a bottom is about to form for Bitcoin in the near future. Glassnode offers another prediction.
As the market digests the extreme downside volatility we witnessed in June, the price of bitcoin continues to consolidate in the $20k range this week. At the end of the week, prices hit a weekly high of $22,230, following an opening low of $18,971.
Who Has More Power?
Even those of you who have been a Bitcoin holder for the longest time are feeling the pressure these days, with the market down over 75% from the all-time high. It's a week in which both long-term holders as well as miners are in the spotlight as the market tries to find a bottom despite persistent macroeconomic uncertainties that have plagued the market for a long time.
We currently have a similar structure in the current 2022 market compared to the November 2021 market ATH, which showed us a similar trend. A similar pattern of redistribution can be observed around the $40k floor, established in May-July 2021, which can be considered an initial redistribution floor.
It is expected that during May and June of this year, we will see prices trade down to a region of $20k, which is a significant trigger point for investors to capitulate, as well as for new buyers to purchase coins, thus becoming a node for the exchange of coins.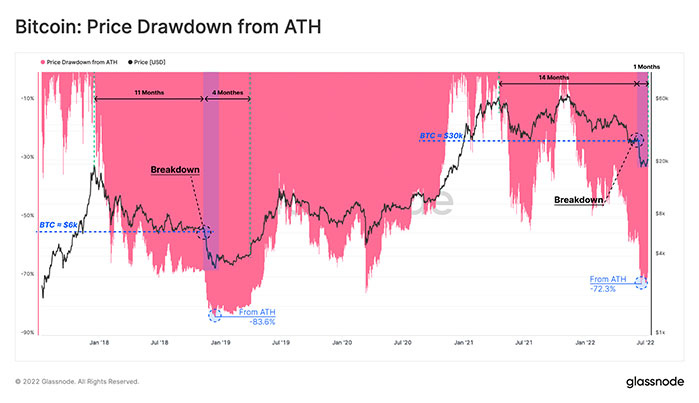 According to the report:
"The present market structure has many hallmarks of the later stage of a bear market, where the highest conviction cohorts, the long-term holders and the miners, are under remarkable pressure to surrender."
A majority of the supply at a loss is carried by a cohort of Long-Term Holders, representing 44.7% of the total supply at a loss. Although this bear cycle is less severe than previous ones, this level of severity is still lower than in previous bear cycles.
As a tool to map the recovery of the markets, we have also introduced a new indicator that tracks the level of activity of small and large entities in both domestic and foreign markets. The market has entered the bear market at this point but has not formed a confident bottom as of yet, which suggests that the market still has a lot of work to do before a bottom can be formed.
I would say that the fingerprints of widespread capitulation and extreme financial stress are clearly visible in the overall picture. The market, however, may still be able to establish a resilient bottom if investors are able to endure the pain of time (duration) as well as potentially further downside risk due to a combination of both.