Acala is the latest blockchain platform to partner with Chainlink. The stablecoin and staking liquidity platform wants to use Chainlink's solutions to grow DeFi inside Polkadot's shared protocol.
"Decentralized stablecoin and staking liquidity platform @AcalaNetwork will use Chainlink to supply the real-time price of collateralized assets such as #BTC, #ETH and #DOT on blockchains connected to the @polkadotnetwork," tweeted Chainlink.
New Opportunity for DeFi on Polkadot
Oracles are the solutions for platforms that work with off-chain and on-chain data like Acala. Acala needs oracle to know the exact price of collaterals like BTC, ETH, and DOT for Acala dollar (aUSD) stablecoin loans. Acala has implemented a proprietary oracle that has some features as multiple data feeds, security structure, and decentralization of oracle providers over time.
Even though Acala now uses its own oracle solution, the team believes that their infrastructure can't solve all the challenges of stablecoins. So they decided to partner with Chainlink that nowadays is considered as the leading oracle provider for blockchain projects. The first step will be integrating Chainlink with a Substrate-based blockchain. And after that, Acala Network will incorporate the new solution, too.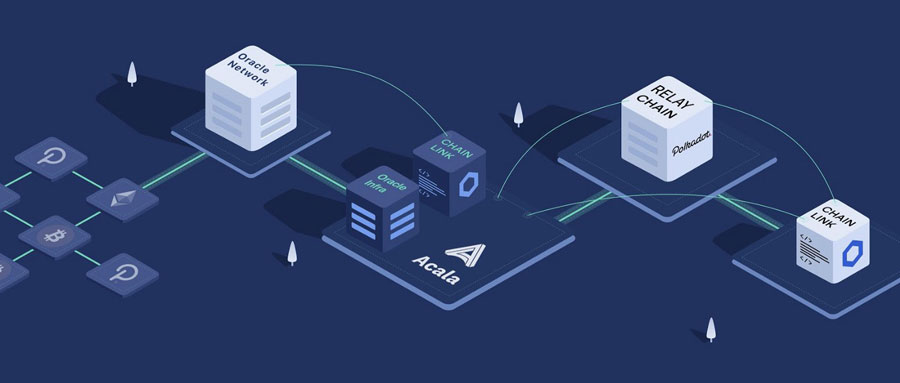 Acala believes in the features and benefits of Chainlink's decentralized oracle solution.
"We are excited to work with Chainlink, the most advanced and proven oracle solution across the blockchain landscape. The collaboration with Chainlink will help us further enhance the security and integrity of Acala's stablecoin protocol via its secure oracle mechanism, high-quality data, and provably reliable node operators," said Ruitao Su, Co-Founder of Acala.
Polkadot is a protocol aimed at connecting blockchain networks and enabling them to operate together. Acala's stablecoin protocol, and tokenized staking liquidity protocol, are the essential parts of Defi apps inside Polkadot.
Acala has many ways to integrate Chainlink's solution in Polkadot. One of them is using Chainlink as parachain that will make the oracle network a Substrate-based blockchain inside the Polkadot network. The other solution uses Chainlink's modules directly inside the Acala network. The team inside Acala can even use Chainlink's oracle framework to develop customized oracle solutions for the current infrastructure. The teams are currently assessing all the methods to find the best one.
---
If you found this article interesting, here you can find more Blockchain and cryptocurrency news