Ethereum has made a significant recovery this month as it blasted past its old record high to the current level of $1,534.45 after surging by more than 22% over the last week. The altcoin has been in a consolidation for the past several weeks and most of the addresses were in profit. Hence, investors jumped the bandwagon to take a bite from the ETH pie.
As a result, users ended up paying huge transaction fees in the month of January. As revealed by the on-chain crypto-analytic platform Glassnode, a staggering figure of $325 million in transaction fees was paid on Ethereum for the month which was nearly double the amount of its previous record high that was registered back in September 2020.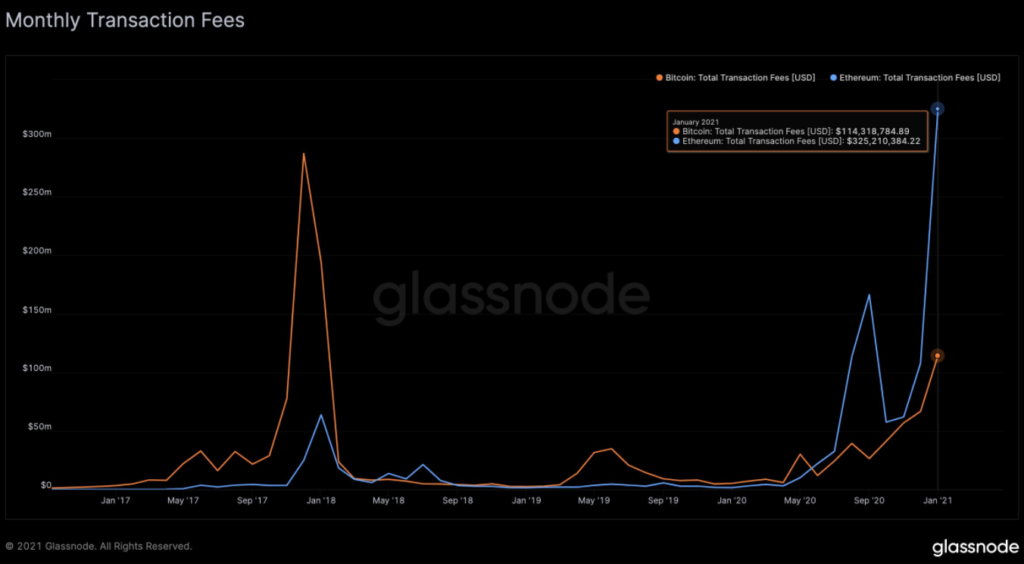 According to the above chart, it can be easily noted that Ethereum has long outpaced Bitcoin with respect to the transaction fee figures.
While the latest development was indeed concerning, it, however, depicted a high demand of the ETH network among market participants. Another instance that validated the argument was the world's largest asset manager, Grayscale Ethereum Trust recently reopened to investors and traders.
Besides, in the past year, activity on the network has exploded to levels never seen before. The rising number of decentralized finance [DeFi] projects cannot be avoided. More and more users started interacting with protocols built on top of Ethereum. This, in turn, has also further catalyzed the already rising demand.
Ethereum's current scaling solutions do not appear to be of much help. And even as alternative blockchains have emerged as a strong competition. ETH's monopoly is far from dying out. This is primarily due to the fact that most of the projects are built on top of it which gives users very little option.
Even then, blockchains such as Tron has managed to keep business afloat, especially during times of network congestion on Ethereum or high transaction fees. Just recently, the world's largest stablecoin Tether's [USDT] volume on Tron crossed that on Ethereum as low fees lured in small transactions.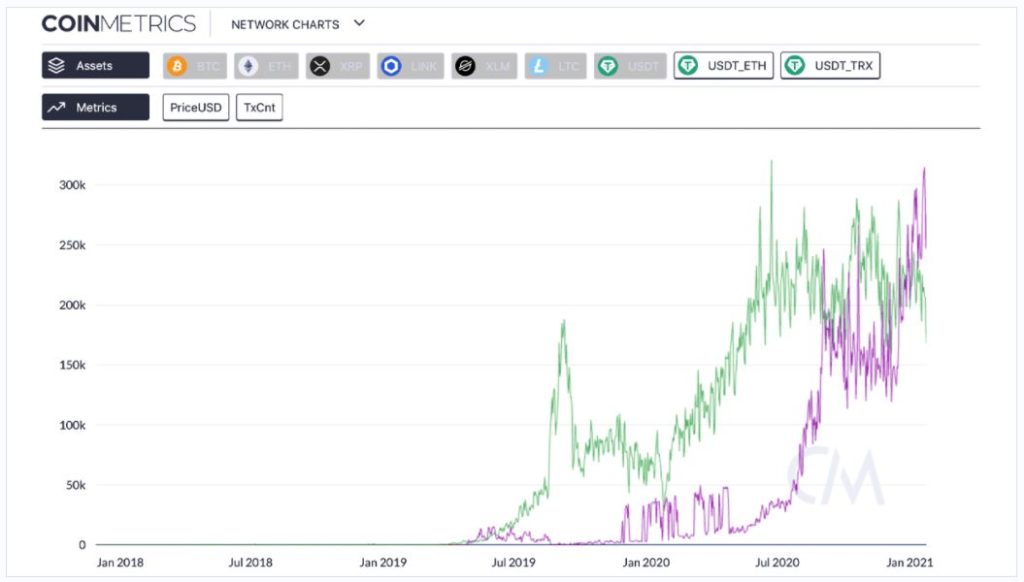 Notably, a great majority of USDT are generally minted using Ethereum's ERC20 standard. Over the recent years, these tokens have witnessed astonishing transaction counts especially during price rallies.
But there has been a reversal in this trend. At least in the last couple of months, USDT's transaction count originating from the Tron network has been outperforming its ERC20 rival, thanks to the increasing ETH network fees.

As of the 2nd of Feb, the transaction fee was found to be at a high of $16.11, according to the data compiled by YCharts. This coincided with the altcoin climbing its ATH as it eyed further upsides.
---
If you found this article interesting, here you can find more Ethereum News