XRP/USD prices are stable but higher meaning our last XRP price analysis is valid. Then, we had recommended traders to buy anywhere between 45 cents and 55 cents. Though our stops were hit after strong Oct 11 losses, risk off traders should buy at spot while conservatives can wait for thrusts above 55 cents. Thereafter, they can load on dips in lower time frames with first targets as per our trade plans.
Latest Ripple [XRP] News
A Twitter poll carried out by Wirex, a zero-fee platform where users can buy, sell and store cryptocurrencies, is in progress. There, they are asking twitter users which currency an athlete running from New York City to Las Vegas would prefer to make purchases with and the result is clear.
Three days remain but 73 percent of the users are settling for XRP while a mere 14 percent are Bitcoin backers. The result is profound and is a glimpse of what the general blockchain community sees when they begin selecting a cryptocurrency. Ripple, the software company that owns a majority of XRP has been advocating for the use of the coin.
They recently launched xRapid, a solution that leverages on XRP for cross border fund transfer. Use of XRP guarantees speed, efficiency and security because all transactions are executed on-chain. Though Ripple might be on-demand as per the survey, still accusations of centralization continue to dodge the company.
However, with a decentralization strategy in place and Ripple getting a mention from the World Trade Organization, Ripple and XRP fundamentals are bullish. It could also end up higher should the SEC give a favorable ruling XRP.
Besides, there is Xpring, an initiative that supports blockchain start ups that factor in XRP in one way or another, the use XRP will surely take root and could end up being a cryptocurrency of choice.
XRP/USD Price Analysis
Weekly Chart – Ripple price prediction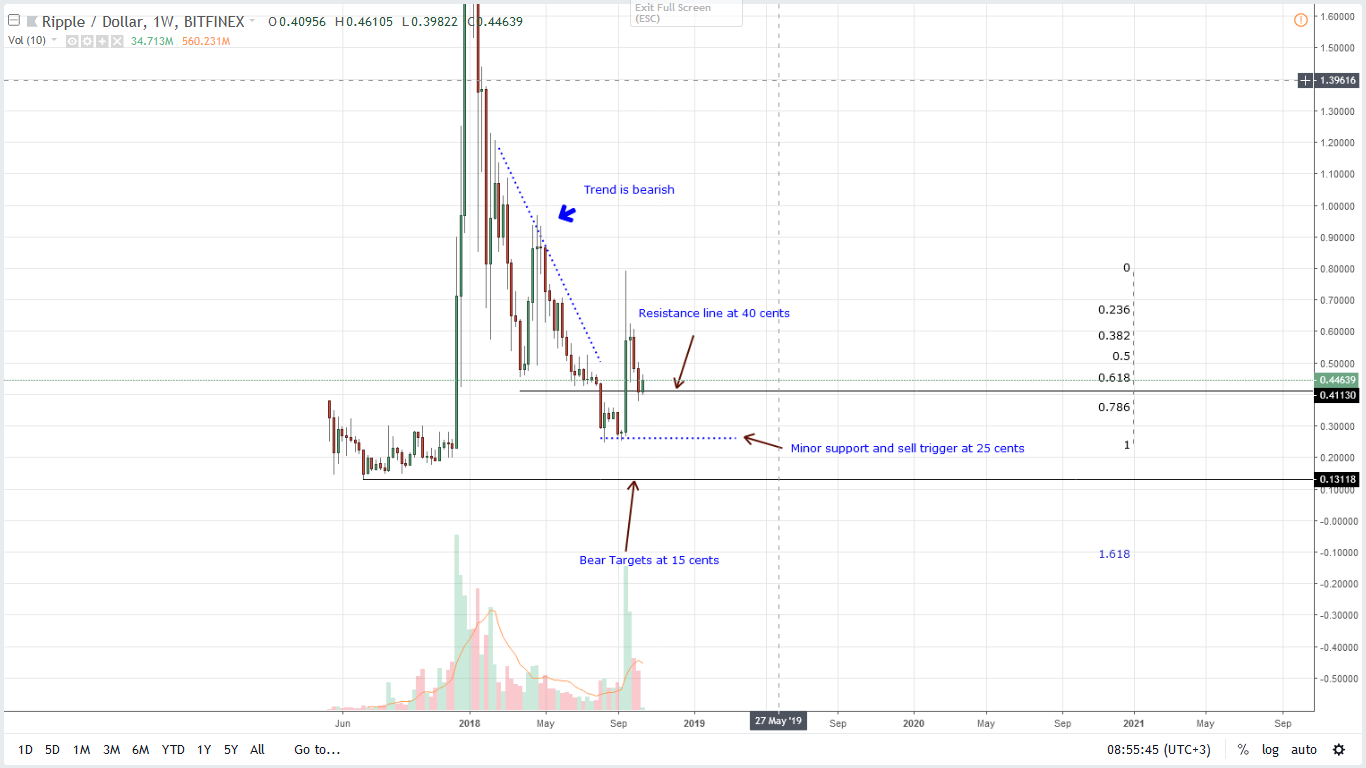 What's conspicuous in the last week's bar is not the deep losses but the long lower wick that signal support of XRP in lower time frames. In fact, this is printing inside our bullish engulfing bar of week ending Sep 23 meaning our last XRP trade plan is still valid.
Therefore, as laid out before, XRP stands to recover the last three weeks of lower lows because price is finding support at around our ideal reversal point inside the Fibonacci retracement levels anchored on Sep high lows.
Earlier, we had said the area between 45 cents and 55 cents were ideal price tags for traders looking to add on dips.
Now that prices are trending around the lower limit of our support zone, we suggest bulls to execute buys only when bulls have built enough momentum to thrust above 55 cents. But, as laid out before, any depreciation below 40 cents cancels this projection.
Daily Chart – Ripple price prediction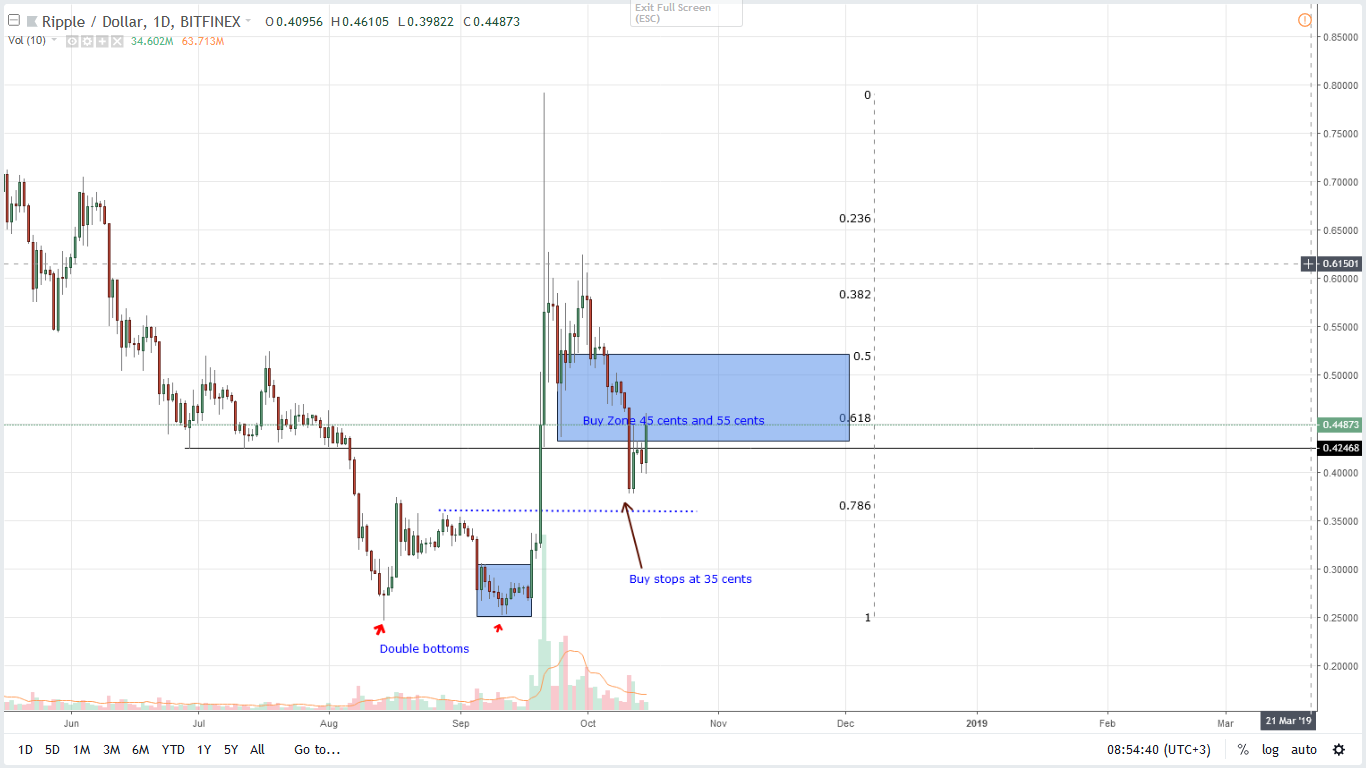 In the daily time frame, Oct 11 losses were thick and fast. However, Oct 12 recovery did boost XRP bulls thrusting back prices back to our ideal buy zone.
As mentioned before, we recommend risk-off traders to load up at spot prices with stops just below 35 cents. On the reverse side, risk-on traders should buy when prices are above 55 cents—the upper limit of our buy zone or the 38.2 percent Fibonacci retracement level.
First targets would be at 80 cents and later $1 if buyers keep up the momentum.
Disclaimer: Views and opinions expressed are those of the author and aren't investment advice. Trading of any form involves risk and so do your due diligence before making a trading decision.