From the NYDFS approving CoinBase application to offer custodial services, XRP United opening an XRP base exchange to news of institutional demand for XRP gleaned from recent XRP Market Report, all fingers point to imminent bulls. But, we are yet to see strong confirmation of late September sharp gains though prices are consolidating/accumulating in lower time frames. All things constant, we retain a bullish outlook.
Latest Ripple [XRP] News
Just recently, the New York Department of Financial Services (NYDFS) granted CoinBase, a major US cryptocurrency exchange, the rights to offer custodial services of six top cryptocurrencies with high liquidity and including XRP.
While this was received with optimism, it should be noted that the exchange doesn't offer support for the coin and neither does it allow their customers avenues to invest in or trade the coin at CoinBase or at their exchange CoinBase Pro.
Needless to say, this fueled speculation in the market that the exchange had plans of listing XRP now that they are ramping up adding more coins to their platform. A couple of days later, XRP United did launch.
The exchange will be dominated in XRP went live on Oct 23 and traders at the exchange can trade three pairs including BCH/XRP, BTC/XRP an ETH/XRP.
The exchange plan to add XMR/XRP and it is apparent that the exchange is driving towards making XRP global in line with Ripple's objective of ensuring banks, companies and individuals benefit from the speed, efficiency and cost cutting whenever they make use of XRP.
Remember, Arrington XRP capital domicile their hedge fund in XRP while the XRP community recently petitioned Binance to make XRP base. At the same time, the market should be buoyed to learn that there is institutional demand going by recent Q3 XRP Market Report. The report showed that the company sold $98.06 million worth of XRP in the last quarter up from $16.87 million registered in Q2.
XRP/USD Price Analysis
Weekly Chart – Ripple Price Analysis [XRP/USD]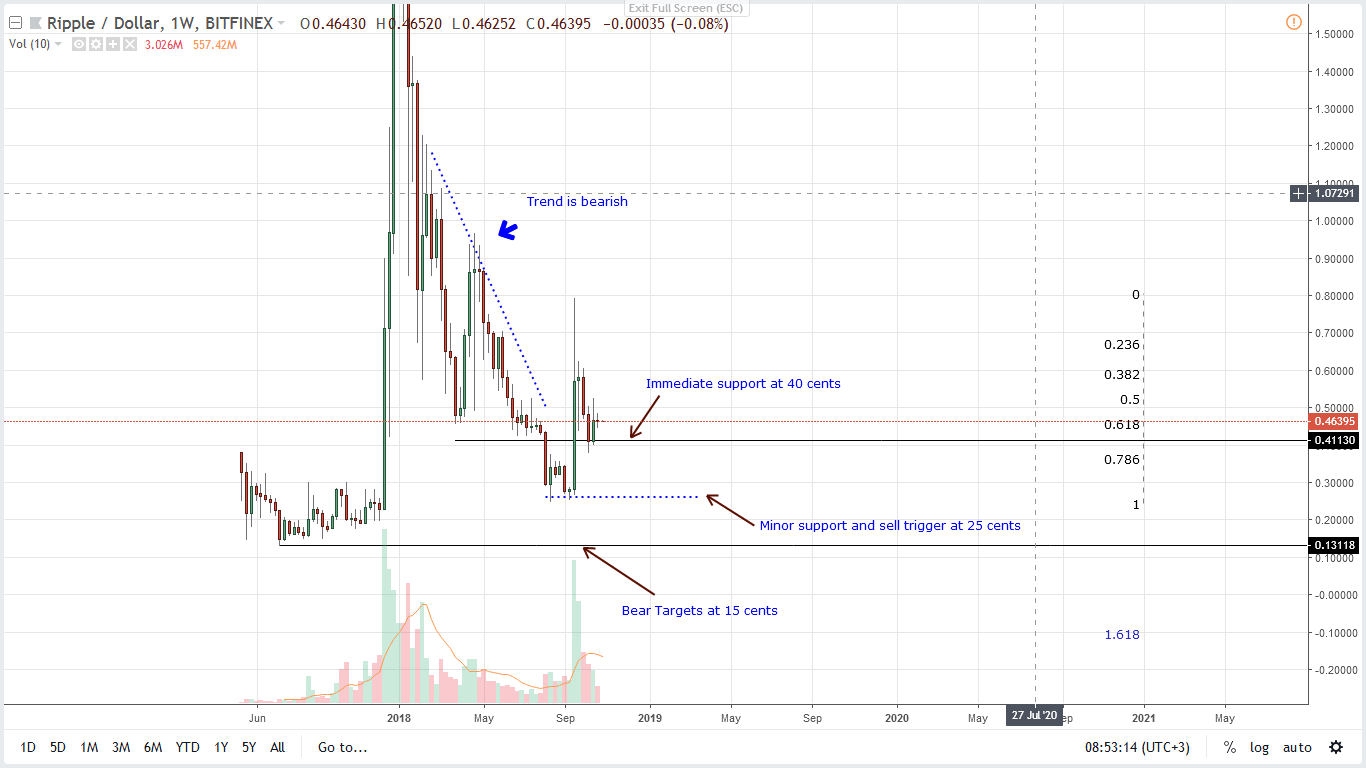 Two things we can extract out of last week's price movement: First, though prices were moving inside a tight trade range, XRP is still bullish and even complementing those of week ending Oct 21.
Secondly, prices are bouncing back from within our ideal reversal zone in line with our last XRP/USD price projection set in pace by week ending Sep 23. All things constant, we recommend aggressive set of traders to buy in lower time frames with first targets at 80 cents.
However, like we have emphasized in our last trade plan, the 50 percent Fibonacci retracement level is important and here, we only need to see gains above 55 cents for conservative traders to join in the fray. But, should there be a counter move that will see XRP prices decline below the 78.6 percent Fibonacci retracement level then we might end up seeing XRP drop to 25 cents and that would entail a 100 percent reversal of week ending Sep 23.
Daily Chart – Ripple Price Analysis [XRP/USD]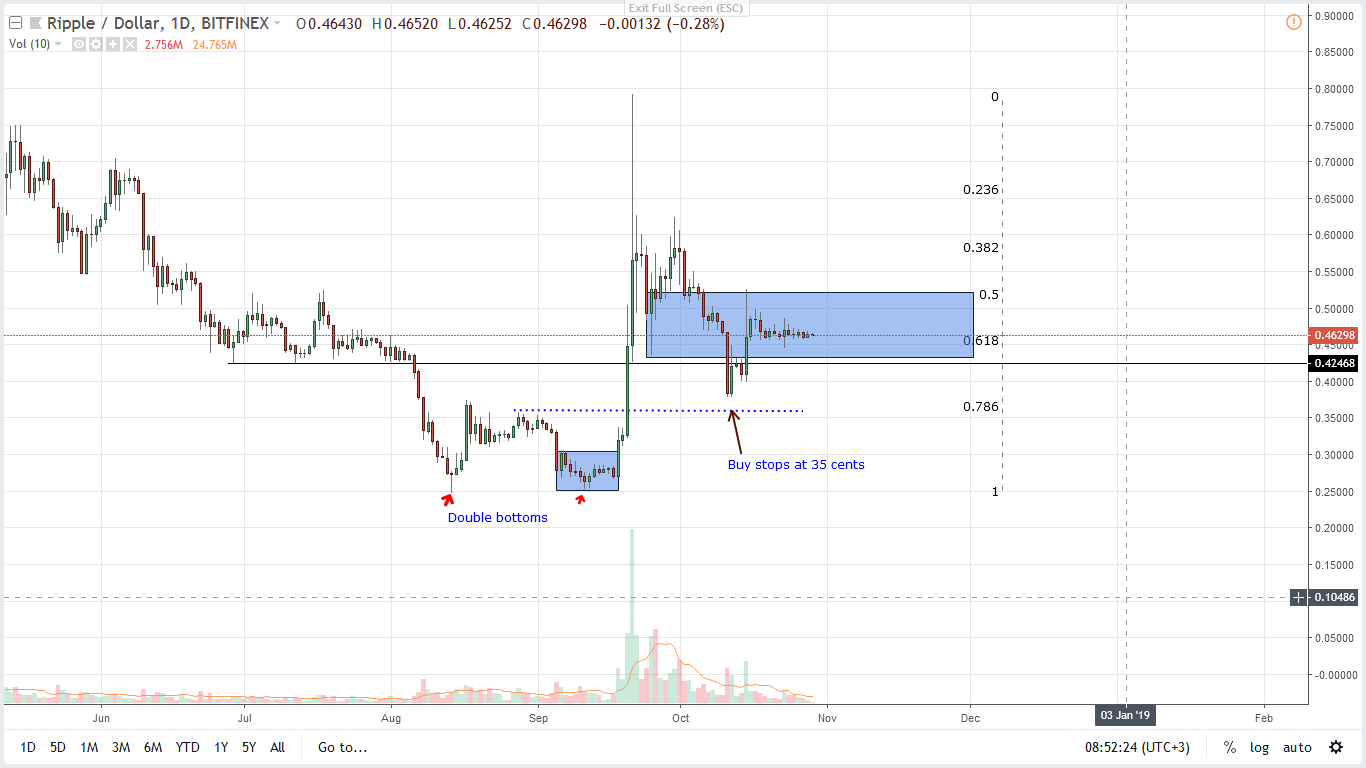 Back in the daily chart and the consolidation is clear. Here not only is it clear that bulls are in control because prices are still confined inside Oct 15 high low 14 days after the high-volume break above, but traders are in prime position to add to their longs as the accumulation pick up.
Historically, the longer the accumulation is, the stronger the break out and our expectation of bulls would only be cemented if there are rallies above Oct 15 highs at 55 cents. Fitting stops for aggressive traders is at 40 cents which is another important support previous resistance line.
Disclaimer: Views and opinions expressed are those of the author and aren't investment advice. Trading of any form involves risk and so do your due diligence before making a trading decision.