After periods of lower lows early last week, XRP bulls are back and up a meager one percent in the last week. However, prices are up three percent in the last day. According to Nigel Green of deVere Group, gains are inevitable thanks to the new-found momentum. As such, we place our first targets at 80 cents, $1 and ideally at $1.65.
Latest Ripple News
The demand for XRP is expanding and it's not hard not to see why. When businesses adopt XRP, it tags with it some advantages as speed, cost savings and most importantly efficiency.
Those are some of the reasons why Michael Arrington the founder of TechCrunch and Arrington XRP capital said influenced their decision to make XRP base. Though the friendship between Brad Garlinghouse and Mike might have contributed to their decision, that is overshadowed by the direct benefits Arrington XRP Capital draws from their decision.
Speed and ease of moving funds from one exchange to the other saw them move $50 million almost instantaneously paying 30 cents in the process.
Last week, his fund was subpoenaed for the second time by the SEC and because of that Mike tweeted that his firm
"will not invest in any further U.S. deals until the SEC clarifies token rules".
Several studies have shown the cryptocurrencies are sensitive to regulatory news. Even if they are cryptos are global and designed to thrive in a regulation free environment, regulators all over the world have doubled down their effort to weed out scam projects and to enforce laws governing security tokens.
While the US SEC classification of coin can have a huge impact, XRP investors are anxious to know what the SEC thinks of XRP. If they view it as a utility and not compliant with Howey Test specs, then XRP prices will surely surge towards last year's highs.
XRP Price Analysis
Ripple Weekly Chart – Price Prediction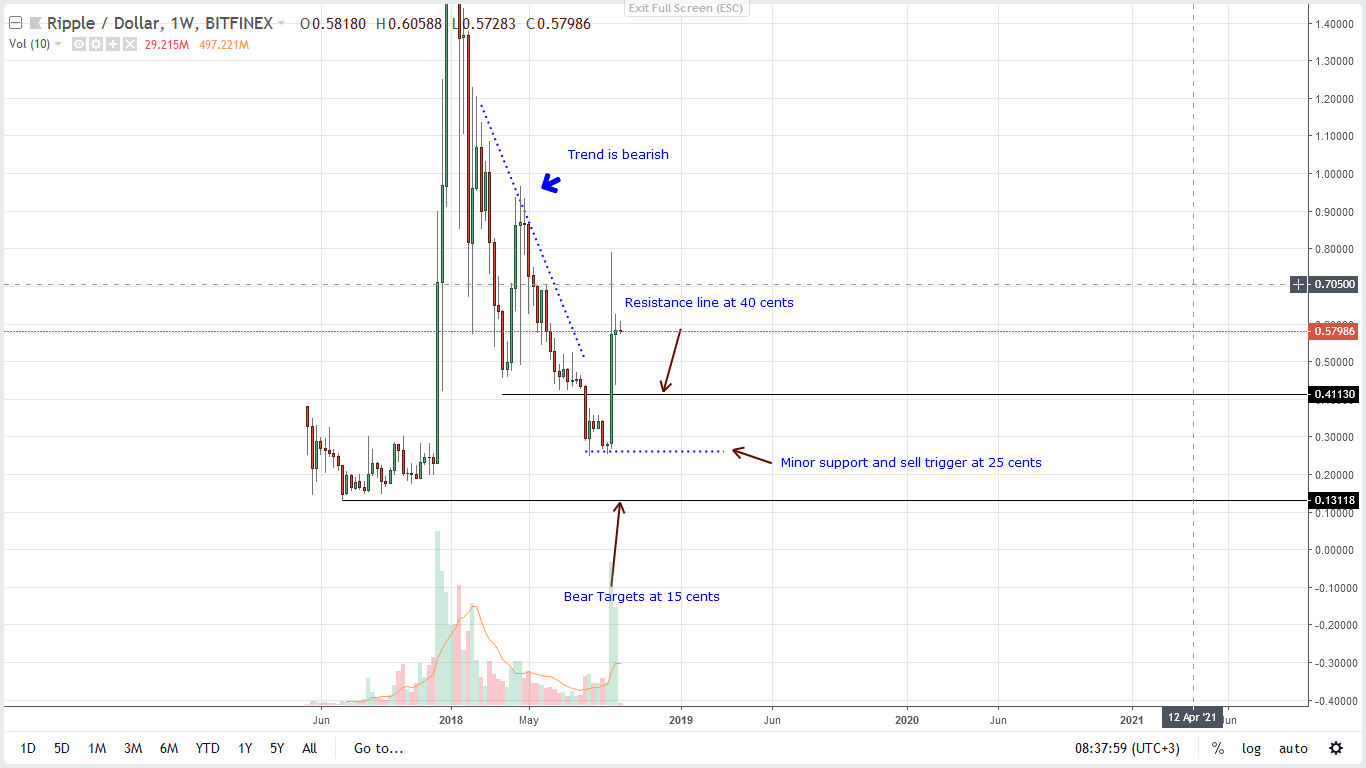 On a weekly basis, prices are stable and are up one percent above week ending Sep 30 close. All things constant, our last XRP price analysis holds true and as such, we recommend taking longs on every pull back in lower time frames.
Notice that even though there was a deep retracement from highs of 80 cents to around 50 cents key support levels, buyers corrected higher bouncing off key Fibonacci retracement levels in the process.
The result was a long lower wick signaling bull pressure and a bullish bar confirming week ending Sep 23 bulls. This week, we recommend buying on dips in lower time frames with first targets at 80 cents and later $1.
Ripple Daily Chart – Price Prediction
Two things are visible in the daily chart: First, prices are edging higher confirming buys of Sep 18 through 21. Secondly, bull momentum is building up in line with week ending Sep 23 bullish engulfing candlestick.
All in all, last week's XRP price analysis holds true and since bulls did reverse from key important Fibonacci level between 45 cents and 50 cents coinciding with the 38.2 percent and 61.8 percent levels, our first targets remain at 80 cents.
However, ideal bull targets as specified by Fibonacci extension rules are at $1.12 and later $1.65. As such, we recommend buying at spot with stops at the first support level at 55 cents.
Disclaimer: Views and opinions expressed are those of the author and aren't investment advice. Trading of any form involves risk and so do your due diligence before making a trading decision.