XRP has made some phenomenal strides this bull season which stalled after the mid-May crash. Following this month's renewed market push, the crypto asset is up by a strong 24% over the past week. Even as several top coins on the leaderboard signaled a weakening momentum, XRP kicked off the day on a bullish note and hit a 2-month high on the charts.
In fact, XRP was trading at $0.877 after a fresh surge of almost 9% over the past 24-hours. At the time of writing, the crypto-asset recorded a market cap of $40.36 billion and a 24-hour trading volume of $4.46 billion.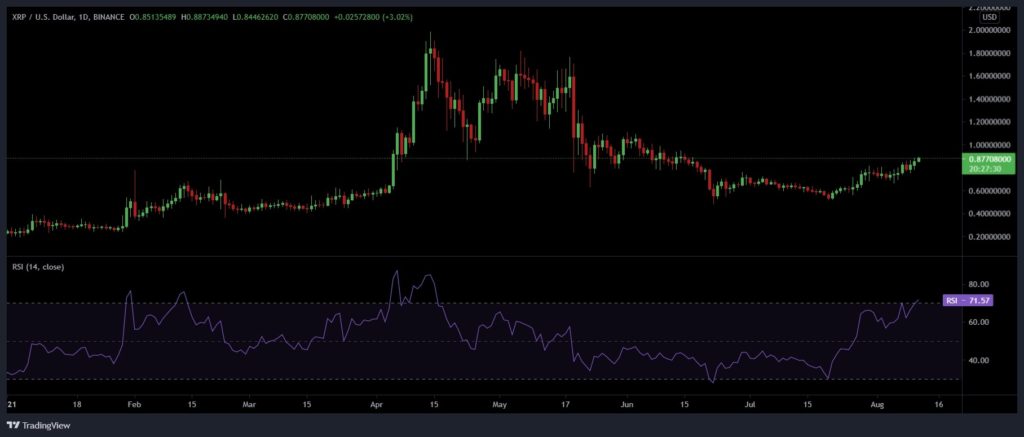 The latest price action comes at a time when the broader crypto market was found taking a breather. The above daily chart depicted a strong buying pressure among the market players as RSI soared above 70, a level that was last seen in the third week of April. XRP is yet to surpass the overbought condition which is indicative of further upside potential.
Moreover, the asset's 9% jump coincided with yet another interesting announcement by the blockchain company, Ripple.
RippleNet – GME Remittance Partnership
Ripple announced that Global Money Express Co. Ltd [GME Remittance], has joined RippleNet on the 10th of August. This is an important milestone as the company has been engaged with solidifying its position in South Korea for quite some time. GME, for instance, happens to be one of the largest non-bank remittance service providers in the country. Through Ripple's global financial network, GME Remittance has joined forces with Siam Commercial Bank [SCB], Thailand's largest bank in terms of market capital.
We're excited to partner with GME Remittance to accelerate and scale payments from South Korea into Thailand, building on the RippleNet momentum in APAC where transactions are growing 130% year-over-year. https://t.co/aDeceLNIZY

— Ripple (@Ripple) August 11, 2021
The partnership was established through SBI Ripple Asia which is essentially a joint venture between SBI Holdings and Ripple. The main objective behind it is to expedite and scale payments from South Korea into Thailand.
Following the connection, Subash Chandra Poudel, Director and COO at Global Money Express Co. Ltd revealed that the reason behind choosing the blockchain company was because RippleNet facilitated its launch into new countries with new partners within 1-2 weeks. The exec also explained,
"This has drastically reduced the time to market and provides us with an edge compared to our competitors. Since launching our partnership, our team has benefited from the robustness of RippleNet, where transactions are tracked at every step of the process, making it easy to send money across borders with speed and transparency."
The news comes at a time was Ripple recovering from waddling in increasing woes caused by its face-off with the United States SEC. In addition to several platforms suspending XRP, MoneyGram became the largest entity to part ways with the beleaguered company. Since then, Ripple has focused on strengthening its footprint in the Asia Pacific [APAC] region.
Thrilled to announce our partnership with GME Remittance, the largest payment provider in Korea, through our joint venture SBI Ripple Asia! Lots of #RippleNet momentum in APAC! https://t.co/7QkRmtrBuS

— Emi Yoshikawa (@emy_wng) August 11, 2021
---
If you found this article interesting, here you can find more Ripple news