Worldcore is an online money transfer service that recently announced plans to create a block-based online peer-to-peer lending platform. To this end, they have announced an ICO that is scheduled to begin on October 14, 2017.
Worldcore is a traditional FinTech business that has clearly seen the world's potential for cryptocurrencies and the blockchain. Worldcore started essentially as a money transfer business. By offering payment options, including a prepaid debit card, they are ready for this new step. Worldcore has also established a reputation for its verification systems. Instead of making use of traditional passwords, account holders at Worldcore can access all their accounts using simply facial and voice recognition. At the same time, the company's blockchain solution will eventually offer a payment gateway similar to Ripple.
Worldcore has planned a P2P loan platform that will be controlled by blockchain, with a cash transfer system that will allow for quick conversions from criptocurrencies to fiduciary money. Most interestingly, the platform will also include the possibility for users to transfer their cryptocoins to a Swiss bank.
The Worldcore platform will also allow payroll services, including employee salaries, affiliate payments and payments to partners or subcontractors, all within it. This massive payment platform will eventually provide massive payments to any payment card or bank account connected to the service.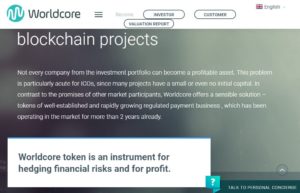 The payment accounts offered by Worldcore offer essentially all the features of traditional traditional bank accounts, including the incorporation of customers and the advanced security and functionality. Worldcore can really function as an alternative to traditional bank accounts. Some of the major advantages that Worldcore is setting to offer include no transaction limits, no monthly maintenance fee, and a fully online application process with same day approval.
The ICO Worldcore is scheduled to begin on October 14, 2017, with a total WRC supply of one billion tokens. The WRCs are the platform's native tokens, and will initially be offered at a price of $ 0.10. These tokens are backed by an intelligent contract, which distributes a portion of the annual income to the holders.
ICO pre-sale began on Oct. 2 for larger investors, with a minimum purchase of 500,000 tokens. The public ICO, however, has a very low minimum purchase level of only $ 10. Currently, the fundraising goal is $ 100 million, with funds raised during the ICO to be used for development and promote the blockchain project of the platform.
For more details you can check the project's white paper and its portal.