Solana is showing a promising situation in terms of attracting more projects, and it seems the battle with Ethereum continues strongly. There are many projects announcing every day about migration from Ethereum to the Solana network.
It seems the gas price and scalability features of the latter are attracting them significantly. Although Ethereum itself is in a good position because of various sectors like DeFi, NFT, and metaverse running on it, Solana has been successful in hosting more projects and may give Ethereum a run for the money.
One of the latest projects announcing a migration to Ethereum is Crowny. Crowny is a platform that connects users to their loved brands. It rewards users for engaging with their lived brands and is growing fast in terms of attracting users. According to the latest announcement on Twitter, the platform is set to migrate from Ethereum to Solana on December 8th. The real reason behind this migration is lower costs per transaction on Solana compared to Ethereum.
Besides, the scalability features let Crowny and Raydium grow faster and attract more users. According to the announcement, the Crowny team believes in Solana's various features:
"Solana blockchain offers extremely low costs per transaction and ensures limitless scalability for years to come. This cutting-edge architecture is all about speed. It's the fastest blockchain around. As hardware improves, so does the network."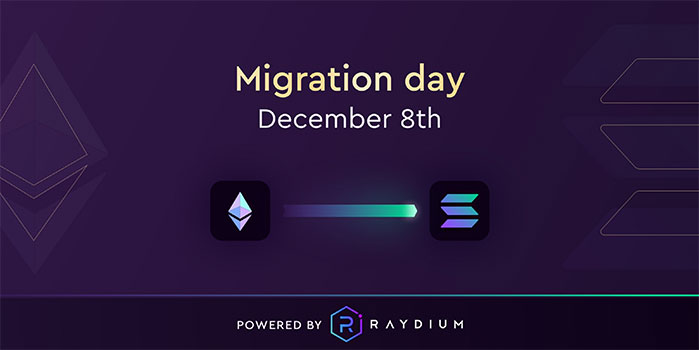 Another good news for the Solana community comes from the famous decentralized web browser Brave. Brave browser announced some days ago that it partners with Solana to integrate that blockchain into the browser and make it the default for dApp support. It's great news for Solana because Brave is currently one of the most famous browsers in the market. It can benefit developers on Solana who can provide their dApps to a bugger user-base in this scenario.
Brave has 42 million monthly active users and 1.3 million verified creators. The reason for choosing Solana is the same as Crowny. Lower transaction fees and supporting fast Web3 applications are great benefits of this blockchain. Brendan Eich, CEO, and co-founder of Brave said:
"With more and more users and creators requiring tools for fast and affordable access to the decentralized Web, this integration will seamlessly pave the way for the next billion crypto users to harness applications and tokens."
More users and projects on Solana means more opportunities for growth in this ecosystem. When the migrations from Ethereum to Solana grow, it shows great benefits in the competition that can even result in higher deployments and higher prices for the SOL token.