The latest data shows that Ethereum miners have had more revenue in 2021 than Bitcoin miners recording $17b revenue until now. There are many factors behind this increased revenue for miners in the Ethereum blockchain. Arcane Research published a detailed report about the revenue lately.
It tweets about the current stats of Ethereum mining revenue:
"#Bitcoin miners may get the most attention in the mining sector, but #Ethereum miners have earned the most in 2021. BTC miner revenue in 2021: $13.6b. ETH miner revenue in 2021: $17b."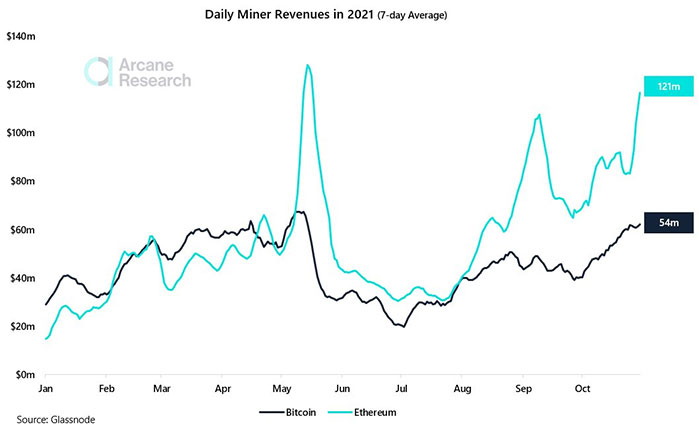 The report continues with reasons behind the latest surge. It points at the increased activity on the Ethereum blockchain as the main reason. When the activity on a blockchain rises, the need for the native token rises, too. It means a price surge for the native token, which is the main source of revenue for miners. In the current year, the percentage of the average fee of revenue for Ethereum miners has been a lot more than Bitcoin miners. The analysis shows a 37% average fees percentage for Ethereum miners compared to 7% for Bitcoin miners. 
The big difference between this revenue is mostly because of the increased interest for the Ethereum blockchain in 2021. The DeFi boom is still continuing with most of the famous projects running on Ethereum. Using these services comes with lots of gas fee payments that increase both the price of ETH tokens and also interest in Ethereum. Anyhow, it seems the movement is paying well for the miners.
Another reason for the increased revenue of Ethereum miners goes back to the nature of mining revenue in this blockchain. The revenue of miners in the Ethereum blockchain is very dependent on transaction fees. It's a lot more compared to Bitcoin blockchain. But it causes big volatility for the daily income of Ethereum miners. The report says that the daily revenue for ETH miners has been 47%, while this metric has been 28% for Bitcoin miners. 

Part of the report talks deeply about the revenue of these two kinds of miners in 2021. The average daily revenue for Bitcoin miners is $45 million compared to $56 million for Ethereum miners.
Another analysis shows that the amount of burned ETH in the last week has been more than issued ones. It means more revenue for ETH holders, too. And it's a warning sign for miners. Ethereum 2.0 will be launched soon, and maybe the PoW mining won't be rewarding for current miners. Although they find many alternatives for their current devices, we can expect considerable incidents in the market in the coming months.
---