Several upgrades on the Cosmos ecosystem drove its native token, ATOM's price. After a phenomenal 2021, ATOM may be looking to continue the winning streak.
Cosmos has emerged as a blockchain project that started on a major bullish note. The launch of the much-anticipated Gravity Bridge served as a major catalyst. Launched by the  Swiss non-profit – Interchain Foundation, Gravity Bridge is essentially an open and interoperable bridge between Ethereum and Cosmos blockchain.
For context, the main objective is to transfer ATOM, ETH, ERC-20, and tokens on the Cosmos Hub between Ethereum– and Cosmos-compatible chains. The bridge is a part of the Cosmos Hub's Theta upgrade that is slated to materialize by the end of March this year.
The launch of Evmos on the first week of December last year was yet another development that fueled the price of the token. For the uninitiated, Evmos happens to be an EVM-compatible protocol facilitating assets and projects that operate on the Ethereum ecosystem network to migrate over to the Cosmos network.
ATOM has been on an uptrend ever since December. However, the price may appear to be stabilizing a little below the previously established all-time high. Is it the end of the road for the asset or just a breather?
Has Cosmos [ATOM] topped out?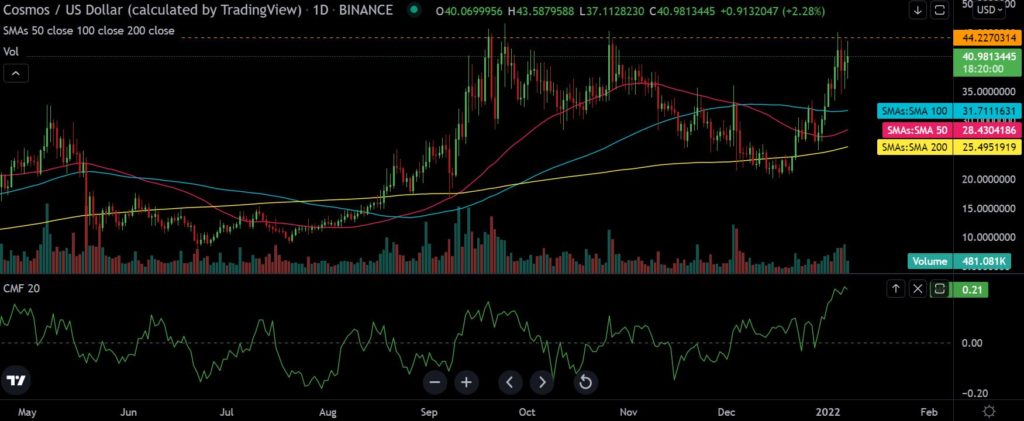 Even as the market turned red, Cosmos' [ATOM] was up by 10.80% over the past day and was exchanging hands at $41.34.
Its trading volume has spiked and it appears to be cushioning the uptrend. The simple moving averages are below the ATOM price candles. The 50 SMA [Pink] appeared to be heading for a bullish crossover with the 100 SMA [Blue] while the 200 SMA [Yellow] continued to lay low. Additionally, the Chaikin Money Flow [CMF] also mimicked the price action of the asset demonstrating capital inflow in the market.
 A quick breather before another leg up?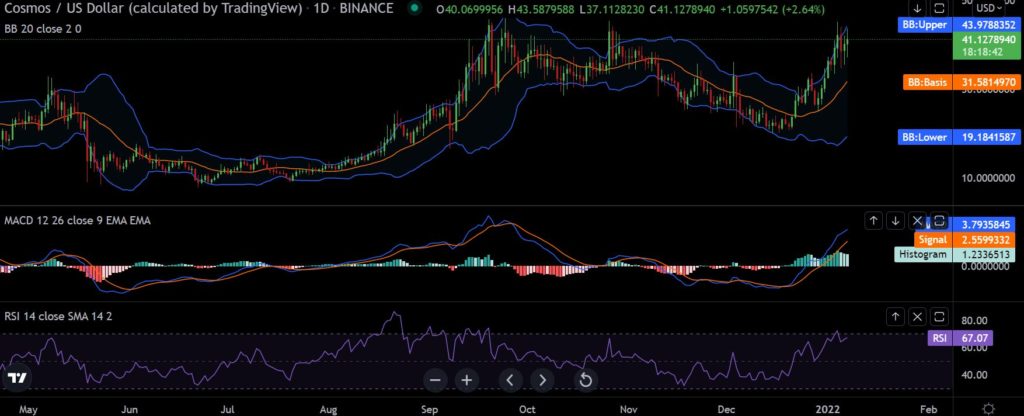 The diverging Bollinger Bands [BB] depicted increased volatility in the coin market. The MACD also aligned with the bulls while the daily Relative Strength Index [RSI] bounced off from the overbought zone as selling pressure took a serious hit.
ATOM has never been nearer its peak. The volatility remains high, so is the trading volume providing the perfect backing it needs. The technicals also remain highly bullish. The current slowdown may be a reaction to the wider market slump that dragged the collective valuation below $2 trillion.