In spite of another drop in Bitcoin price yesterday, other cryptocurrencies fared better than Bitcoin on a day when the overall market performed better than the day before. 
Although many coins lost ground, the trend was generally more positive, as they stayed below their lows despite not being hammered like they were on Monday when cryptocurrency lender Celsius froze all withdrawals and transfers and shook the market to its core.
Capital.com reports that Bitcoin prices were down about 7% in early evening trading in North America – a modest decline compared to Monday's substantial decline of 15%. As of this writing, the price of bitcoin has fallen to its lowest level since December 2020 and is trading for less than half of what it was in November 2021.
The global climate is believed to be responsible for this phenomenon, according to experts. There is a lot of unrest across the board, not only in the cryptocurrency world.
Many Reasons and Assumptions
The economic situation is threatening recession, inflation is soaring, interest rates are increasing, and living costs are rising rapidly. As for the stock markets, the US S&P 500 is now in a bear market (down 20% from its recent high), which is causing concern among many investors.
Consequently, even those who are investing big money tend to be less aggressive when it comes to investing. There are many ordinary investors – who are not rich hedge fund owners or corporate bodies but regular individuals – who have less to invest in in anything in the first place.
In these difficult economic times, many people are unwilling to take a risk on something as volatile and unpredictable as cryptocurrency investment.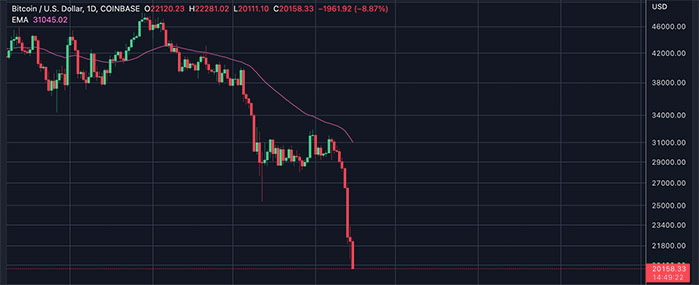 Bitcoin educator and evangelist Andreas Antonopoulos said:
"The current crash suggests a further crash is likely. While no one knows exactly where bitcoin's bottom [price] is, it's clear that investor interest in the cryptocurrency is waning. How low will it fall? This is the question facing bitcoin and investors who remain bullish on cryptocurrencies."
The bottom line is that those who still have Bitcoin are required to hold on to it, while others are required to begin buying it again in order to stabilize it. We have seen this happening before.
Peter Schiff shared a chart on Twitter showing what, according to him, is a very good chance that Bitcoin will test $5,000 in the future. Bitcoin, he explained, may trade higher. Of course, that's a given, but it is probably headed for a nosedive to be assessed, which is a long-term support level.
How can anyone long #Bitcoin look at this chart and not sell? Even if you think Bitcoin will ultimately trade higher, it's hard to image that it doesn't test long-term support at the lower line first. I think it will fail that test. Regardless, better to sell now and rebuy lower. pic.twitter.com/GlHa3JL9mv

— Peter Schiff (@PeterSchiff) June 15, 2022
While this is taking place, Galaxy Digital's chief executive officer Michael Novogratz believes that bitcoin's bottom may be at $20,000, although he also added that this could drop further.
The cryptocurrency community will tell you that now is the time to get involved since cryptocurrencies are cheap now – and you then have to watch as they turn the corner. And that has always been the case. There is no doubt that the compelling stories of those who have 'gotten rich quick' and the high-profile celebrity endorsements do attract new money into the industry.