Matrix AI Network (MAN) is a Blockchain 3.0 platform that wants to improve the transaction speed, security and other problems that its competitors have encountered, as well as revolutionize Smart Contracts by making them faster, simpler and safer.
To achieve these improvements MATRIX combines Blockchain and Artificial Intelligence (AI), creating a new system that allows the creation of Smart Contracts and automatic learning services.
Other Features of MATRIX AI Network:
Highly flexible Blockchain.
Adaptive self-optimization.
Multi-Chain Collaboration
Use of mining in App Big data based on AI.
More security.
Greater performance and speed.
Creating Smart Contracts with Ether is an obstacle for those who do not know their programming language, but thanks to MAN this will no longer be a problem since only the purpose and conditions will need to be "said" and MATRIX will take care of the rest.
MATRIX Smart Contrats also provide more than 350 potential uses that its rival Ether. Its Blockchain network is capable of making 1 million transactions per second, offers security through artificial intelligence and adapts to market needs through natural evolution – never by Hard-Fork.
The MATRIX AI Network work method is a hybrid between POW (Proof of Work) and POS (Proof of Stake).
Since the main Blockchain of MAN has not yet been completed, they are taking advantage of the Ethereum Square network to launch their Tokens. Once finalized, the holders of MAN will be able to change 1:1 in the new blockchain of MATRIX.
The Mainnet and Testnet of MATRIX AI Network will be launched in September 2018, the Maninet will be complete in April of 2019.
Daily use applications
MATRIX Personal life.
A new world through artificial intelligence in with which we can see in our smart watch the hours of sleep, calories consumed while walking or even to see in our refrigerator feeding tips through applications that are based on the state of our body.
MATRIX Smart transport.
Use its help to find the best route to work or improve your driving with speed control.
MATRIX Work assistant.
Dynamic work meetings without pen or paper. Thanks to the MATRIX work assistant, work meetings can be automatically recorded and sent to the attendees' mobile.
MATRIX Internet of things
Control the security of your home, turn on or off the lights and close the door. It even automatically asks for your favorite soda when entering a restaurant.
These are small examples of the many applications that MATRIX AI Network will bring to people's daily lives in the future.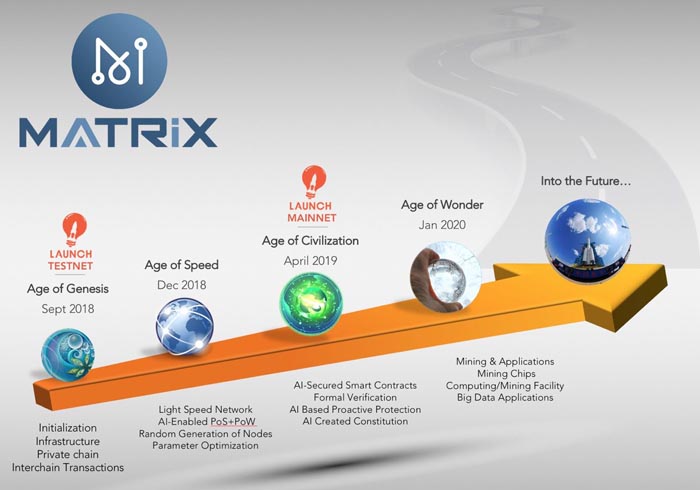 MATRIX AI Network Roadmap
Age of Genesis (Starts in September 2018)
Initialization
Infrastructure
Private Chain
Inter-Chain Transactions
Age of Speed (December 2018)
Light Speed Network
AI-allows PoS + PoW
Random generation of delegates nodes
Evolutionary parameter optimization
Age of Civilization (April 2019)
AI – secured intelligent contracts
Formal verification
AI – based proactive protection
AI – created autonomous constitution
Age of wonder (January 2020)
Mining and more Apps
Mining ICs
Computation / Ease of mining
Big data applications