Bitcoin has been moving sideways for weeks, but some altcoins gained value in the last two days that maybe show a new trend in the market. A new report from Santiment (@santimentfeed) shows that traders have turned their attention to other assets and are buying altcoins that have resulted in gains in the last few days. An important part of the data says that whales are accumulating some of the major altcoins. As the Bitcoin dominance is still below 50%, we can expect the trend to continue and even push the dominance down further.
Turning Attention to Altcoins
Cryptocurrency traders and hodlers have lots of choices in the market. There are thousands of coins and tokens available to trade, buy and sell and lots of centralized or decentralized exchanges available. It results in various trading and hodling strategies that affect the market. Although Bitcoin is the most famous asset in this market and many investors consider it as a store of value or even market index, experienced traders are always looking for alternatives to increase their earnings in different situations.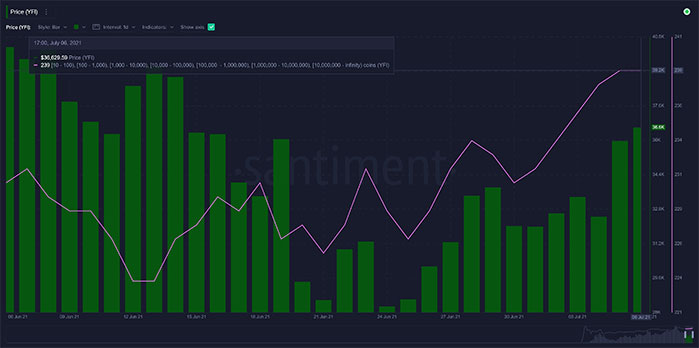 Bitcoin has been moving sideways in recent weeks and couldn't break the 40K threshold and move further. It has resulted in many traders turning their attention to altcoins. In simple terms, some traders have sold their Bitcoin and bought some altcoins with better opportunities. In this situation, some whales are even buying and holding major altcoins in the hope of more earnings. The latest data from Santiment shows that whales are buying some altcoins more than others. According to the tweet:
"#Altcoins have continued to make up for lost time as # Bitcoin's flat performance has turned traders' attention to other assets for the time being. Our latest insight discusses whale accumulation and dumping for $YFI, $UMA, $MKR, $MATIC, $ANT, and $KNC. "
Santiment published a detailed post about whales' activities in the altcoin section of the market, too. It shows detailed data about the number of whale addresses in various altcoins. While the number of addresses in some tokens like YFI, UMA, and MKR is increasing, some altcoins have experienced a reserve movement. The number of whale addresses in some major tokens like MATIC, ANT, and KNC has been decreasing in recent days. The overall data suggest that whales are looking for better coins to increase their earnings in the days that Bitcoin isn't showing to be a good bet in the cryptocurrency market.
---