In the financial services sector there has been an important blockchain activity supported mainly by promising ICOs, many of which we have reviewed in this space. From banking to investments, the proposals are still worthy options to consider in an investment portfolio in cryptocurrencies. In this sense, this opportunity we will talk about Vaultbank and its services.
The investment firm Vaultbank, whose headquarters are located in San Francisco, CA, has thought about the creation of tokens for investment within a vision of financial services that includes in addition to said tokens, an investment platform, and even a debit card. Using blockchain technology, this platform has already been launched by Vaultbank, and is called Vaultbank Exchange.
Vaultbank plans to tokenize securities, including mutual funds and hedge funds. The idea is to differentiate itself from other platforms by improving their offer. However, they believe that security tokens will be the greatest strength for investors. Quarterly dividends will be offered to the holders of these tokens, which in turn will be backed by guaranteed credit assets under the expert management of a veteran investment and portfolio management team.
Investor verification requirements are strict, which ensures transparency and prevents illicit transactions. They combine the know-your-customer and anti-money laundering (KYC / AML), the foreign tax compliance Act (FATCA) and other investor verification requirements, which constitutes an important qualitative filter.
One aspect that highlights the fundamental added value of the use of blockchain technology is the use of smart contracts. Blockchain allows fractionalization of tranches and the ability to perform transactions in an infinitesimal portion of a large participation in hedge funds. Thanks to this Vaultbank can offer considerably lower rates in transactions of a capital position, which could not be achieved in the conventional stock market.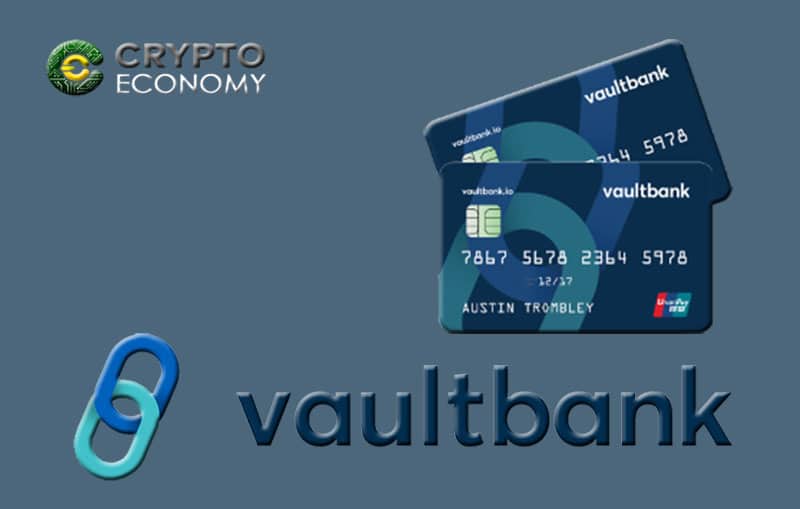 As for the return on investments, they will be transferred to investors through an appreciation in the Vaultbank token, which represents their share of the portfolio's performance in general, made up of credit portfolios backed by assets and credit deposits from the main international banks. The Investor Plan consists of leveraging the token portfolio to buy a portfolio of cash-yield loans, which will be equitably linked with each token and will produce an annualized assured return. In this idea the security of the investment is appreciated.
As for the Vaultbank debit card, since the Vaultbank tokens are backed by assets, as we explained, this means that linking the Vaultbank tokens to the debit card would mark for the first time that an asset-backed security could be used as an instrument of everyday purchases.
In terms of security Vaultbank allows users to authenticate three factors, as well as total control over their private keys.
The public sale of VB tokens began on February 17, 2017. Each token has the value of 1 USD. With the launch of the Vaultbank Exchange, even in beta, a concrete step of enormous importance has already taken place in the concretion of the platform, whose benefits will be a reference in the sector.
To learn more about this platform and its ICO, we recommend you visit its website and follow them at their Telegram channel.