As reported by an official press release from SIMBA Chain, the company that supplies blockchain technology to the US Air Force STRATFI program was awarded $30 million by the program. The investment for SIMBA Chain is to be used to develop blockchain applications for use by several government organizations.
Military Use Case or Supply Chain Management?
SIMBA Chain, a provider of blockchain solutions, announced a partnership with the United States Air Force (USAF), following up on many previous projects the company has completed for the USAF throughout the past few years.
A blockchain-based development platform, SIMBA Chain (short for Simple Blockchain Applications), was developed at the University of Notre Dame to bridge the gap and connect government agencies to Web3. A core element of this offering is SIMBA Blocks, which aims to make Web3 as accessible as possible to all users by abstracting the complexities of blockchain development.
USAF STRATFI is dedicated to identifying and driving the development of technologies that have the potential to ensure the dominance of the USAF in the future. There was a significant increase in the budget for the $30M blockchain initiative in comparison to previous blockchain initiatives and the project will focus mainly on the development and implementation of blockchain applications in supply chain management.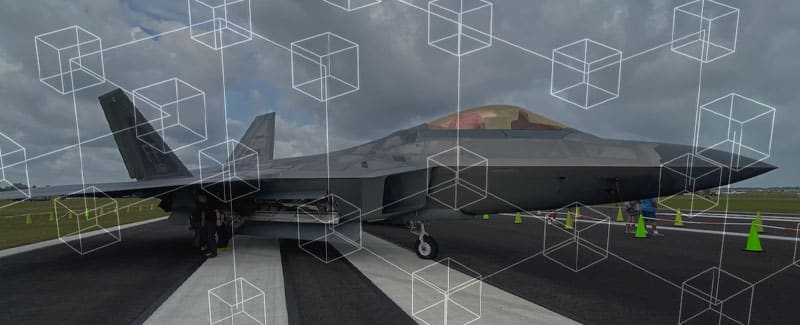 In addition, these programs are intended to be used by the Office of the Undersecretary of Defense for Research and Engineering, the U.S. Army, the U.S. Navy, and the Defense Logistics Agency as part of their research and development processes.
Stacy Betlej-Amodeo, SIMBA Chain's Vice President of Government Operations, elaborates on the new partnership by saying, " 
"Our new project for the USAF will pave the way to more efficient and comprehensive management of assets within the Department of Defense supply chain. SIMBA is thrilled to build upon our existing partnership with the DoD to scale blockchain technology across the enterprise."
The SIMBA Chain program has designed and built some blockchain applications in the past to enhance crucial USAF activities, such as tokenizing the organization's budget as a means of improving accounting processes, as well as tracking critical components that are vital to the organization. 
During STRATFI, the development of the SIMBA Blocks platform will be significantly accelerated, while at the same time, in-transit visibility will be delivered that supports the USAF's strategic missions.
Some years ago, it was hard to believe that government would use blockchain. Because many of them believed the technology is only used on Dark Web, for money laundering, and other criminal activities. Now, the blockchain industry is mature enough to offer many practical use cases even to military organizations.