Until mid-July 2018 you can take part in the token sale organized by Ubcoin, a blockchain platform that utilizes the model used by online marketplaces like Amazon, Etsy, and eBay to create the world's first truly efficient alternative to traditional crypto exchanges. Ubcoin users will be able to acquire cryptocurrency simply by selling real goods and to spend their crypto wealth by buying those goods, getting rid of fiat money from this chain. And all this without having to exchange fiat money to cryptocurrency. Basically this is a first of it's kind solution where people won't need fiat money as a start point to buy cryptocurrency for the first time.
All around the world, hundreds of millions of people are interested in cryptocurrencies and want to enter the world of crypto investment. But it's not so easy to do. Crypto mining requires certain equipment and technical expertise. Also the he existing fiat/crypto exchange methods are complex and not safe – not only a super complex registration procedure to pass, adding full KYC (when you want to use fiat money), but also 8 from 10 top world exchanges doesn't even have physical office address. It is quite ironic that the high level of sophistication of the financial sector and the widespread use of cutting-edge payment technologies notwithstanding, there's still no easy way to acquire cryptocurrencies — the epitome of modern-day hi-tech. There used to be only two methods for this — traditional crypto exchanges and services like Localbitcoins when you buy crypto from an unknown person on the web.
If you want to exchange euros or dollars to BTC or ETH through one of the numerous traditional crypto exchanges you are bound to face two main problems:
Very few traditional crypto exchanges have legal status, and even those platforms that have gone to the trouble of formally establishing themselves, they still can't provide any guarantees. Nobody and nothing regulates exchanges, and because of that their customers have no idea where their money is stored exactly and who to contact if something happens. And 'something' does happen quite regularly: exchanges get hacked and closed with users losing all their savings.
In order to buy any significant amount of cryptocurrency through a platform of that kind you'll have to undergo most thorough KYC check, that means you'll have to disclose your full personal details. Which, in essence, throws out the window the concept of user anonymity — one of the main advantages of decentralized technologies. And if you use one of the very few exchanges that allow users to make deposits to crypto wallets using credit cards, then banks and governmental regulatory bodies will also have a 'dossier' on you. And if your country decides to ban trading cryptocurrencies (like Japan has) then you may be facing a serious fine.
If you decide to use a platform similar to Localbitcoins — involving transactions between two private individuals — you'll face problems that relate to the fact that the more popular cryptocurrencies become the more scam- and fraud-ridden this market becomes. For instance, you are negotiating with another user of such platform: you want to buy a certain amount of BTC that is worth a certain amount of dollars. You transfer the money, and, sadly more often than not, your counterpart does not uphold their side of the bargain. Apart from that, it might turn out that your 'partner' had been receiving money from or sending them to, say, members of a terrorist group, which would automatically make you a person of interest to the authorities. And, of course, these transactions usually take place in public spaces which again robs you of your right to anonymity.
And then there are the problems of 23 million cryptocurrency owners who can't easily spend their money because of the restrictions imposed by governmental and financial organizations. You might have significant savings in BTC or ETH but you need an easy-to-use way of turning those crypto assets into real goods or services; otherwise you won't know what to do with them.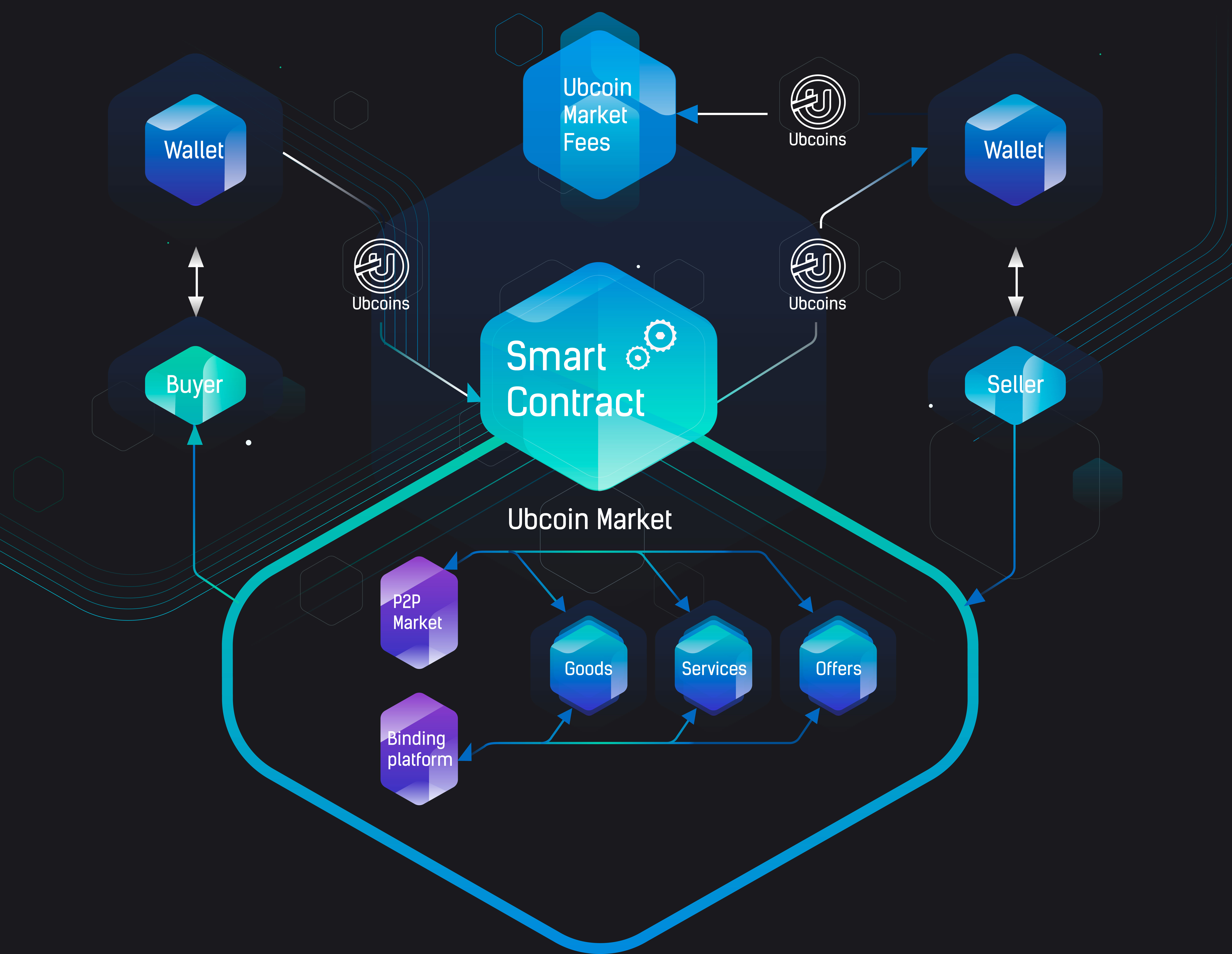 Ubcoin Crypto-to-goods Exchange solves all of these problems by creating a hybrid between a crypto exchange and a trading peer-to-peer platform. Almost 2 billion people regularly shop online and 60% of all Internet users buy and sell stuff using fiat money at platforms like Amazon, eBay, Etsy, and others. Ubcoin builds upon this familiar model and creates a platform wherein real goods serve, as it were, as a means of payment, and cryptocurrency as a traded asset. You put up your smartphone for sale, find a buyer, receive Ubcoin tokens and exchange them to any other major cryptocurrency like Bitcoin or Ethereum. That's it. You are now a crypto investor. From now on you can buy with your virtual money any goods on Ubcoin without having to exchange your crypto wealth to fiat money.
This model satisfies the needs of both potential and existing crypto investors by solving the problems of crypto exchanges and platforms like Localbitcoins. As a result, users get a legal, easy-to-use, and fully automated instrument that safeguards them from scams and frauds and keeps their anonymity. All transaction data is stored on blockchain and all transactions are executed according to algorithms laid out in smart contracts. There's no fiat money flow, so users don't have to undergo any KYC checks and to disclose their personal data. Everything is legal and secure: the most thorough due diligence executed by Ubcoin legal team has identified no direct discrepancies with and violations of the laws of the countries that regulate ownership of cryptocurrencies.
The founders of Ubcoin hope that their platform will simplify one's entrance into the crypto space as well as the process of using one's crypto wealth, and that it will become an integral part of a suite of tools that are used by the members of the ever-expanding global blockchain community.
For more information, visit https://ubcoin.io/