Dao Maker [DAO] has become a strategic partner of Tron [TRX] blockchain, in the latest development. What does it mean for the two entities?

Justin Sun-led Tron blockchain has announced entering into a strategic partnership with DAO Maker that touts to be an incubator that offers early-stage projects can raise funds via novel models of token offering.
With this move, Tron projects will now be added to DAO Maker's multi-investment platform, DAO Pad. In addition, DAO holders will now be able to take part in SHOs of projects that are supported by the Tron blockchain, thereby making the former's fundraising solutions accessible to the TRX community.
A quick primer: DAO Maker's Strong Holder Offering or SHO is a fundraising service that is focused on public rounds. It leverages chain analysis, proprietary user activity data sets, as well as assessment parameters to determine which allocation applicants are adequate for a project. This service is also tasked with managing the allocation of a project's most unlocked tokens.
In a joint statement, both the entities revealed that the details of the first-ever SHO on the Tron network will be revealed in the coming days.
Attracting Tron's Huge Audience and Leveraging A Cheap, Efficient Blockchain
It is also important to note that, the latest partnership is also aimed at expanding DAO Maker's footprint beyond the Ethereum [ETH] blockchain keeping in mind Tron's low transaction fees and high scaling potential.
DAO Maker ecosystem plans to grow and expand globally. With Tron under its hood, the incubator will also add 100,000+ active daily users of the blockchain company to its growing ecosystem.
Following the development, Justin Sun, founder of TRON and CEO of BitTorrent reportedly stated,
"We are excited to be partnering with an industry leader like DAO Maker to bring cross-chain community incubation and fundraising to Tron."
He also went on to add that,
"This partnership is part of Tron's commitment to its community to expand the functionalities of the blockchain through world-class strategic partnerships."
Tron [TRX] Remains Mute To The Development
Over the past couple of months, Tron has entered several key collaborations to which the blockchain's native token has reacted positively. Even its DeFi trysts have managed to pull TRX out of bearish misery.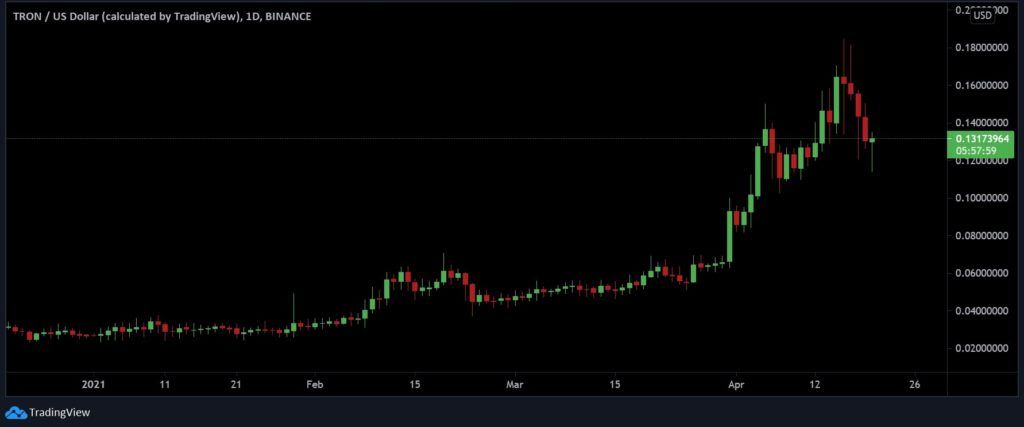 But the latest development did not seem to influence the price of the token which noted a minuscule uptick of 0.08% over the last 24-hours and was currently trading at $0.131. At press time, TRX held a market cap of $9.43 billion and a 24-hour trading volume of $5.08 billion.