Investing is become essential in today's world of economic uncertainity. It can help to create wealth, meet financial goals, beat inflation, and save for retirement. The ever evolving technology has spawned an alternative investment option.
Cryptocurrencies make a great option for a long-term investment due to the fact that they are likely to remain strong and pull through any financial crisis. However, one investment strategy does not fit everyone. Let us dive a bit deeper to understand if retail investors prefer traditional investments or cryptocurrency?
A recent privately-funded World Economic Forum (WEF) survey, in collaboration with investmet giant BNY Mellon and leading professional services company Accenture, revealed that 29% of investors did not understand the cryptocurrency market, whereas nearly 40% of investors disclosed that they didn't understand stocks or bonds. The study also published that 70% of retail investors were under 45 years of age.
3/4 of retail investors would invest more with better education in place, according to a @BNYMellon @accenture study.

Learn more here https://t.co/q4KUQLA4cO

— World Economic Forum (@wef) August 4, 2022
Crypto Growing a Popular Choice of Investing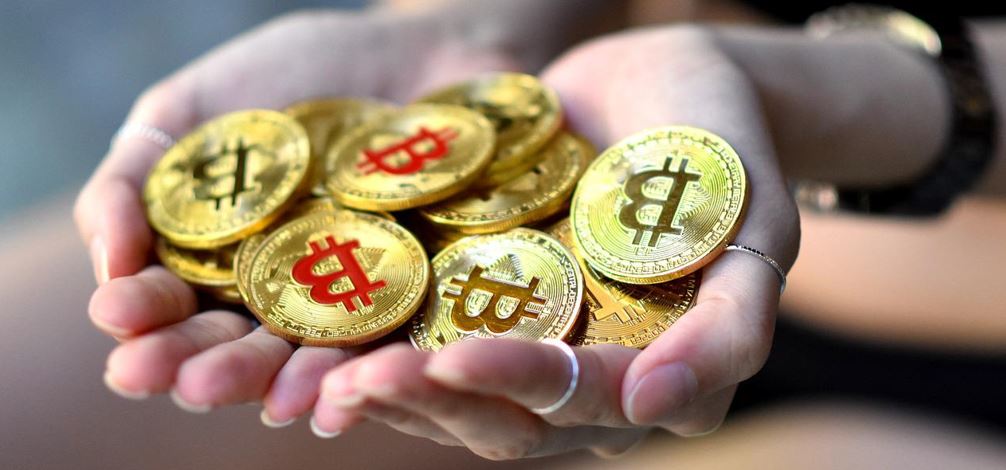 Since inception, cryptocurrencies have shown a lot of promise as financial and investment instruments. As the times roll by, more and more countries and people are warming up to the idea of cryptocurrencies. Over the past decade, alternative investments have become witnessed an astronomical growth with investors seeking to diversify their portfolios. In more recent months, cryptocurrencies have become a popular choice of alternative investment.
One of the main reasons why investors consider alternatives is diversification. This is because even though traditional assets like stocks and bonds often move in sync, the alternatives have their own performance cycles. Alternative investments make up an important element of a diversified portfolio. Meagan Andrews, investing lead at WEF, explained,
"With global adoption and trading volumes of crypto rising substantially over the last few years, there has been a lot of buzz about it, which is likely influencing investors' product awareness," said Meagan Andrews, investing lead at WEF. Less coverage of more traditional products, like stocks and bonds, may also have the opposite effect on awareness."
Traditional Stocks are More Confusing than Crypto
The survey noted that retail investors find well-established stocks and bond markets to be more confounding than the wild world of cryptocurrencies. According to a report from VandaTrack, retail investors caused cryptocurrency-related stocks to soar by nearly $1 billion dollars. Fidelity report claimed that Marathon Digital Holdings, Coinbase Global, and Riot Blockchain were among the most purchased assets last month.
NEW: Many individual investors stormed the market this year to buy the dip

They're facing one of the biggest tests yet-in one of the WORST years for buying the dip since 1970s

My latest w @mccabe_caitlin https://t.co/I5JO4TZsVq @JohnBCase @sentimentrader @jasongoepfert pic.twitter.com/GCf0Zbn5Zf

— Gunjan Banerji (@GunjanJS) May 10, 2022
Last year, retail investors scooped up shares of "meme stocks" such as GameStop, pushing prices through the roof and punishing hedge funds that had sold the shares short. Some retail investors have embraced the wild price swings in hopes of catching some of the next big rally. Users on Reddit's popular WallStreetBets forum have popularized the term "diamond hands", as shorthand for their willingness to hold an asset through thick and thin.
Crypto Will Become More Mainstream in 10 Years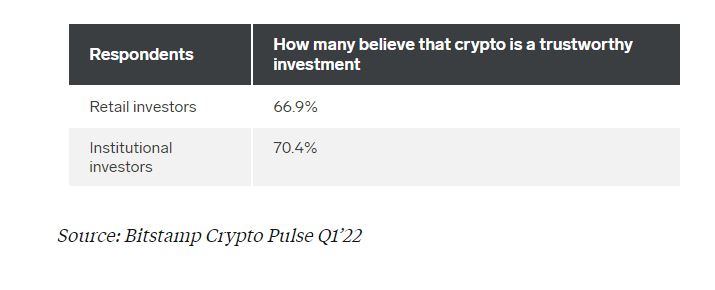 As per another survey conducted by the US crypto exchange Bitstamp, retail investors believe that crypto will become mainstream within the next ten years. It seems that the bullish sentiments stem from two reasons. For one, investors are betting on emerging markets being drawn to blockchain technology with the promise of an alternative digital-first payments network. And in developed countries, investors are hoping that policy makers may adopt crypto assets as a viable alternative to fiat money.
Cathie Wood's Ark Invest believes that for investors, the weight from traditional finance will shift to crypto very soon. The company estimated that Bitcoin's (BTC) price could cross $1 million by 2030 with Ethereum's (ETH) market capitalisation surpassing $20 trillion. In a statement, a retail investor expressed,
"Investing in cryptocurrencies feels like that scary rollercoaster. You're riding it up and riding it down and feeling every twist and turn, which to me is exciting and fun."