Popular Bitcoin bull, Youtuber, and crypto trader Tone Vays revealed in his latest analysis that he does not plan to short Bitcoin anytime soon. In fact, he believes that now is the market time to buy, especially in price levels ranging around $11,000. The trader shared his stance on the latest episode of his 'Trading Bitcoin' videos on Youtube.
In the video, Tone Vays analyzed both daily and weekly charts to determine the possible price movement of Bitcoin. He stated that it is not likely for Bitcoin to experience a severe pullback, despite the occasional red candle that might push us towards support at $11,000. Otherwise, Bitcoin consolidates above $11k after it pushed for older highs last at the start of this week.
If consolidation continues for a couple of more days, the investor plans to buy more around the previously mentioned support at $11,000. If we do not reach that level, Vays would buy a potential breakout above $11.5k. Still, he is unsure of what might happen first. In the latest episode, he commented,
 "So if I am to buy the dip, where would the perfect dip be? Well, the perfect dip would be around $11,000."
Specifically, the Bitcoin bull thinks that another suitable buy area would be around $11,536 and $11,570. These prices represent the highs of the last daily candles. If we break above that, a bullish trend would once again be confirmed. Otherwise, we might still fall to $11k as the last resort. If this level does not hold, we can expect to reach prices between $10.7k and 10.8k.
The weekly outlook for Bitcoin
A close look at the weekly timeframe for the leading cryptocurrency reveals how the situation may play out. On one hand, the current weekly candle perfectly tapped the historical 2019 monthly resistance at $11.688. If the candle closes below that line, we can expect Bitcoin to range next week before making a final decision. The bottom of this range is around $10.7k, a level that turned from resistance to support last week.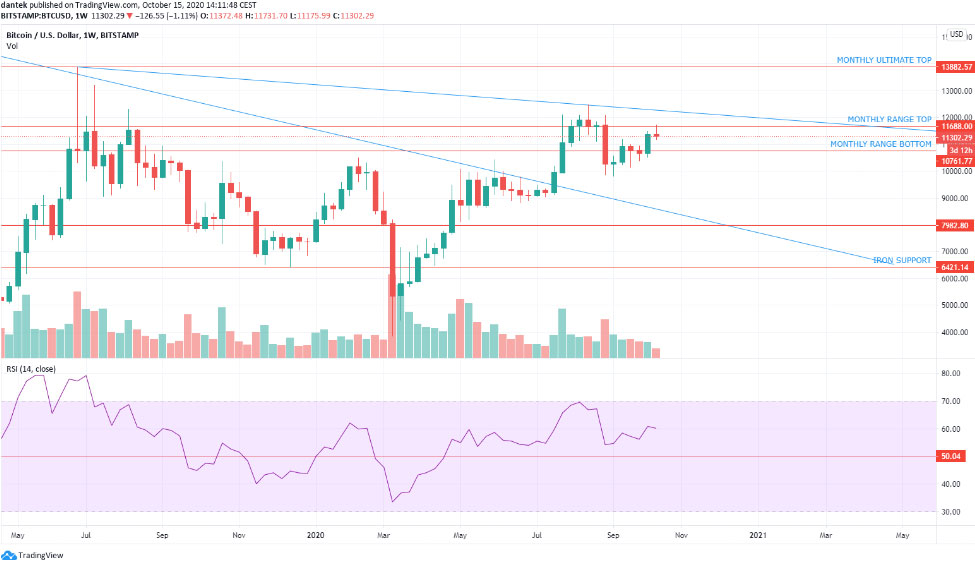 Otherwise, we can close the weekly candle above the first point of resistance. In that case, Bitcoin would have to retest the resistance and turn it into support. The next significant resistance level is at $12.2k based on a trendline from 2019.
However, it is unlikely that we surpass this level unless serious moves or news affect the price. In the case that we do turn fully bullish, our next stop based on weekly and monthly factors stands at $13.8k. This point may be the deciding factor for whether 2020 will be bullish or bearish.
If the market denies Bitcoin from that point, investors might face a prolonged bear market for several months. If not, the market will seal its fate and lead to Bitcoin potentially testing all-time highs. But no matter what happens, it is important to plan accordingly. Bitcoin may look attractive at the current moment. However, the entire financial sphere is currently at a giant decision point that will heavily influence markets for the next few years.
---
If you found this article interesting, here you can find more Bitcoin news