The rise of the ICOs continues to bring us interesting projects whose solutions are irresistible to study and consider. This time we will talk about Tokia, a platform that promises to be more than an exchange service and cryptocurrency wallet. Let's see below.
Due to their decentralized nature, digital currencies are immune to problems such as inflation, government interference, etc., and that's because they are the perfect way to send and receive large sums of money in the world. In recent years, many new applications have been launched in the cryptographic network that allow commerce, storage and currencies such as Bitcoin, Ethereum, etc.
Tokia is a new service that serves as a mobile exchange and a wallet to hold the coins. Tokia among its main features brings us: Multiple compatible Blockchain assets, which means that Tokia can serve as a wallet for any type of cryptocurrency which is very interesting. It also has a commercial option that allows us to directly exchange our assets directly from the wallet minimizing risks and other conversion losses.
With the use of Tokia, users have full freedom to trade between crypto currencies via smartphone or other mobile device. Offline security: it is highly convenient since the platform allows us to control the amount of assets stored offline. This guarantees that even if we do not access our funds for a long time, we can be sure that they are safe and secure.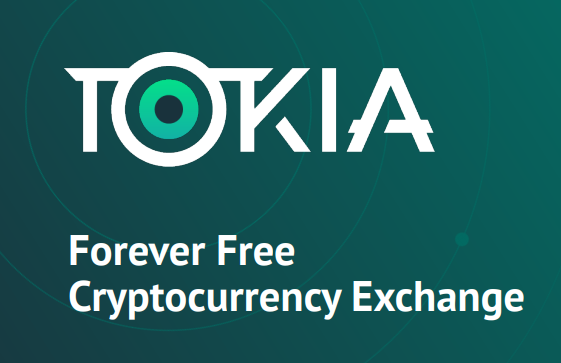 And if we talk about commissions, one of the main characteristics of this platform is the fact that no commission of change is charged on transactions of any volume.
In order to guarantee the maximum capacity of use, this platform allows us to convert our cryptographic assets into a series of traditional fiduciary currencies. This is a particularly beneficial feature for casual investors who wish to invest their money in assets such as Ethereum, Bitcoin… for instant profits.
To incentivize the Tokia community, aggregate bonuses are established, so when using Tokia, users can receive up to 10 times their balance of TOK tokens – the native token of the platform – in the free negotiation volume monthly.
Using the conversion service, the Bitcoins that we have in our wallet are directly linked to our Tokia debit card. Thanks to this, users have the ability to carry out direct transactions (purchases, etc.) with their debit card, instead of having to wait for their assets to be first defrosted, then converted and, finally, become usable.
With Tokia's official debit card, users do not have to wait for cryptocurrencies to be converted into a fiduciary currency.
The ICO of Tokia:
The TOK tokens are in an initial public presale that began on December 4 and will continue through December 30. The reference value will be 1 TOK = 1 USD. During this pre-sale, users can obtain a 47% discount on all purchases. There will be more pre-sale stages until the end of March 2018.
To learn more about this platform, be sure to check out your White paper.