Bitcoin and Ethereum trimmed their gains this week after rallying significantly. Both the top cryptocurrencies endured a pullback. While Bitcoin fell close to $48K, Ethereum found itself hovering close to $3.19K. Is it just another pullback or is there any concerning signal lurking behind the shadows?
On-chain analytic platform Santiment depicted revealed the number of BTC and ETH held on cryptocurrency exchanges is on a rise once again after a very long time. Billions of dollars in Ether were being deposited to exchanges. A similar pattern was observed for Bitcoin as well. 
As a matter of fact, the latest data reveal that the latest spike happens to be the most significant exchange inflow of Bitcoin since Black Thursday's figure back in May 2020.
Blast from the past: The "Black Thursday" event was an abrupt collapse in the price of BTC which slashed nearly half in a single day. As a result, the market crashed subsequently triggering cascading liquidations that further boosted the selling pressure on exchanges.
Mass Bitcoin sell-off incoming?
😮 We saw major spikes in coins moving to exchanges for both #Bitcoin and #Ethereum to kick off the week. Watch our analysis on how to react to the largest single day of $BTC exchange inflow since #BlackThursday, & how to use this event to your advantage. https://t.co/gEsIpXG9ei

— Santiment (@santimentfeed) August 25, 2021
Coming back to the present, the market behaviour demonstrated profit-taking sentiments that can lead to a steep correction. It can also mean the crypto-assets might have topped out and the players do not anticipate the price to go higher. In short, both Bitcoin and Ethereum whales are booking profits and could be considered as a precursor of a sell-off event. 
With fees on the Etheruem network picking up once again, it is becoming increasingly expensive to interact, leading to a notable decline in terms of active addresses as well. Historically, the price of the crypto-asset goes down and for the ongoing market behaviour, it is safe to assume that the addresses are going to decline a little bit.
About Ether's retraction, Santiment had previously noted,
"So we've got a few concerning signals: exchange inflow, address activity fairly low. May be there are some people starting to take profits and you should at least be careful."
So is mass-selling on its way? Maybe not yet. Crisis may be averted, at least according to CryptoQuant's Ki Young Ju, further corrections could be smaller than previously expected.
Short-term bearish
Popular crypto analyst, Will Clemente, on the other hand, is short-term bearish. The illiquid supply ratio of the world's largest cryptocurrency further validated the bearish trend according to the lead insights analyst at Blockware Team. This is because a dip in the illiquid supply ratio is suggestive of a rising selling from BTC holders. Here's what Clemente had to say about the whale holdings:
"Here's the decrease in whale holdings. Maybe they're just waiting for a better entry, but after the big increase a few weeks ago haven't seen much follow through."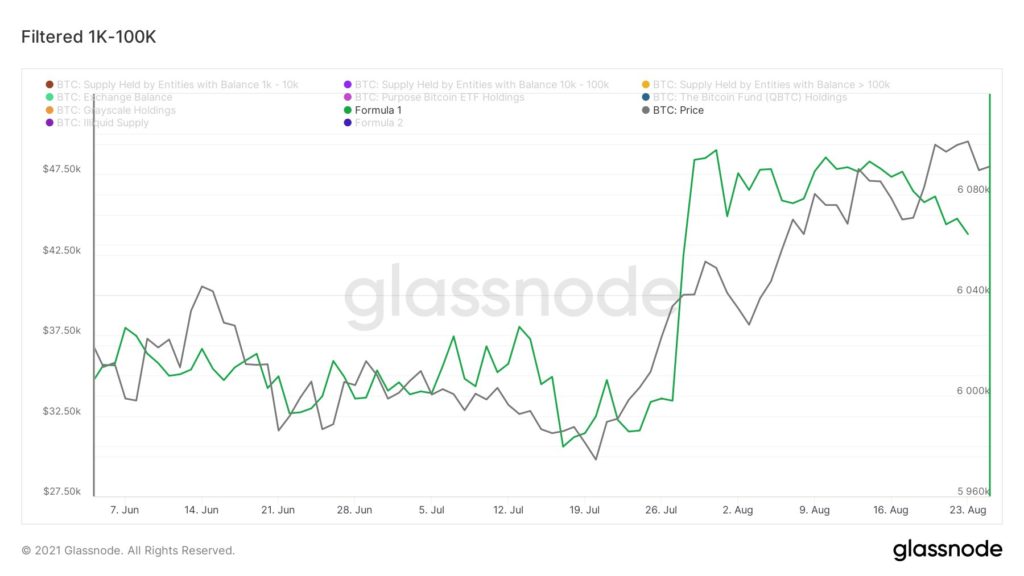 ---
If you found this article interesting, here you can find more Bitcoin news