Dogecoin [DOGE] has been rather quiet these days. Several crypto-asset rallied over the week with many of them even breaking previous records. But DOGE has failed to clear crucial resistance. Volatility in the market is down. The trading volume is underwhelming. The return of the Dogecoin Foundation did little to help the price movement of the meme-coin. 
The question that remains- Is the DOGE hype over? The market conditions are far from ideal. DOGE pierced the supply barrier from $0.280 to $0.311 on the 13th of August. Two days later, it blasted through it. The run-up was short-lived and the digital asset is down by more than 21% since the two-month high established on the 15th of August. At the time of writing, DOGE was trading at $0.292.
After losing crucial support, where the price is heading?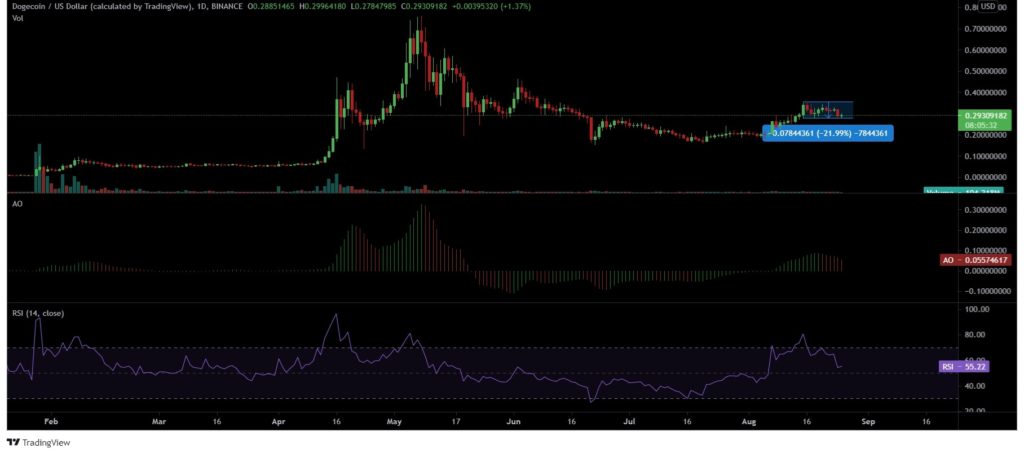 The bearish momentum is weakening as depicted by Awesome Oscillator [AO] but is yet to switch in favour of the bulls. The daily Relative Strength Index [RSI] did not look promising either as buyers struggled to maintain their position above the 50-median line. If the selling pressure further escalates in the next few trading session, DOGE's price would not be able to sustain its current price level for long.
The above chart is indicative of a pullback in the near term which could be damaging. Upon a bearish break, DOGE risks a fall of over 30% to $0.19 lows last seen on the 6th of August.
Dogecoin's uptrend in jeopardy

Some of the crucial metrics for DOGE has flipped bearish. According to IntoTheBlock's latest chart, there has been a steady rise in the number of active addresses, but the number of transactions has failed to take off. This evidenced low activity in the DOGE ecosystem.
Also, it is important to note that, the whales [address holding over 1% of the circulating supply] own more than 44% of the total DOGE supply. And traditionally, they are mostly dormant and hardly active which could have contributed to the underwhelming figure.
Development Activity Slump

Dogecoin ecosystem development activity was dull. The state of the attributes displayed in ITB's Github indicator was rising strong over the past couple of weeks before an abrupt slump. In fact, the figures for the number of open issues on Github dropped to 198 from 227 in less than five days. Meaning, that the developer community reporting problems and requesting new aspects for a crypto-asset has been much active.