Theta [THETA] is now the world's ninth-largest cryptocurrency by market capitalization, according to CoinMarketCap.
This bull season has accommodated several underdogs into the list of top 10 cryptocurrencies by market cap. On the flip side, it has, however, expelled several popular crypto-assets from the leaderboard.
Theta Becomes One Of The Best Market Performers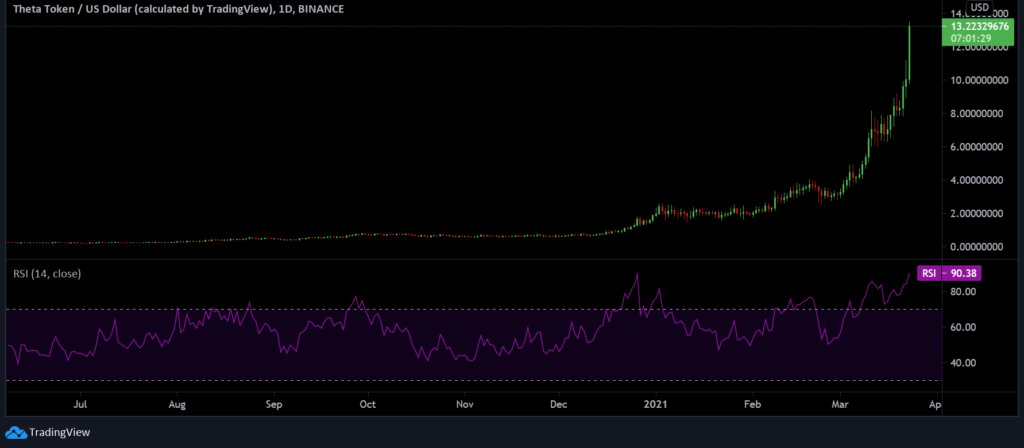 The latest to join the lot was the decentralized blockchain-based video delivery network, Theta Network's native token, THETA.
It surpassed coins such as Chainlink [LINK], Bitcoin Cash [BCH], as well as Litecoin [LTC] to reach the current spot after amassing weekly gains worth more than 73%. Over the past day alone, the crypto-asset has risen by 25.74% even amidst the market-wide correction.
THETA has managed to outpace the price action of Bitcoin this year as it YTD gains of nearly 500%. Bitcoin, on the other hand, observed a YTD gain of a little over 71%.
As depicted on the above chart, Theta's rise has been parabolic after months of laying low. It first gained serious traction at the onset of March, a trend that has been in continuity eventually leading to all-time highs almost every day.
As the trend continued, the token reached yet another historical high of $13.44 as it broke the top 10. In addition, it recorded a total market cap of $12.8 billion and a 24-hour trading volume of $1.73 billion, at press time.
After a meteoric rise, is the token still in the buying stage? According to the above chart, Theta has crossed the overbought zone which could potentially depict a phase of profit-taking by the investors leading to a subsequent drop.
What's Driving THETA?
As noted above, THETA has been on a rise for several weeks. While several low and mid-market capped coins have won over investors and ultimately made it to their portfolios, these moves, however, accompanied high-profile updates.
This was not the case with Theta. The rally was not pushed by the event of any announcement of listing from a top cryptocurrency exchange or even Mainnet 3.0 release.
Instead, one of the major contributors could potentially be the decentralized protocol's flourishing validator program which includes names of major technology giants such as Sony Europe, Google, and Samsung. Crypto industry firms such as Binance, Blockchain.com, and Gumi had also joined Theta network's validator program.
A quick primer: Founded in 2017, Theta's core advisors include Steve Chen, who happens to be the co-founder of YouTube, and Justin Kan, the co-founder of Twitch.
---