With the Bitcoin price trading down 37.9% in June, the price of bitcoin has been one of the worst monthly price performances in history. As a result of the nearly complete expulsion of market tourists from the Bitcoin market, HODLers have been left with just one line of defense left: their willingness to hold on.
There is no denying that Bitcoin has recorded one of the worst price performances in history as the first half of 2022 comes to an end. The prices traded down by -37.9% over the last 30-days, making it one of the worst months on record, only to be beaten by the bear market of 2011. It is worth mentioning that in 2011, the bitcoin price was below $10 for a sense of scale.
The bitcoin price steadily maintained a steady trading range around the 2017 $20k all-time high over the past week, digesting the losses of the previous month. At the close, the market climbed to a high of $21,471, traded down briefly to a low of $18,741, and then rallied to a high of $19,139 during the week.
What is Bitcoin Tourism?
As part of Glassnode's market analysis process, one metric is used to assess the on-chain activity in the market. This is according to the latest analysis. It aims to determine relative strengths, or weaknesses, in the user base, as well as to determine changes in the macro network character as a result of the changes.
The term high activity is often used as a synonym for an increase in demand and higher levels of speculation and is most often associated with bull markets during these times. As a general rule, low activity is associated with greatly reduced demand and waning interest from investors, and it is a characteristic of a bear market.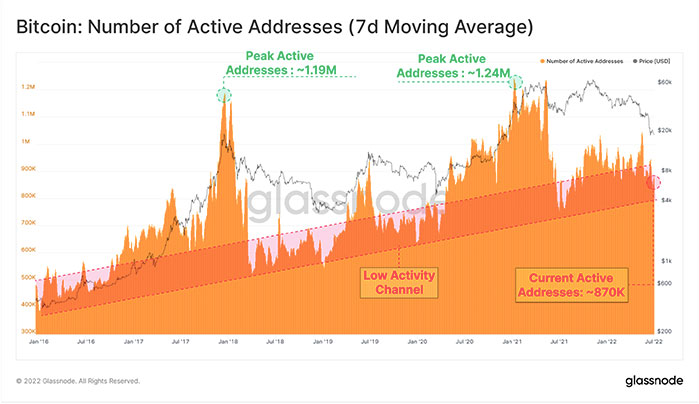 The Number of Active Entities is one of the most advanced versions of this metric, as it draws on the clustering algorithms that we use to generate it. Using these methods, multiple addresses are collated on a chain and assigned to the entities on the chain, allowing a more accurate and clear representation of who the most likely active users are.
As a result of the speculation that there was going to be a further price leg up post-Nov 2021 ATH, Active Entities have experienced a notable rise. 
After conducting a full assessment of other activities in the market, including exchange activity, the analysis goes on to conclude that Bitcoin's on-chain activity is now firmly in the bear market territory, and the most recent network utilization suggests that there has been a complete purge of all market tourists.
However, there is no doubt that there are a number of very interesting divergences taking place beneath the surface of the market. HODLer sentiment remains strong despite the fact that the price-performance for the month of July is showing the worst performance since 2011.