After a steady rise, the total amount of the world's largest stablecoin Tether [USDT] in circulation has soared all the way to $40 billion. With this, the token climbed back to the fourth spot on the cryptocurrency leaderboard.
Exactly a year ago, Tether's dollar-linked stablecoin, USDT's market cap stood at around $4 billion. Since then, the stablecoin saw an astonishing growth of 900% in only one year.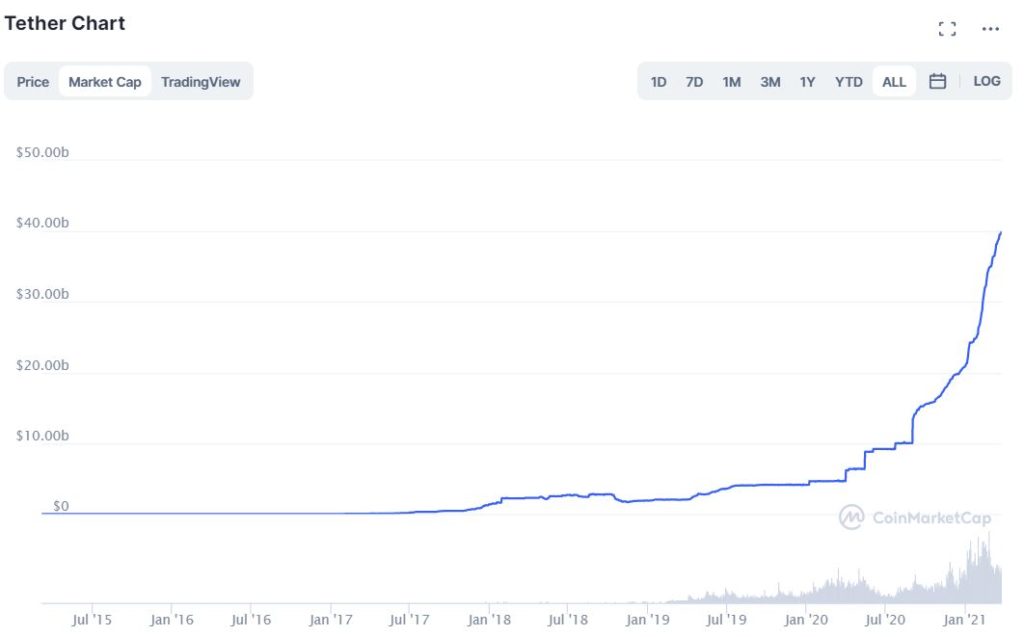 Historically, Tether has often inclined positively from US Dollars value. Hence, it is no surprise that the latest figures came right after the demand for cryptocurrency surged following hints of a long-anticipated recovery.
At the time of writing, Bitcoin has regained some of the lost momentum as it climbed to the $57,000 level on Wednesday. This came after the manufacturing giant, Tesla chief Elon Musk announced that people can now start purchasing the firm's electric vehicles using Bitcoin.
According to the exec, Tesla is using internal and open-source software and operates bitcoin nodes directly. He went on to add that Bitcoin paid to Tesla will be retained as Bitcoin and will not be converted to fiat currency.
Soon after this, the crypto-asset noted a minor uptick of 3% over the 24-hours.
40B $USDt https://t.co/7QGpyEer7c pic.twitter.com/KI3BApyDJY

— Paolo Ardoino 🍐 (@paoloardoino) March 24, 2021
Growing Demand For Tether [USDT]
Over the years, USDT has become an important form of liquidity in the crypto industry that is transferred between different exchange platforms and wallet addresses to buy Bitcoin and other digital assets.
The demand for USDT in the e-commerce and payments realm cannot be ignored. This has been on the rise for quite some time now. The main factor that driven the demand was the fact that the token essentially enabled relevant users to fend off volatility.
In addition, online retailers and payment gateways have also leveraged not just efficiency related to time but also cost of transactions which have been way cheaper as opposed to credit cards and traditional payment mechanisms.
Yet another milestone that played a crucial role in bolstering its USDT's demand this bull season is the rising interest in decentralized finance [DeFi] as well as the over-trade counters [OTC] desks that leverage the token to process block trades.
In fact, the whole stablecoin market is seeing rapid surges in terms of valuation especially in tandem with Bitcoin's price action.
Other stablecoins have also noted a considerable increase in terms of market cap. Circle's USD Coin [USDC] is the second-largest stablecoin which recently surpassed $10 billion in valuation. It is now the 12th-largest crypto-asset by market cap behind DeFi token Chainlink and Litecoin.
---