In 72 frantic hours, the cryptocurrency Terra (LUNA) and its associated stablecoin TerraUSD (UST) fell more than 99 per cent amid a tumultuous global cryptocurrency market. LUNA which ranked among the top 10 most valuable cryptocurrencies, dropped below $1 on having peaked close to $120 last month.
The dwindling state of the present crypto market scenario resulted in unprecedented losses for investors. Major cryptocurrencies like Bitcoin (BTC), Ethereum (ETH), and Solana (SOL) are struggling to retain their market dominance amid the drooping volume of the global crypto market. Amid these stormy times, one cryptocurrency that witnessed a total wipe out is Terraform Lab's Terra (LUNA).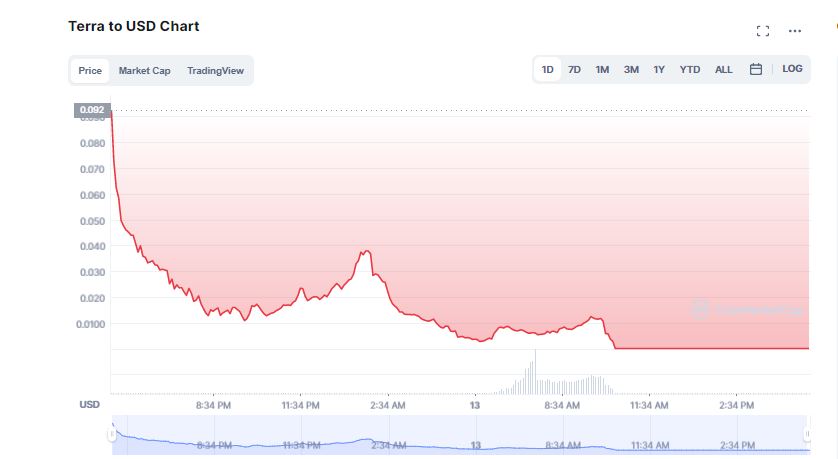 How Did LUNA's Fall Shake The Crypto Industry?

At the time of writing, Terra (LUNA) plunged 99.94 per cent in the last 24 hours to $0.00003811. As per data from CoinMarketCap, LUNA witnessed a drop of 100 per cent over the past week. The total market cap of Terra dived below the US$2 billion mark, sliding the token to 232 position, whereas, in it's hay days, the digital token was the 8th largest in the world.
TerraUSD (UST), the stablecoin from the makers of LUNA, is an algorithmic coin that uses a critical system of minting and burning tokens to adjust and stabilize its prices. UST's price disintegrated under the sell-off pressure, and as the prices fell further down, more panic spilled over the market. Owing to the rut, several crypto exchanges extended support to end the sell-off season for LUNA and UST.
Binance suspended the trading of LUNA and UST due to a high volume of pending withdrawal transactions. Singapore based cryptocurrency exchange, Crypto.com, had also suspended LUNA trading and withdrawals but revoked the suspension after a short time. TerraLabs also shut the blockchain down briefly to put in place a new patch so that the network does not fall prey to governance attacks. TerraLabs tweeted,
"Validators are applying a patch to disable further delegations, and they will coordinate to restart the network in a few minutes."
The Terra blockchain has officially halted at block 7607789.

Terra Validators have halted the network to come up with a plan to reconstitute it.

More updates to come.

— Terra 🌍 Powered by LUNA 🌕 (@terra_money) May 13, 2022
How Deep Is The Real Life Consequence of LUNA's Collapse?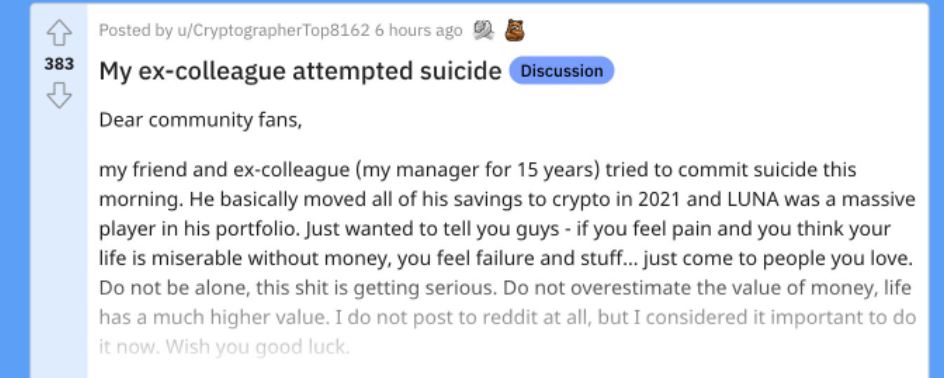 The collapse of LUNA propelled a barrage of messages on Twitter and a Reddit forum dedicated to the Luna cryptocurrency.  Users in the forum narrated their distress lamenting about their investments led them to lose anywhere from thousands of dollars to their entire life savings.
One member of the forum, No-Forever2056, said in a post that they had thought about cashing out when Luna was trading at $100 in March and early April, but held off to see if they could earn enough for a down payment on a house. When Luna crashed, they said they lost $17,000.
Another user wrote "I cannot pay the bank. I will lose my home soon." In the forum one of the users asked the community members to exercise caution while posting after users voiced concern about attempting suicide. The user wrote,
"This is not the time to boast about your good decisions in other people's misery posts. People are attempting suicide."
Many asked me about the markets today. We need to respect the market, with a level of caution too. It goes up and down in cycles. And especially the fact that it doesn't always make sense. 1/4

— CZ 🔶 Binance (@cz_binance) May 11, 2022
Following Luna's fall, Changpeng Zhao (CZ), the founder of Binance,  said in a message on Twitter that traders need to tread with caution as it is a new market. He emphasized that some innovations become successful, however some may not. He tweeted,
"We need to respect the market, with a level of caution too. It goes up and down in cycles. And especially the fact that it doesn't always make sense."