The Russian company Teambrella wants to solve some problems of the insurance industry by eliminating insurance companies. Yes, just like you read it. Using smart contracts and criptocurrencies, the Russian developers of Teambrella have built a decentralized insurance platform. They have now launched the first projects, which cover pets in South America and bicycles in the Netherlands. Due to the handling fees of the crypto-currencies, the developers switched from Bitcoin to Ethereum.
Until now, bitcoin and other cryptocurrencies have mostly proved that they can build and maintain the money in a decentralized way, without the governments of the countries and their central banks. This marks a historic innovation, which initiated a silent revolution that will take decades to penetrate society as a whole.
Russian developers behind the Teambrella project have worked on the platform, which aims to create a decentralized insurance company for almost two years. They have now launched the project with insurance teams in South America and the Netherlands.
"Insurance companies and policyholders have conflicting interests," explains the project's whitepaper on Problems with Traditional Insurance, This is reflected in a number of bad-faith practices by companies, such as unreasonable delays, denial of payment, etc. Teamhead developers believe that these issues can be reduced or eliminated through the implementation of a peer-to-peer (P2P) insurance organization.
The concept of Teambrella is to allow its users to build equipments, for example, to secure bicycles. The team decides about the rules, what is covered, what documents need to be submitted and so on. Insurance math formulas connect values ​​like risk, repayments, and the value of the insured object. Team members can decide for themselves, how much they pay, which is at the same time the maximum amount that others pay when they do themselves harm.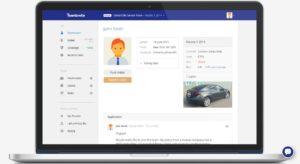 When there is a case, each team member can vote on reimbursement payments made in the past. To make it easier to use Teambrella in larger groups, it is possible to cast your vote to another member, who receives part of the reimbursement as a fee. Such a "pro-voter" may be a self-employed person for insurance companies, who may have the same responsibilities as employees of insurance companies.
The monthly payment of team members is made in cryptocurrencies at multisig addresses. These addresses are designed in such a way that funds can only be released after a defined number of team members have signed their vote.
Teambrella already has pioneers with Pet Insurance in Peru and Argentina. There are two teams; one connects cat owners in Peru with dog owners in Argentina to assure their cats, should they become ill or need surgery. The second group covers bicycles in Holland, the country famous for its love of this particular mode of transport. Both teams have just started.