The growth and development of cryptocurrencies environment is unstoppable. The evolution of these digital monetary alternatives is also bringing the adoption of more alternatives to storage and exchange them. Decentralized wallets whose priority is to facilitate the mobilization of these cryptocurrencies in the global market. On this occasion we will talk about Blockmarket, Syscoin's decentralized wallet.
The company behind Syscoin's cryptocurrency, Blockchain Foundry Inc., has launched Blockmarket Desktop v1.0, an updated replacement for the Syscoin Qt purse, which integrates a decentralized market to buy and sell any kind of product. With Blockmarket Desktop, Blockchain Foundry moves on to the next phase in the evolution of its decentralized enterprise software.
Syscoin was generated in August 2014 and uses a SHA-256 working test algorithm. Blockmarket Desktop offers several other features in addition to its decentralized market, including encrypted messaging, digital certificates, and multisig services.
An identity system is also incorporated using aliases to represent the buyers and sellers that will be the basis for more advanced store sellers on the Blockmarket Web. Aliases also provide a simpler user experience, since users will not have to refer to the long and complicated addresses to use Blockmarket software, they will only need to track names and simple nicknames. In addition to Syscoin, buyers and sellers can make transactions with bitcoin and zcash.
Blockmarket Desktop is the precedent of Blockmarket Web and Blockmarket Professional. The Blockmarket suite is considered a serious competitor for OpenBazaar, Brian Hoffman's decentralized market project. Similar to OpenBazaar, Blockmarket uses TOR to anonymize buyers and sellers, but unlike OpenBazaar, Blockmarket takes privacy a step further and uses the anonymity of zcash in transactions.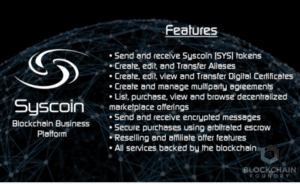 Importantly, Syscoin partnered with Microsoft and offered Blockmarket as a product on Microsoft's Azure Blockchain as a Service (BaaS) platform, in addition to its three other products offered in Azure; Fully Hosted Syscoin Node, Syscoin Price Peg Server, and Syscoin API Server.
For now the Windows and Mac versions of Blockmarket are available, and Linux will be compatible with future versions that will include Ubuntu, Fedora and Debian. More details and a tutorial to install Blockmarket Desktop can be found here.