Many interesting facts about the market are revealed in the results of the Annual Australian Crypto Survey, which was commissioned by Swyftx, an Australian crypto exchange.
It is important to understand that the recent survey of the crypto industry in Australia consists of multiple sections covering the entire market. It is covered in this report in all aspects, from the demographics of crypto owners and profits generated by cryptos to the barriers and financial confidence.
Confidence in the Crypto Market
A report published by Swyftx indicates that the last 12 months have been a defining period for the cryptocurrency industry. As a result of the crash, the market for digital assets has lost a total amount of approximately USD $2 trillion from peak to trough.
Despite the sudden arrival of the 'Crypto Winter,' the results of a national survey revealed that Australian cryptocurrency ownership increased by 4% year-on-year (YoY) from 17% in 2021 to 21% in 2022, despite the sudden arrival of the crypto winter.
It appears that the long-term confidence in cryptocurrencies has also remained bullish. A total of 29% of Australian adults own cryptocurrency or have own in some point. 38% of crypto owners have crypto in their superannuation, and 59% have crypto held in trust for their children.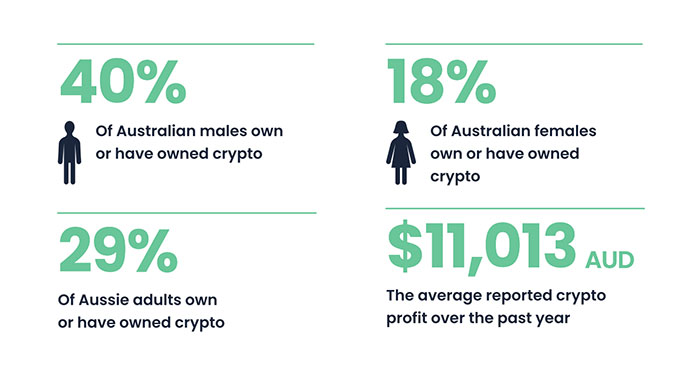 However, when compared with the previous year, the percentage of Australians who believe that cryptocurrency will be the future of online financial transactions has decreased by 5% from the previous year, according to a new survey. Non-users of cryptocurrency are often concerned that digital assets are not well regulated, and this is the most common reason for not buying digital assets.
Based on the demographic report, it appears that female investors are earning more profits than their male counterparts. According to the results based on a breakdown of Australians by gender, 40% of Australian males are aware of crypto, while 18% of females are aware of crypto, which is an increase from the previous quarter.
Among crypto-owning Australians, there was an average reported profit of $11,013 for the past 12 months, according to the study. The average amount of profit reported by female crypto investors was AUD 11,263, while the average amount reported by male investors was AUD 10,917.
The Swyftx report concludes that blockchain adoption rates within retail and business continue to rise steadily, and as a result, investors are likely to be able to take advantage of increased crypto functionality shortly.
The crypto industry is also receiving record levels of venture capital funding, suggesting that the market will continue to grow and innovate across the varying use cases in the future. The crypto industry continues to attract top talent around the world, as well as record levels of venture capital funding.