There has been a further decline of 70% in Bitcoin prices in Standard Chartered's list of possible upsets in 2023, according to Bloomberg.
Colder Winter Awaits?
Standard Chartered has warned that investors with a hard-core belief in the crypto rout as being mostly over in 2023 may be in for a rude awakening.
Among the "surprising" scenarios that may be "under-priced" by markets in a note on Sunday is the possibility of Bitcoin plunging another 70% to $5,000 over the next year, according to Bank of America Merrill Lynch's Global Head of Research Eric Robertsen.
A 30% rally in the yellow metal could also be spurred by the shift from Bitcoin as a digital version of gold to gold as a physical metal, said Robertsen.
As a result, Robertsen thought that the possibility of an interest rate hike being reversed and a collapse in investor confidence in digital assets could result in more crypto bankruptcies and a reversal of interest rate hikes.
According to him, he was not making any predictions but rather expressing views that were significantly different from the market's consensus at the present time.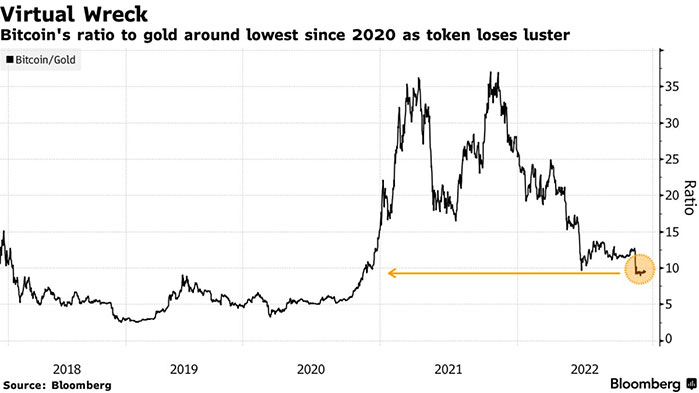 After the bankruptcy of Sam Bankman-Fried's FTX exchange and its sister trading house Alameda Research
More crypto companies are at risk of being blown to pieces as a result of the blowup, which is threatening to upset the price of tokens.
It is worth noting that in the past year, Bitcoin has dropped by more than 60%
According to Finstrat's head of digital asset strategy, Sean Farrell, in a note published Friday, it is our base case that most forced sales have ended. However, investors may not be paid for the market risk they have just assumed in the short term.
He pointed out that there continues to be uncertainty surrounding Digital Currency Group Inc., the parent company of Genesis Inc., a crypto brokerage house that has become embroiled in controversy. There are a number of options available to Genesis' creditors in order to try to prevent them from losing their investment in the brokerage firm.
It appears that more pain may be in store: Bloomberg's MLIV Pulse survey found that 90 percent of respondents believe that further blowups will follow FTX's bankruptcy as a harsher business and market environment is about to usher in a new era after years of easy credit. ‌The future is not clear yet, and there is no way to predict what will happen in the months to come, but we can expect anything.