We are experiencing a boom in public offers to acquire tokens or investment currencies of various projects involving blockchain technology and its almost infinite possibility of applications. In this opportunity we will talk about one of the most interesting projects that yesterday just started its own ICO: SONM.
SONM is a decentralized fog supercomputer with global coverage for general use in all kinds of needs, such as:
Site hosting for both end buyers and subhosting.
Back-end for mobile applications.
Application hosting platforms (Yandex, Heroku, etc…).
Automatic learning.
Scientific research.
General calculations.
Game servers (Quake, CS, etc…).
Video streaming without interruptions (Netflix, HBO…).
And this just to mention some examples. The applications of this technology are endless.
Regarding the mining, SONM offers an opportunity for miners to earn tokens by performing calculations for everyone on the net. Any intelligent device (CPU, GPU, PlayStation, and even smartphone) located anywhere in the world can take advantage of joining the fog network and sell point-to-point computing power through the SONM Application Pool.
Its efficient use of fog computing instead of an expensive structure means that there is no need to pay in advance in private and centralized cloud as with Amazon, Microsoft, Google Cloud etc. Also, since SONM is totally decentralized, there is no single authority regulating the distribution of IT resources, besides SONM has a hybrid architecture and, therefore, it supports any type of task.
Users around the world can leverage their idle computing power to become part of the SONM network. This is the potential to create a powerful decentralized fog supercomputer for general purpose computing worldwide.
If you are a miner or owner of computational power, SONM is a great resource to use your computer for calculations and to process real tasks. The SONM fog computing platform is a new start for solo "mining", for this an infinite number of devices can be used. All you need to do is set up a mining client application and run it on your terminal. With SONM the kilowatts traditionally invested in PoW are redirected to decentralized calculations for various projects that will pay for this service.
From the technical point of view, SONM is a superior layer of underlying P2P technologies: BTSync for data transfer, open source PaaS technology as a decentralized computing platform, and Ethereum Smart Contracts. Several existing technologies were combined and modified by their developers to create the new SOSNA technology.
Buyers benefit from the use of SONM's fog technology as an alternative to centralized cloud services in terms of profitability, security, and scalability. There is no need for infrastructure and employees: the data is stored in the fog, decentralized and encrypted in the miners' computers. Buyers can select any rental time or computer architecture they need for their project and set the cost. This will be a solution adapted to the needs of each user.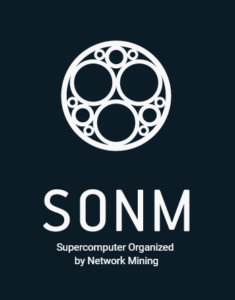 SONM  is a multi-agent system, so each user can use smart agents and smart contracts to maximize profits. Also SONM is self-learning and is totally safe for its users. The system supports anonymizing tools such as proxy, VPN or TOR, but cannot be used as a toolkit of hackers. Intelligent agents are able to self-educate using neural networks and keep malicious users off the system, while at the same time providing the most efficient task solution for both miners and computer power buyers.
With this view it's expected that SONM will become the world's smartest, cheapest, and largest decentralized computing system with strong rules of morality and loyalty. This is due in large part to SONM's reputation system and intelligent self-learning agents that will see to it.