Solana prices are relatively stable from the candlestick arrangement in the daily chart.
Following sharp losses on August 19 and subsequent confirmation on August 26, prices have been in a sideways movement, with bulls especially holding on firmly.
Even though Solana prices are within a bear breakout formation, with the recently formed bars as mentioned above defining the current trend, the failure of bears to hammer bulls and drive prices below $30 is bullish.
Notably, given the tight consolidation of the better part of last week, prices are trending within the September 29 bull bar, which may offer support for buyers in the coming session.
Helium Migrates to Solana
This confidence stems from fundamental factors. Last week, the developers of Helium said they would be migrating to the high throughput, low fees Solana blockchain.
It follows the approval by the community on Tuesday, permitting the IoT-focused network to transit, subsequently benefiting from "operational efficiency and scalability" and thus enjoying "economies of scale".
"HIP 70 is a proposal by the Helium core developer team to improve the operational efficiency of the Helium blockchain significantly. To achieve this goal, the core developer team proposes moving Proof-of-Coverage ("PoC") and Data Transfer Accounting to Solana."
It is a strategic decision the Helium team is confident they will achieve on Solana.
Solana Price Analysis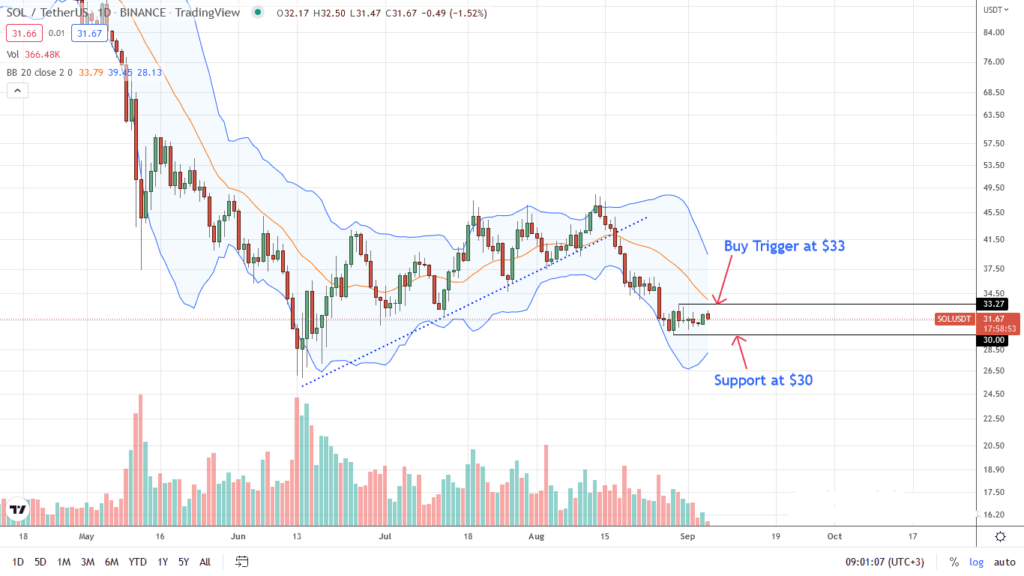 SOL prices are stable in the past 24 hours. Based on the candlestick arrangement in the daily chart, SOL prices are in a tight range, with caps at $33 and $30, on the lower end. While SOL prices are inside the August 29 bar, a net positive from an effort versus results perspective, sellers are, nonetheless, dominant.
This is especially the case if SOL is analyzed from a top-down preview. Herein, it is evident that SOL bears are still in a commanding position, with bulls unable to reverse recent losses despite the divergence from the lower BB, an indicator of tapering momentum.
While aggressive buyers may fade the trend, expecting gains above $33 towards $35, conservative traders may wait for a clear break above $35 or below $30 before trading with the emerging trend. Sharp losses, with rising volumes, below $30, may see SOL crater to $25 in a bear trend continuation pattern.
Technical charts courtesy of Trading View
Disclaimer: Opinions expressed are not investment advice. Do your research.
---
If you found this article interesting, here you can find more Solana News