Solana [SOL] is flying high and there's no stopping the rally.
On September 7, the crypto market faced a massive drawdown period. But not Solana. After decoupling from the top crypto-assets such as Bitcoin [BTC] and Ethereum [ETH], SOL has managed to weather this week's widespread market tumble to hit a new peak above $214.
The astonishing rally did stop after registering weekly gains of 80%. Amidst a market-wide rout, Solana now boasts five straight green candles. The ability to lessen the damage of the ongoing bearish pressure highlighted the growing investors' interest in the Solana blockchain that is slowly emerging as a substantial rival to Ethereum, a public ledger currently that has been the leader for decentralized finance [DeFi] and nonfungible token [NFT] sector boom.
The million-dollar question that remains to be answered is where is the price headed? Will it see a much-speculated correction or is consolidation in the cards?
What's in store for Solana?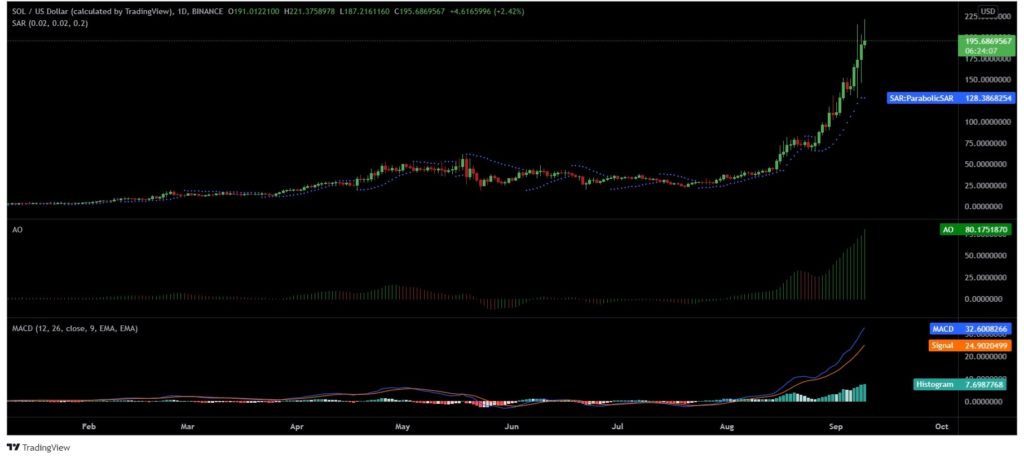 The green closing bars of Awesome Oscillator [AO] depicted a massive bullish momentum in the coin market. The MACD also flashed green while the dotted markers of Parabolic SAR aligned below the SOL price candlesticks.
SOL daily chart depicted a highly volatile phase. The trading volume has been quite high even though the figure ie yet to reach that of May, the rise has been gradual and not wobbly. SOL surpassed the demand zone of $92-$65 following the incredible uptrend.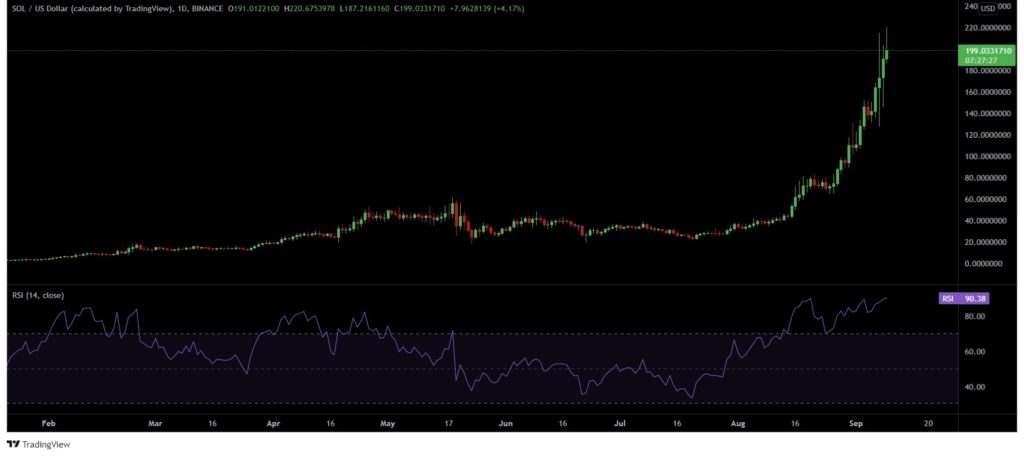 In short, the technicals are super bullish. But, the buying frenzy drove the daily Relative Strength Index's [RSI] above the overbought zone.
Hence, the chances of price flipping cannot be ruled out. In case of a correction, the first support level that SOL is likely to test is $139. On the other hand, a phase of market stagnancy may initiate a period of consolidation at the current level before a breakout in either direction.
Solana's Driving Force
The demand for Solana seems unending primarily because of the NFT projects that have stirred up activity in the SOL ecosystem. The retain buyers are flooding in the space with a huge capital inflow. As a result, SOL witnessed its price go up more than 50% this week and is unnerved by the drastic slump.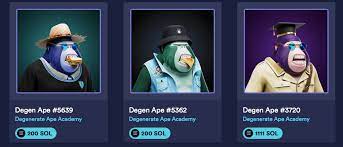 The blockchain welcomed the launch of the NFT Degenerate Ape Academy on August 15, which displayed a collection of 10K cartoon apes, sold out in a matter of less than 10 minutes and involved 96,000 SOL which can be roughly summed up to a whopping $9 million. This is a massive feat.
Solana's tryst with the NFT space does not end there. As a matter of fact, one of the biggest milestones by the layer one solution ecosystem has achieved is the integration with FTX-backed marketplace for digital collectibles earlier this week.