The market for databases, whether of e-mail, contacts, company profiles and related is a niche of incalculable qualitative value for various corporate sectors. With this clear notion the people of Snovio have thought not only to offer a significant possibility of solutions supported by technology blockchain, but also offers the opportunity to develop a tokenized ecosystem that will provide added value and real economic incentives to those who become part of the community of this ecosystem.
Snovio is the world's first decentralized, high-quality contact generation service. It works based on the principles of crowdsourcing in data collection and blockchain technology as platform support. Snovio has created its own currency or token, the SNOV to encourage contributors in building and updating data to add new data to the system and keep them updated on it.
In terms of services that have highlighted Snovio, we can say that they seek to be and contribute enough to be the perfect solution for sales, recruiters, SEO professionals, and anyone who needs research on outgoing emails.
The user can have quick access to emails along with names and jobs of several domains to find contacts and connect. It's great for searching for LinkedIn emails through their Prospect Search Tool, to find the specific profiles you want. Also to search for company profiles the user can contact the right person in the correct department.
Debugging to increase the effectiveness of mailing lists is another valuable feature; Snovio can reduce his rebound rate by 91%. Check exactly every email address you have, since they apply real-time verification, and only offer new results. The speed of verification is also remarkable and constitutes one of its main strengths.
The ICO of Snovio.
This ICO has two main objectives:
Attract a large number of investors, who can become data contributors or attract their friends as contributors. This will allow the database to be expanded rapidly to simultaneously increase the capitalization of the company as well as its sales to customers.
Attract the necessary resources to improve the quality of their product, technical infrastructure, and to start marketing and aggressive sales in key markets.
The ICO will begin on October 3 at 15:00 GMT + 3 (12:00 UTC) and will last 30 days or until they reach the maximum goal of $ 15 million. On the first day of the ICO all participants will receive a 10% bonus for the tokens they will acquire.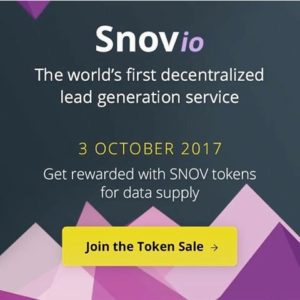 To participate in the ICO, you only need an email to recieve a personal participant password. From there, those interested can buy tokens, as well as manage their accounts and remove tokens to external exchanges.
SNOV tokens will be used as internal currency to motivate data contributors to add data to the system, as well as a method to purchase data for lead generation at a cheaper rate. There will always be 2.5 million tokens in circulation.
As the database grows actively, they will carry out a repurchase of the exchange of tokens at the market price to continue to pay rewards to the collaborators for their continuous work. This will always increase their value. Tokens can also be obtained by adding new data to the system as a type of mining for SNOV's internal currency, or can be purchased in an external cryptocurrency exchanger.
For more details about the project, we recommend that you review their White Paper which is very well explained.