Cardano key metrics are recently added to Santiment. The platform has decided to take a look at how the 7th largest cryptocurrency by market cap is looking. A new report is published about the stats of the Cardano blockchain and ADA coin. It analyzes many metrics of the blockchain and technical stats of the coin in the market.
What is Happening for ADA?
The year 2021 was incredibly volatile, with the stock soaring to a new all-time high of $3.10 in early September. However, in the next 5+ months, the popular asset has lost -70 percent of its value and is now trading at $0.91 at the time of writing.
Some of our most important leading indications will point the way to when the reversal will happen.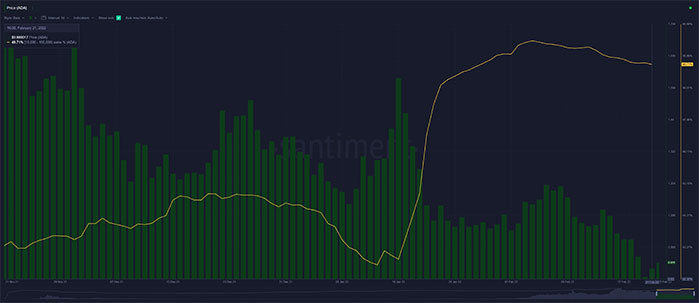 When it comes to whale activity, The number of residences with 10,000 to 100,000 people has been rapidly increasing. However, in just three months, the group above that possesses 100,000 to 1,000,000 ADA has dumped from 37.0 percent to 17.7 percent of the supplies owned. These two polar opposite tendencies appear to cancel each other out, resulting in a largely neutral indicator.
By aggregating the average hourly financing of Cardano on both FTX and DYDX, we can observe that traders are shorting at their largest ratio in a month, according to the Funding Rate. We can also see that Binance's financing rate, which is updated every 8 hours, reflects a significant level of shorts. This current drop marked the greatest short-to-long ratio on Binance since early September 2021.
Negative funding rates are usually interpreted as a sign that the audience anticipates prices to fall. And this frequently leads to quick liquidations, which can push prices higher. These negative funding rates are, without a doubt, a positive sign.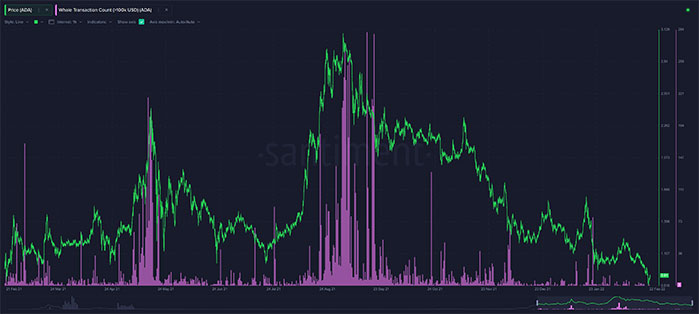 Another metric that Santiment will look into is the Whale Transaction Count. The number of transactions worth $100,000 or more might be a good indicator of price changes. Massive surges in whale transactions frequently signal big peaks or bottoms. Right present, ADA is a hot topic.
After all, Santiment predicts that Not a lot appears to be happening. The report says:
"We see that the major clusters of whale transactions both happened right at local tops in both May and at its all-time high in September. Look for an uptick in these transactions as some great alpha that Cardano will see a long-term turnaround."
Anyhow, there are some experts that believe Cardano can start a massive uptrend this year with numerous features and benefits for dApp and DeFi spaces. It can be a continuous rise to move the price of ADA to even $10 in the next years.