The Samsung Electronics Company is taking its device security experience to the next level with the upcoming solution, Samsung Knox Matrix, which was unveiled at this year's Samsung Developer Conference (SDC) as a part of its ongoing commitment to user privacy and security.
In the modern world, we have more access to seamless connectivity and operation than ever before, and this makes it easier for us to go about our daily tasks and routines, whether we are at work, exercising, or winding down at the end of the day, all without having to interrupt our usual activities.
The Next Level of Security
Despite the fact that we are increasingly relying on device ecosystems to help us make things more convenient, it is impossible to be totally free from worrying about any potential security threats that could arise simply because our devices are connected to the internet. It is worth noting that even one compromised device can result in the compromise of all others. As far as security and privacy are concerned, multi-device protection has become the next battlefield.
As Samsung Knox Matrix will be able to operate like a private blockchain system for users, every connected device of yours will be able to enhance security through multi-layered mutual monitoring.
By sharing passwords between devices, Samsung Knox Matrix secures users' smart homes from unauthorized access and makes the login process easier for them by allowing them to access their smart homes from any device, even trusted ones, so that sensitive information can be protected.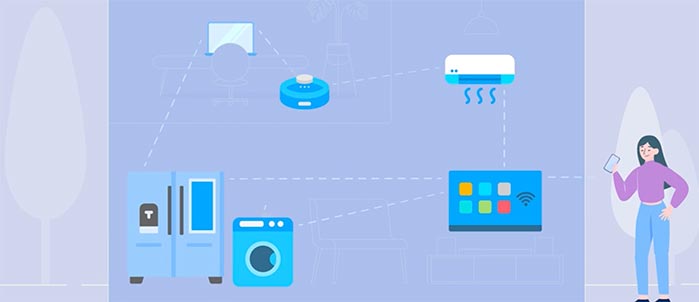 There will be a unified security SDK for all Samsung devices, regardless of whether they are running Android, Tizen, or one of the other operating systems. In addition to all of this, Samsung intends to continue advancing the common security standards across a variety of Samsung-connected devices in the near future.
The Samsung Knox Matrix allows users to stay protected without compromising their connectivity as long as they are using their Samsung Galaxy phone. A strong, diverse set of security practices is set to be implemented through Samsung Knox Matrix to provide the devices within a user's ecosystem with fewer vulnerabilities.
Streaming a video or connecting an air conditioner to a smartphone through Samsung Knox Matrix will add an extra layer of security to the device.
There has never been a time when the way we live is more connected than it is today – from our smartphones to our smart homes, our devices are helping us do more than ever before.
As the network of connected devices continues to grow, we will also have to face additional concerns regarding how to maintain peace of mind when using these ecosystems based on connected devices. It may be possible that some of these concerns can be addressed with the use of blockchain power by Knox Matrix.