Sam Bankman-Fried (SBF) posted several bizzare tweets irking the crypto community. In a series of Twitter thread, SBF wrote a number of single-letter messages that together read, "What Happened".
The cryptic messages come at a time when the beleaguered crypto exchange FTX lost nearly $2 billion of customer funds. The fallout from the collapse of one of the world's leading crypto exchanges has battered the digital assets sector that has rendered many companies in a serious liquidity crisis. The FTX collapse has decimated the confidence of investors, leaving customers in a fix and many others in the crypto world fearing the repercussions.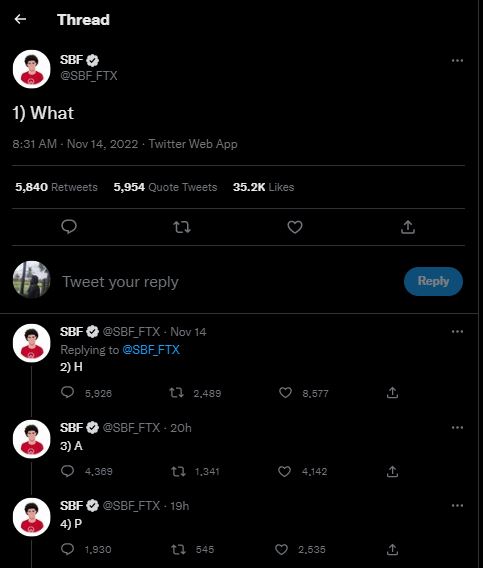 Mysterious Messages During Financial Gloom
10) [NOT LEGAL ADVICE. NOT FINANCIAL ADVICE. THIS IS ALL AS I REMEMBER IT, BUT MY MEMORY MIGHT BE FAULTY IN PARTS.]

— SBF (@SBF_FTX) November 15, 2022
Amid the financial upheaval, SBF took to Twitter on November 14 to post a string of messages that fail to justify the grim situation. The strange tweets began with "What" and "H" ending with Bankman-Fried writing, at print time,
"Not legal advice. Not financial advice. This is all as I remember it, but my memory might be faulty in parts."
The tweets seem to be a "mockery" at a time when financial woes are cascading on crypto platforms. One venture capital fund wrote down investments in FTX worth over $200 million. Another leading cryptocurrency lender, BlockFi paused client withdrawals Friday after FTX sought bankruptcy protection. The Singapore-based exchange Crypto.com saw withdrawals increase that could be attributed to the FTX disaster.
In an interview regarding the tweets, SBF said, "I'm making it up as I go" and the series of tweets is "going to be more than one word." When asked why he said "I don't know," the 30-year-old Bankman-Fried added "I'm improvising. I think it's time," refusing to explain further.
Twitter Users Lash Out
He's on the amphetamines again… pic.twitter.com/x7lMe2DOyg

— Coffeezilla (@coffeebreak_YT) November 14, 2022
Users instantly started speculating the strange messages with many of them suggesting that Bankman-Fried's account has been hacked or he is on drugs. Another user asked whether SBF was "intoxicated" while posting the messages. A number of user responses revealed their anger over the insensitive tweets. John E. Deaton, founder of CryptoLaw wrote,
If this really is you tweeting, then you may actually suffer from narcissistic personality disorder and might believe that you aren't going to prison.

— John E Deaton (@JohnEDeaton1) November 14, 2022
"If this really, is you tweeting, then you may actually suffer from narcissistic personality disorder and might believe that you aren't going to prison."
Journalist and author Alex Berenson said the tweets could be an act by Bankman-Fried to possibly defend his actions by claiming insanity or that he was under mental duress if he's brought before a court. Another Twitter user claimed that the FTX collapse has drained 19K from his account and that he cannot "eat" or "sleep".
A palpable sentiment of frustration loomed over the unusual messages as Ari Paul, co-founder at BlackTower Capital wrote,
"This wasn't a game for many people. Your embezzling destroyed projects, companies, lives. Most of the industry may be Ponzi's, but not all. You've reduced trust in industry and in the world – peak anti-utilitarianism."
John W, Rich, lased out on the mysterious thread asking for help as he seemed to have invested all of his retirement money in FTX.
Sam where is my money? I invested my entire retirement account into Cumrocket in an FTX Roth IRA account. Please help.

— John W. Rich (Fake Tech Exec) (@Cokedupoptions) November 14, 2022
Meanwhile, Gurgavin Chandhoke, a popular crypto trader, proposed that SBF was looking forward to sending a message to Sam Trabucco, the former CEO of FTX's sister trading firm Alameda Research. Chandhoke said Bankman-Fried possibly attempting to spell "what happened" is allegedly sending a message to Trabucco, pointing to a series of older tweets of Trabucco that say "what happened?" as evidence.
You're either losing your mind or trying to psyops people into thinking you're insane rather than just a drugged up egomaniac comman

Or both pic.twitter.com/X3Jlw9l78O

— ChainLinkGod.eth (@ChainLinkGod) November 15, 2022
Many other users lashed out at the CEO of the fallen crypto exchange venting exasperation. A user asked if SBF was having a schizophrenic break. Another user, jabo38 posted a reply to the strange thread fuming,
"You think this is funny and a joke? People lost money!".