Twitter account Plan B, the creator of the Stock-to-Flow (S2F) model, still believes that Bitcoin will reach $100k by December 2021. On November 8, the analyst has yet again repeated his stance and belief in the model. According to the creator, Bitcoin may even reach $288,000 based on S2F.
At the time of writing, Bitcoin would have to increase 550% to reach $100,000. Furthermore, the market capitalization of the world's leading cryptocurrency would have to reach $2 trillion.
The figure is comparable to some of the largest tech companies, such as Apple. If the S2F model correctly predicts the $100k price point for December 2021, Bitcoin would increase five times compared to its old ATH of $20,000.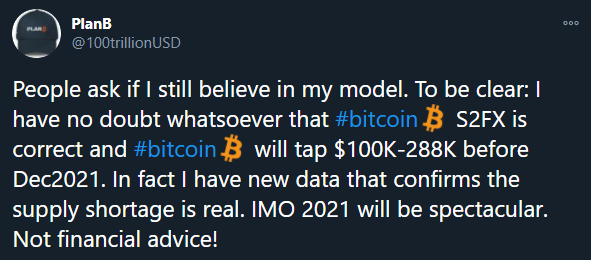 How does the S2F model predict $100k Bitcoin?
S2F is one of the most famous price prediction models for Bitcoin. The model makes its prediction based on the circulating supply. Furthermore, S2F also considers the block rewards that miners receive.
The main theory behind S2F is that the number of newly produced coins decreases over time. Based on the basic laws of supply and demand, the model proposes that the inherent system pushes prices upwards.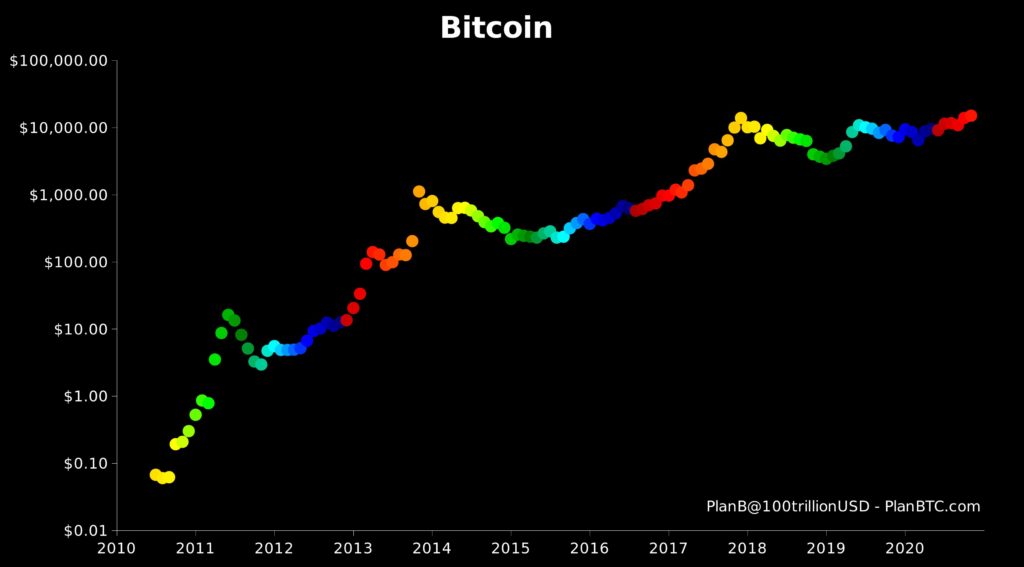 At a market valuation of $5.5 trillion, the original model predicts a price of $288,000 per coin. Specifically, the Medium article which first introduced S2F reads:
"S2FX model estimates a market value of the next BTC phase/cluster (BTC S2F will be 56 in 2020–2024) of $5.5T. This translates into a BTC price (given 19M BTC in 2020–2024) of $288K."
Years later, the creator is still confident that his model will follow up. At the time of writing, Bitcoin attempts once again to flip $16,000 into support after experiencing a mini-crash. 2021 is especially important for Bitcoin as it marks the second year after a new reward halvening.
Last block reward halvening led to 78% rally
On May 11, 2020, block rewards have decreased from 12.5 BTC per block to 6.25 BTC. Historically, a block reward halvening led to a major increase in price. However, the market does not always react instantly.
Since that event, the price of Bitcoin has increased by 78%. The price rallied from $8700 to $15,500 compared to May this year. While some experts remain wary of current price action, believing that it is overextended, bulls are still confident that they will resume dominating the market in the future.
If everything aligns correctly, Bitcoin may have the chance to test its ATH of $20k this year and attempt to push beyond. However, the situation depends on the stability of the global market which may not be able to sustain a third wave of the coronavirus and the second wave of lockdown measures.
---
If you found this article interesting, here you can find more Bitcoin news