The cryptocurrency market appears to be recovering from its recent decline, with certain coins posting increases that are higher than the market average.
Despite a roller-coaster ride of steep ascents and drops prompted by news events, including the economic impact from Russia's invasion of Ukraine and the widely expected decision by the US central bank to hike interest rates, Bitcoin was well into the green over the past 24 hours.
Another Hope for the Market
Early Wednesday morning (UTC time), the largest cryptocurrency by market size shot beyond the psychologically significant milestone of $40,000, then climbed past $41,000 in a 90-minute period. The cause of the sharp rise remained unknown, though some market observers believe it was linked to China's pledge to support its real estate and tech industries, a move that calmed investors who had been fleeing the stock market in droves following a regulatory crackdown and a recent slowdown in the country's storied economic growth.
Bitcoin was changing hands around $41,000, up roughly 4%, after falling below $40,000 on two occasions during Asian and US trading hours, according to CoinMarketCap. Ether was trading at about $2,800, up around 6%. Over the last 24 hours, most major cryptocurrencies have gained momentum.
Politics has an impact on the market as well. President Volodymyr Zelenskyy of Ukraine signed a measure legalizing cryptocurrency into law. Ukraine has been relying on a slew of digital asset donations to fund its fight against the Russian invasion. Zelenskyy encouraged the US Congress to provide more support and strengthen sanctions against Russia in an impassioned speech delivered virtually.
In the last 24 hours, RUNE has been among the top gainers, maintaining a nine-day rise with only two red days. The coin has gained more than 14% in the last 24 hours, indicating that the rise is still going strong. RUNE is now selling at around $8.3, far away from its all-time high of $22 set in May 2021.
CELO, the market's second big gainer, jumped 56 percent but then began to fall in price. It's currently trading at $3.0, and a 3x increase is required to reach the ATH of $11. The coin's all-time high occurred in August 2021.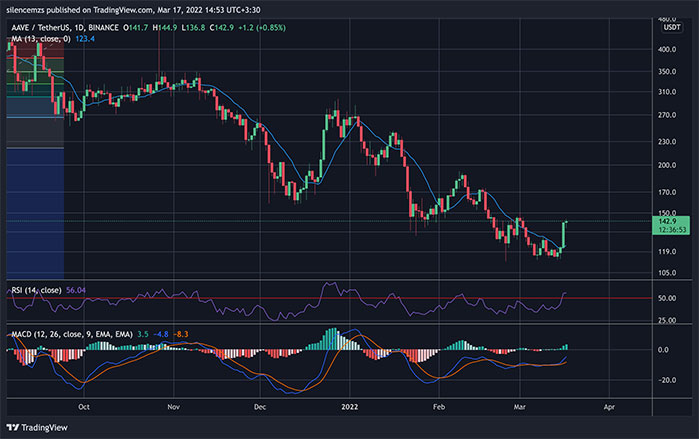 AAve has been one of the top gainers in the last 24 hours, despite being in a dire downturn and far from the ATH $664. The coin has gained more than 14% in value and is now selling at $142.8.
As previously said, despite all of the gains and price increases in various coins, the market is still lacking in the positive patterns required for new chart ATHs. However, the indications may come together after some time, resulting in another market green season.