According to our analyst's Ripple Technical Price Analysis, technically, XRP is on a bear run but though it's hard to figure out a bottoming market, any convincing thrust above 55 cents would definitely usher in buyers aiming for 70 cents if not $1.
This projection isn't far-fetched nor ambitious. Historically, fundamentals often precede movement in price.
Currently these two are diverging but once they positively correlate, XRP might end up soaring and reversing the last eight month's losses.
XRP Fundamentals
Judging from recent events, market participants and liquidity providers are playing a different ball game.
After the over-hyped CME and CBoE launch of Bitcoin Futures flopped, the cryptocurrency Futures market failed to gain traction and with SEC keen on carrying out their mandate, there were–and still are–a lot of regulatory obstacles preventing rash implementations.
Nonetheless, Crypto Facilities—a trading platform that is regulated by UK's Financial Conduct Authority appears to be changing the narrative and want to set a new precedence availing XRP futures for their customers.
Through a Tweet, the cryptocurrency trading platform said they shall avail perpetual Futures market for XRP/USD and a Vanilla option for XRP/BTC with all settlements done in cash as they won't be providing any form of "ware-housing" after settlement.
Besides, all these trades shall be backed by real XRP and available for trading every day of the week. Undoubtedly, the introduction of XRP Futures will temper the coin, stabilize and even increase the overall liquidity which will instead go a long way in boosting XRP's market capitalization and investor confidence.
In the mean time, Thomas Stefan's Coil is ready for closed beta. It must be noted that before resigning and paving the way for David Schwartz promotion, Thomas was the CTO of Ripple, the company and is credited for his innovative InterLedger Protocols (ILPs) which founds Coil.
By design, Coil's main objective is to level the playing field for content creators and by using ILP, content creators/artist would better monetize their work.
Ripple XRP Technical Price Analysis
Weekly Chart – Ripple XRP – Technical Price Analysis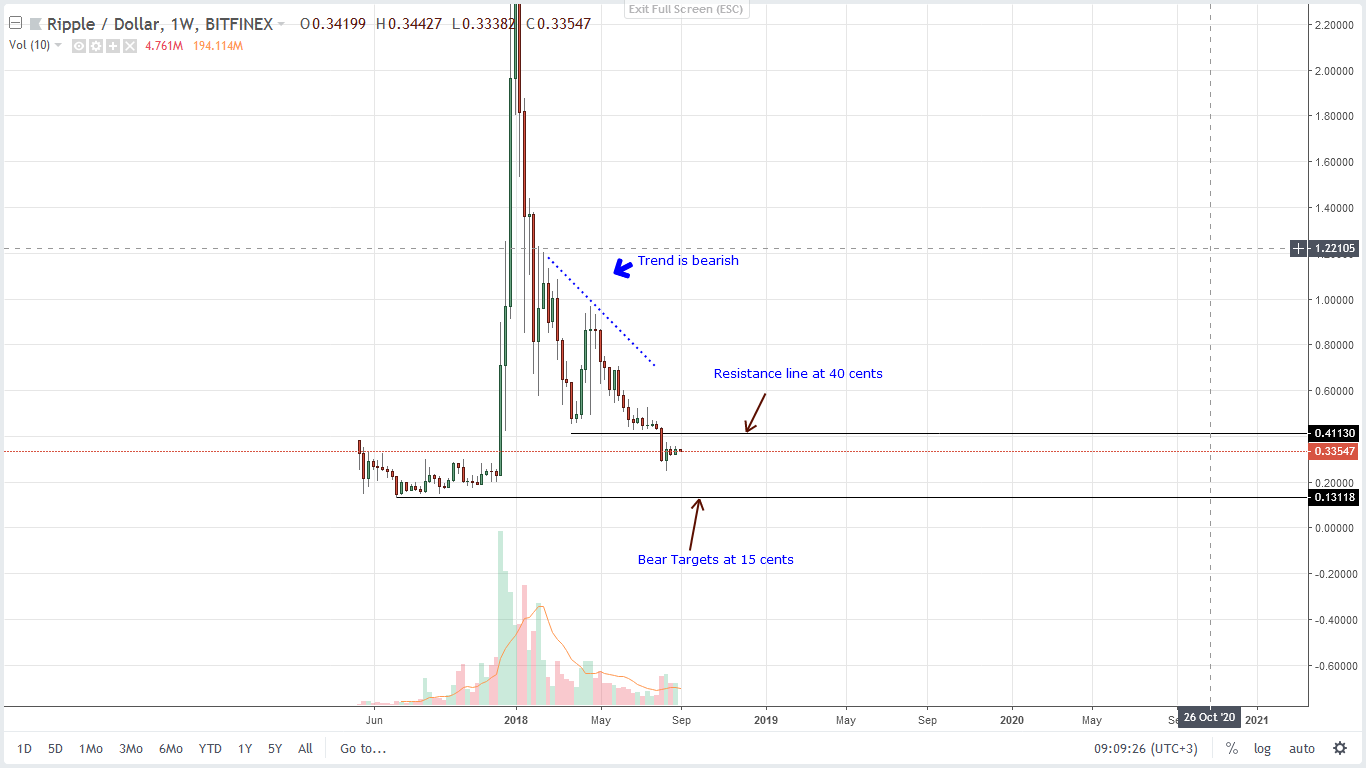 As per our previous XRP trade plan iterations, XRP is technically bearish contrary to the general upbeat environment and recovering BTC prices. From the charts, it is clear to see why.
First, as highlighted before, prices are not only trading below 40 cents—our previous main support and now resistance line but XRP spot prices are below week ending Aug 12 highs.
Secondly, though XRP is up a modest three percent in the last week, prices are stuck in a consolidation with clear floors at 25 cents.
Therefore, from an effort versus result stand point, it's likely that prices might sink lower should this week fail to edge and close above 40 cents and most importantly 55 cents on the upside.
Daily Chart – Ripple XRP – Technical Price Analysis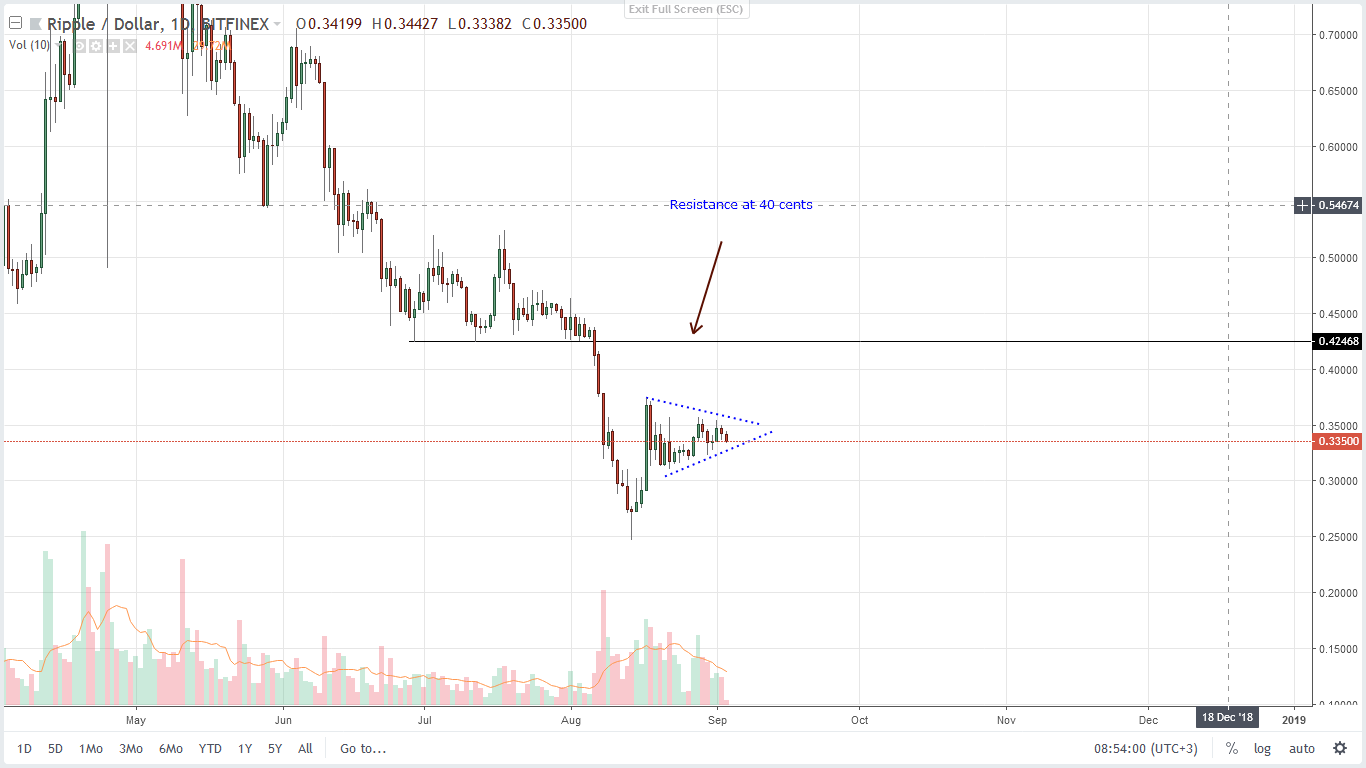 After periods of higher highs, bulls are slowing down and tapering. At the moment, prices are moving inside a bull flag in a generally bearish environment and our trade plan is clear.
Should there be a break out above the resistance trend line and Aug 17 highs at 40 cents, then aggressive traders can begin loading up longs with stops at break out bar lows.
First targets remains at 55 cents, the upper limit of our resistance zone. On the flip side, any dip below Aug 20 lows and 30 cents and odds are sellers will dip towards Aug 14 lows at 25 cents and any surge in bear momentum and XRP might hit our ultimate targets at 15 cents.
Disclaimer: This is not investment advice and views represent those of the author. Do your own Due Diligence before making investment decisions.