Latest Ripple (XRP) News
For Ripple fans, the expansion of xRapid is precisely what they want to see. True, there is the element of nascence, but overly, like every new technology, there is room for expansion and growth. Similar to SWIFT, Ripple wants to offer a solution that will change the way international fund transfer is done.
On its suite, xCurrent is the most dominant while xRapid, activated roughly 11 months ago, is what XRP fans are focused on. Initially, observers deduced that xRapid would be more successful if banks using xCurrent had a way of upgrading, improving on their hardware or configuration and incorporating xRapid.
To that end, they rolled out xCurrent 4.0. However, unexpectedly, few banks are willing to adopt xRapid because of technical and regulatory challenges. David Swartz, the CTO of Ripple Inc said there were "issues" with middleware upgrades preventing risk-averse banks from even trying.
Nonetheless, what's exciting is the recent announcement that Money Gram, the Dallas based global payment processing platform, has activated xRapid. The option, which leverages on XRP as a medium of exchange, was brokered after Ripple Inc purchased MoneyGram shares at a significant premium of $4.10, pumping the latter's shares.
From Q2 Financial Report, MoneyGram said:
The commercial agreement allows MoneyGram to utilize Ripple's xRapid blockchain product, as well as XRP, Ripple's cryptocurrency, to facilitate cross-border settlement. The Company expects that this will reduce working capital needs and have the potential to generate additional earnings and cash flow.
XRP/USD Price Analysis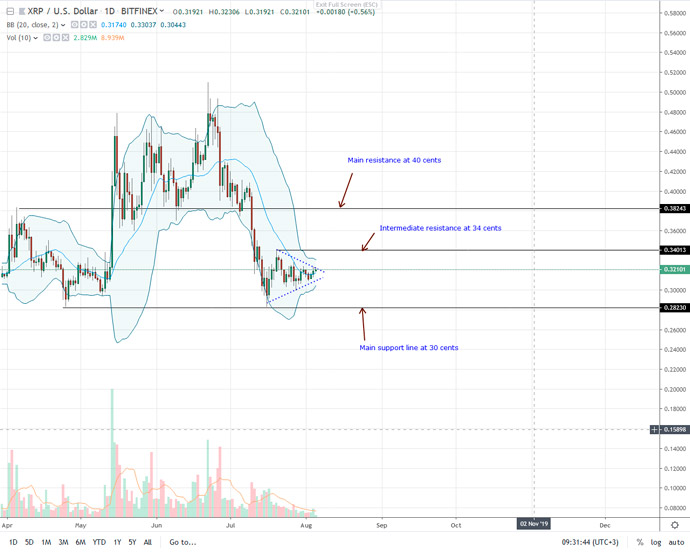 Presently, like BTC, XRP is on an uptrend. Week-to-date, the coin is up 2.5 percent and technically bullish. Buoyed by strong fundamental and technical factors, buyers, as reiterated in previous XRP/USD trade plans, have the upper hand.
As such, every low is technically another buying opportunity with first target at 34 cents and later 40 cents. Although the bear wave might be strong as prices consolidate inside a descending triangle, the simple fact that XRP found support at 30 cents is bullish. The level, which marks Q1 2019 support, is crucial for this trade plan.
Because of this, every low is a buying opportunity. However, for risk-averse traders, clear signals will print once prices edge past 34 cents and even 40 cents at the back of high trading volumes exceeding 50 million of July 10.
If prices edge past 40 cents, then bulls will be aiming at 50 cents and even 80 cents, the highs of Sep 2018. On the flip side, steep losses below 30 cents with similar trading volumes could spur a dump with bears targeting 20 cents or worse.
Chart courtesy of Trading View—Bitfinex
Disclaimer: Views and opinions expressed are those of the author and is not investment advice. Trading of any form involves risk. Do your research.