Public blockchains often activate upgrades/downgrades only after there is consensus. And Ripple is no exception.
There are claims of XRP centralization but good news is that Ripple, the for-profit company that advances the interest of the XRP coin through different solutions, is receptive of decentralization.
Admittedly, they still depend on XRP liquidations to stay afloat and fund projects that build XRP use cases. However, over time, they have visibly reduced their programmatic sales and regardless, the XRP price is still suppressed.
Validators Pass the "Checks" Amendment
From the development front, Ripple now has minority control of validators. And over the weekend, news was that validators—without Ripple support, voted on and adopted a "check" amendment after it passed the 80 percent threshold.
Two validators, rippleitin.nz and Alloy Networks, removed their vetoing votes but still, should it remain this way—and no other validator withdraw their "yea" or vetoing vote, in two weeks the "check" amendment will be activated on the XRPL ledger.
This update will affect subsequent versions of the ledger enabling senders to sign virtual signs transactions and create virtual checks for certain transactions and amounts.
US CPB Confident of Ripple
In other news, the US Consumer Protection Bureau for Finance has named Ripple and XRP alongside SWIFT GPU as game changers in remittance market.
This is in the wake of the Bureau's decision to effect an amendment that will expand some measures listed in the Electronic Fund Transfer Act. These amends are meant to cushion US customers.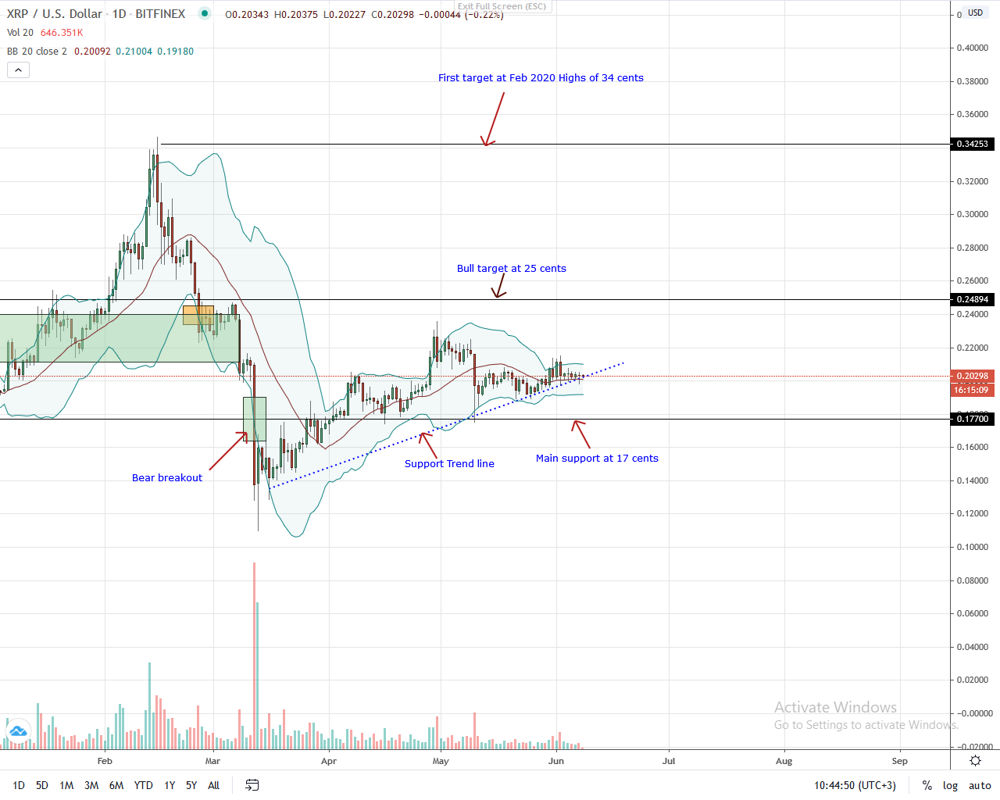 XRP/USD Price Analysis
Price-wise, XRP continues to oscillate against the USD. Week-to-date, the coin remains stable against the BTC and ETH. However, it seems to be under pressure and literally stagnant above the 20 cents level.
Even though the uptrend is clear, prices are tethering close to a main support trend line. Any break below the main support line, $0.197, and June 2, 2020 lows could see prices slide to May 10 lows of around 17 cents confirming the double bar bear reversal pattern of June 1-2, 2020.
Notice that XRP bulls have not been successful in reversing losses of May 10, 2020 and prices are actually trending within the bear candlestick. From an effort versus results point of view, this is bearish and chances for XRP to slide to 17 cents remain high more so if bulls don't thrust XRP past $0.215.
Any close above May 10, 2020 highs and $0.215 accompanied by high trading volumes may consequently pump XRP to $0.234—April 2020 highs, and later $0.25.
---
Disclaimer: This is not investment advice. Opinions expressed here are those of the author and not the view of the publication.