Before starting with our price analysis of Ripple (XRP), we will make a fundamental analysis, with the latest news and news from the platform.
The 2018 SWELL conference was a success and there were nuggets of gold allowing for synthesis and projection of what the future hold. From US president Bill Clinton advocacy for favorable blockchain laws to Brad Garlinghouse, the CEO of Ripple announcing the commercial availability of xRapid, XRP's future is bright.
However, prices are down in the last week and this divergence could further provide a spring board for buyers to add to their long position at spot prices with stops preferably below 45 cents and first targets at $1 and $1.65.
Latest Ripple News
From Gene Sperling, Bill Clinton and a host of other movers and shakers in the global affairs, SWELL event turned out to be a success. Not only did we see Ripple Labs officially partnering with Santander in a move that will see their mobile app OnePay X integrate with the RippleNet but there was a lot of other important details that filtered out.
Most noteworthy was Bill Clinton call for policy makers around the world to draft favorable laws for cryptocurrency and blockchain. Further strengthening the user case of XRP in the global market was the official launch of xRapid. For the better part of this year, xRapid has been under piloting but is now ready to roll out providing a simple cross border payment movement between US, Mexico and Europe.
Cuallix, which was the very first to pilot xRapid allowing their clients to benefit from fast settlement and cost reduction will open up the US—Mexico corridor. To further improve service delivery and user experience, the company shall onboard two of their other payment platforms-Payllix and Cuallet for expedition.
Because of the uncertainty around whether XRP is a security or a utility, Michael Didiuk comments were welcomed by the community. As a former member of the US SEC, his conclusion that XRP is a utility because it doesn't fulfill all the properties of the Howey Test is a breather for the community and investors. He said XRP and Ripple can operate independently eliminating the need of a third party that can influence the price of XRP and profitability.
XRP Price Analysis
Weekly Chart – XRP Price prediction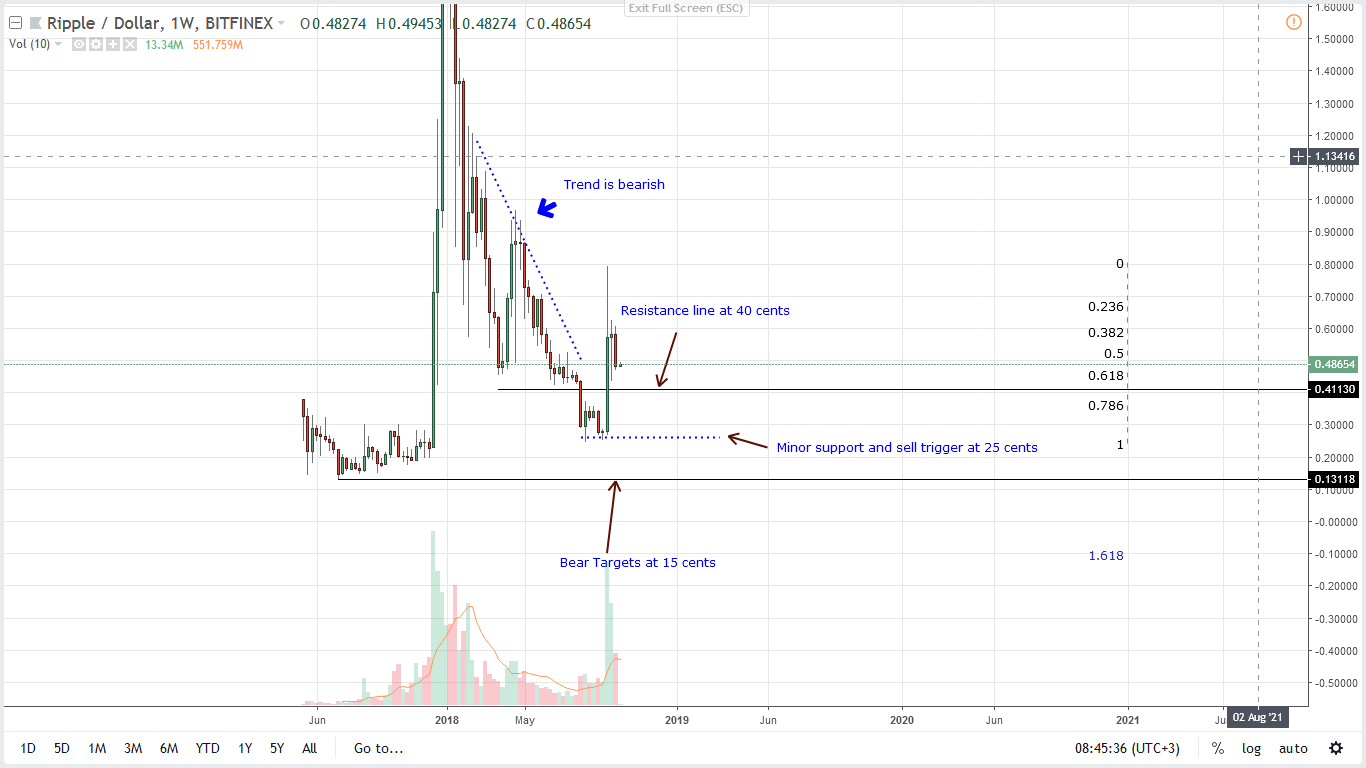 As it is, XRP is down 17 percent in the last week and over a two-week period, prices are down 50 percent from week ending Sep 23 peaks. Though XRP is still oscillating within that trend defining bar and bearish, our last XRP trade plan is valid because these declines were expected. More often than not-and drawing this from historical price movements, periods of high volatility causes some sort of under or over valuation because of the rapidity involved.
As a result, prices tend to consolidate or bull back shortly afterwards as a new equilibrium is sought. Undoubtedly, the same is panning out in this trade pair. Therefore, when we paste a Fibonacci retracement tool between week ending Sep 23 high low we notice that prices are now trending within the 38.2 and 61.8 percent Fibonacci levels.
This buy zone is perfect and we recommend buying at every dip in lower time frames with stops at around 45 cents. Consequently, first bull targets will be at 80 cents and later $1 in line with our last XRP highlights.
Daily Chart – XRP Price prediction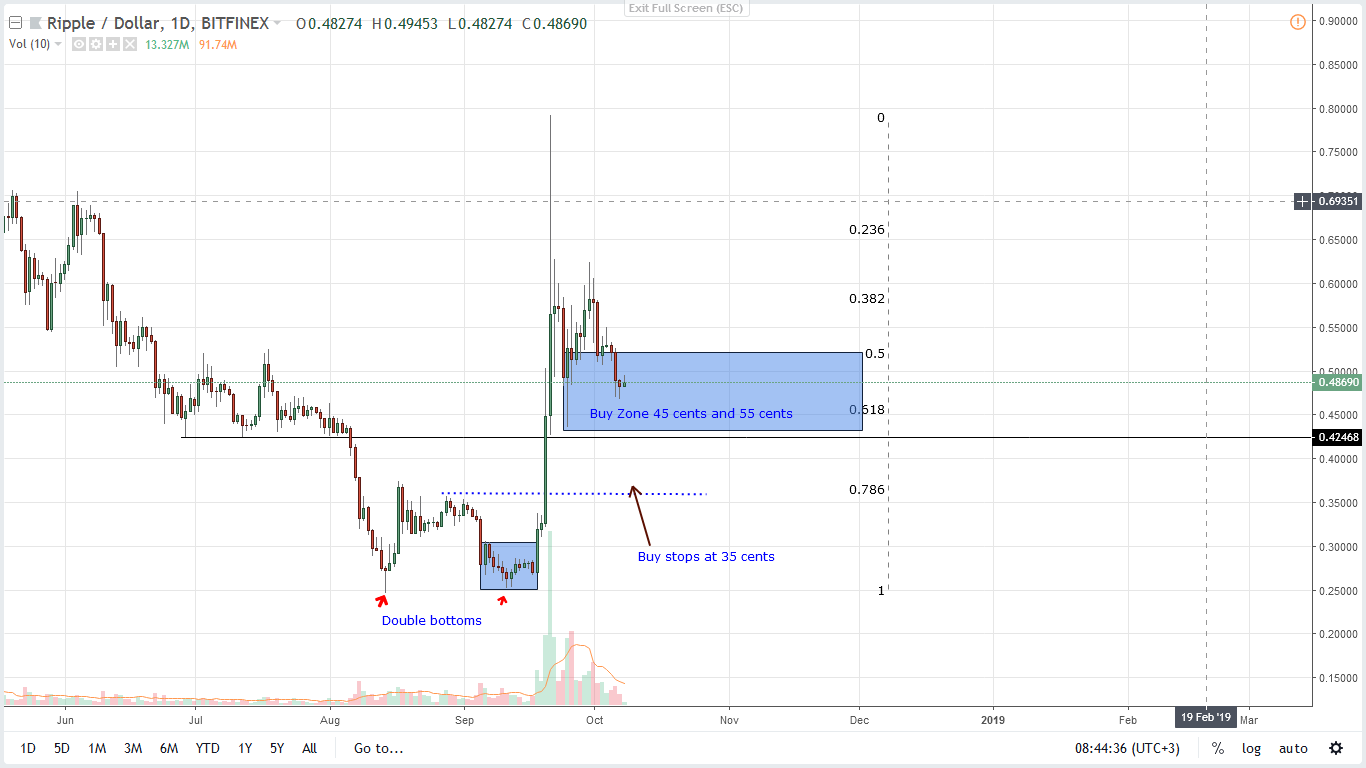 As aforementioned, XRP price declines are clear in the daily chart. Gains and subsequent losses mean sellers have been successful in wiping out more than 50 percent of week ending Sep 23 gains. But, as above, we expect a pull back and at current prices buyers can load up at spot or further refine entries buy ramping up on dips in lower time frames.
On the flip side, conservative traders can wait for this revival to solidify before entering long. From the way candlesticks are aligned, perfect loading zones will be once there are break outs above 50 cents. Thereafter, they can buy on dips with targets at $1 and higher.
Disclaimer: Views and opinions expressed are those of the author and aren't investment advice. Trading of any form involves risk and so do your due diligence before making a trading decision.