RippleNet's Objective
Ripple Inc., may be on a novel path and creating a seamless, inexpensive experience for all. Through its suite of applications, the RippleNet, member banks can share information, and clients of those banks can choose to use the network's option, xRapid to send money, instantly to any corner of the world. Brad Garlinghouse and team may be firm on their goal but that is not to say there are no obstacles.
No, XRP is not a Security
Top of the list is the request and the consequent filing by Ripple legal team for a lawsuit dismissal of a case that alleges that the platform's currency, XRP, is a security. Vehemently denied by Ripple Inc.'s executives on several occasions, the recent request notes that the plaintiff, Bradley Sostack, doesn't have a standing to file for a complaint.
The reason for that is that the three years required by law for filing has elapsed, consequently meaning the statute to repose did expire after 2013, and secondly, Bradley did not plausibly allege that he bought XRP during Ripple's ICO.
XRP is Currency an couldn't be under Securities Law
Even so, it must be noted that Ripple didn't give reasons, defending their position as to why XRP is not a security. In their filing they double-down that XRP is a currency, and couldn't be currency under law.
"Purchasing XRP is not an 'investment' in Ripple; there is no common enterprise between Ripple and XRP purchasers; there was no promise that Ripple would help generate profits for XRP holders; and the XRP Ledger is decentralized."
XRP/USD Price Analysis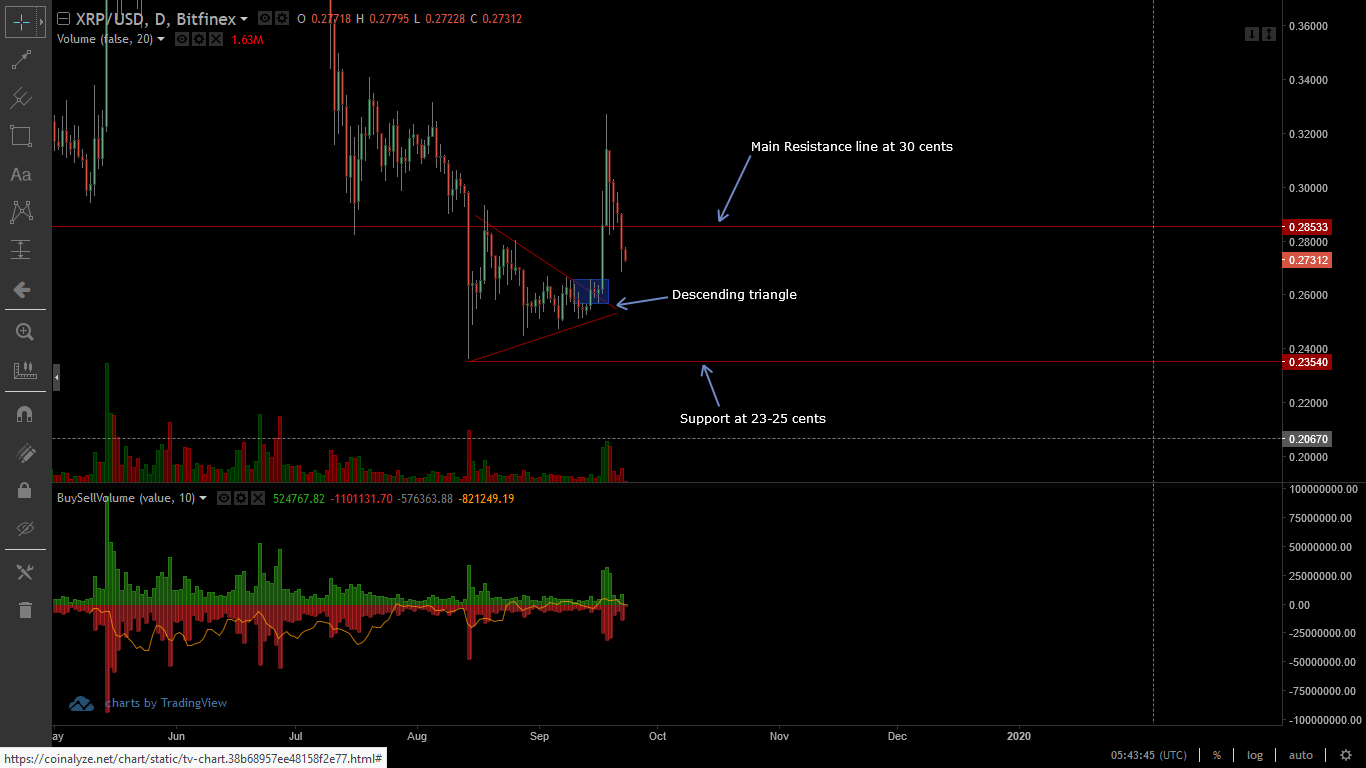 From the chart, XRP bulls are back. By registering gains against the USD-2.67%, and BTC-5.93%, in the last week, the path of least resistance is northwards. A couple of candlestick arrangement and technical indicators support this overview.
Although prices are still oscillating below the main resistance, previous support level at 30 cents, the uptick of trading volumes from mid-last week and the subsequent failure of sellers to wipe gains of Sep 17 and 18, is bullish from an effort versus results point of view.
Notably, the decline of prices from Friday through to Sunday-Sep 22, was with low participation relative to Sep 18 bull bar. This suggests that buyers have an upper hand.
Building on this position, there could be a chance for traders to buy the dips with stops at 26 cents or at lows of Sep 17 bull bar.
Alternatively, risk-on, conservative traders can wait until prices close above 30 cents in a trend continuation phase. In such a scenario, first target could be 34 cents and later 40 cents.
Chart courtesy of Coinalyze
Disclaimer: Views and opinions expressed are those of the author and is not investment advice. Trading of any form involves risk.  Do your research.