Latest Ripple [XRP] News
Clearly, for blockchain projects to be successful then not only must they find use but also provide solution. At the moment, the world of remittance is saturated. While the market grows and people in diaspora send monies to their loved ones in developing economies, traditional systems are reaping maximum benefits.
However, the entry of global and cheap platforms as Ripple is proving to be a game changer. Promising low fees and near instantaneous transactions, Ripple's solutions as xRapid will cut down latency improving user experience. Already, a couple of banks and financial institutions are seeing benefit in the solution.
Nonetheless, some are not truly convinced and waiting for regulatory confirmation before delving and experimenting on this option. Of the many, Brazil's Ramessa Online are very overt and wants guidance especially on regulation.
Meanwhile, xCurrent is driving Ripple to new levels. Not only does it highlight the benefits of end to end tracking of transactions, but there is a real possibility that several banks will upgrade to the latest version which have an option for these banks to use xRapid. Ideal as it may seem, technical factors are complicating matters.
Presently, Spain's Santander via OnePay FX is expanding to new territories with eyes on Poland. Informing his followers through a screen shot, Marcus Treacher, the Senior Vice President of Customer Success, said he was happy to see the new payment channel go live.
XRP/USD Price Analysis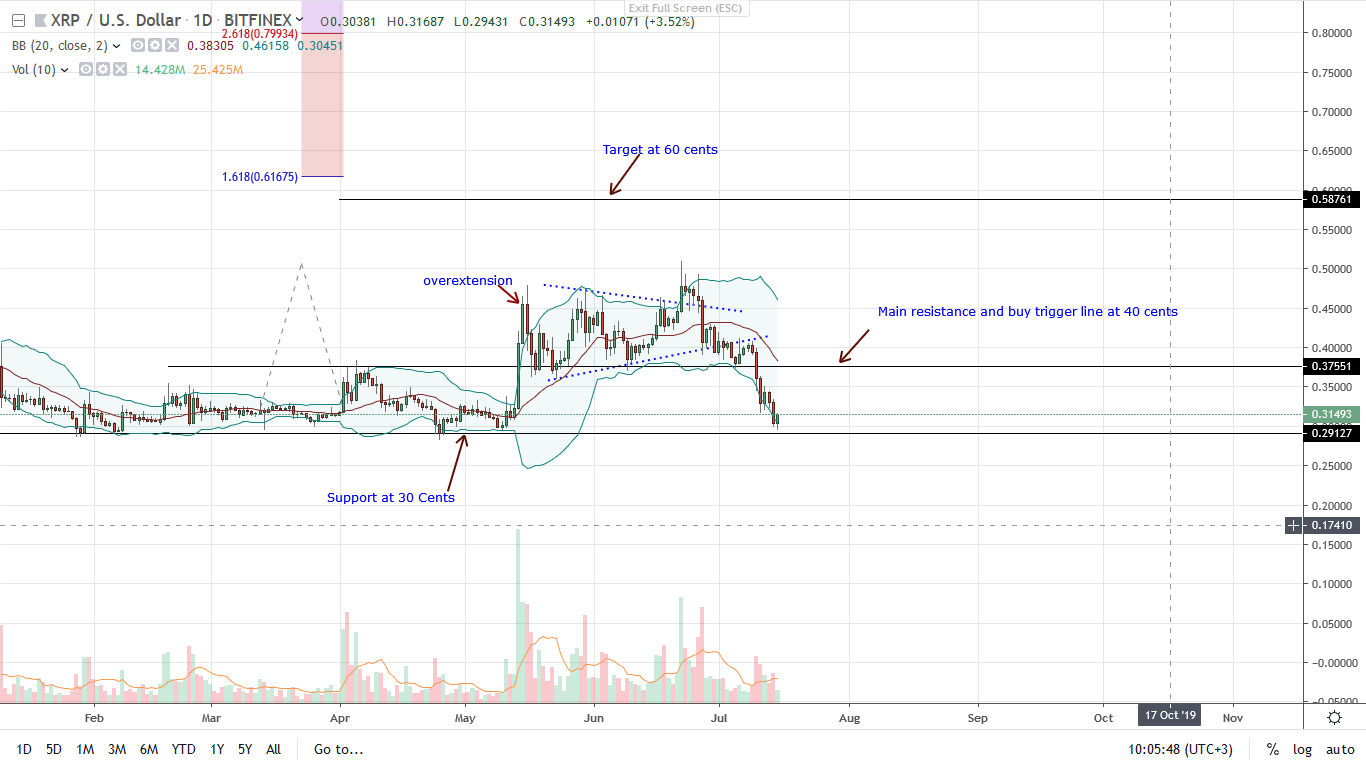 At the time of press, XRP is under pressure. Printing double digit losses in the last week and down 5.2 percent in 25 hours, sellers are firmly in charge. Weekend losses saw prices retest the main support line at 30 cents in a retest. If anything, this is crucial as far as XRP price action is concerned.
For trend continuation, mirroring May 2019 resuscitation, it is vital that bulls flow back preventing further degradation. As reiterated in previous XRP/USD trade plans, any losses below 30 cent-which doubles up as Q1 2019 main support, could see XRP drop to 25 cents and even to 18 cents.
On a more positive outlook, any divergence away from the lower Bollinger Band (BB) will hint of a slow down in momentum and a possible support at 30 cents. Assuming today's bar ends up bullish, rejecting lower prices, odds are XRP will print higher.
In that case, every low will be another entry opportunity for buyers aiming at 40 cents as XRP enters another consolidation phase since the bottoms of Dec 2018.
Chart courtesy of TradingView—Bitfinex
Disclaimer: Views and opinions expressed are those of the author and aren't investment advice. Trading of any form involves risk and so do your due diligence before making a trading decision.