Ripple Inc., the technology, for-profit company behind RippleNet and On Demand Liquidity (ODL), will always be on the cross hairs of critics and XRP token holders.
How the $10 billion company handles their XRP stash spark debate. Critics have it that Ripple as a network is centralized.
However, Ripple Inc. executives are adamant that the tech company that seeks to reduce and eliminate barriers of global remittance is decentralized, more than Bitcoin whose miners are concentrated in China.
Ripple Decentralization Strategy
Perhaps as a demonstration, they embarked on a decentralization program where they promised to send 1 billion XRP coins to an escrow account every month to incentivize market makers and to "certainty of XRP supply at any given time".
Before then, Ripple Inc. used to sell $300 million worth of XRP every month for expansion and other processes. Then, in a blog post, they said:
"We use Escrow to establish 55 contracts of 1 billion XRP each that will expire on the first day of every month from months 0 to 54. As each contract expires, the XRP will become available for Ripple's use. You can expect us to continue to use XRP for incentives to market makers who offer tighter spreads for payments and selling XRP to institutional purchaser."
Ripple has now released 1 billion, or $192 million worth of XRP from their escrow account.
XRP/USD Price Analysis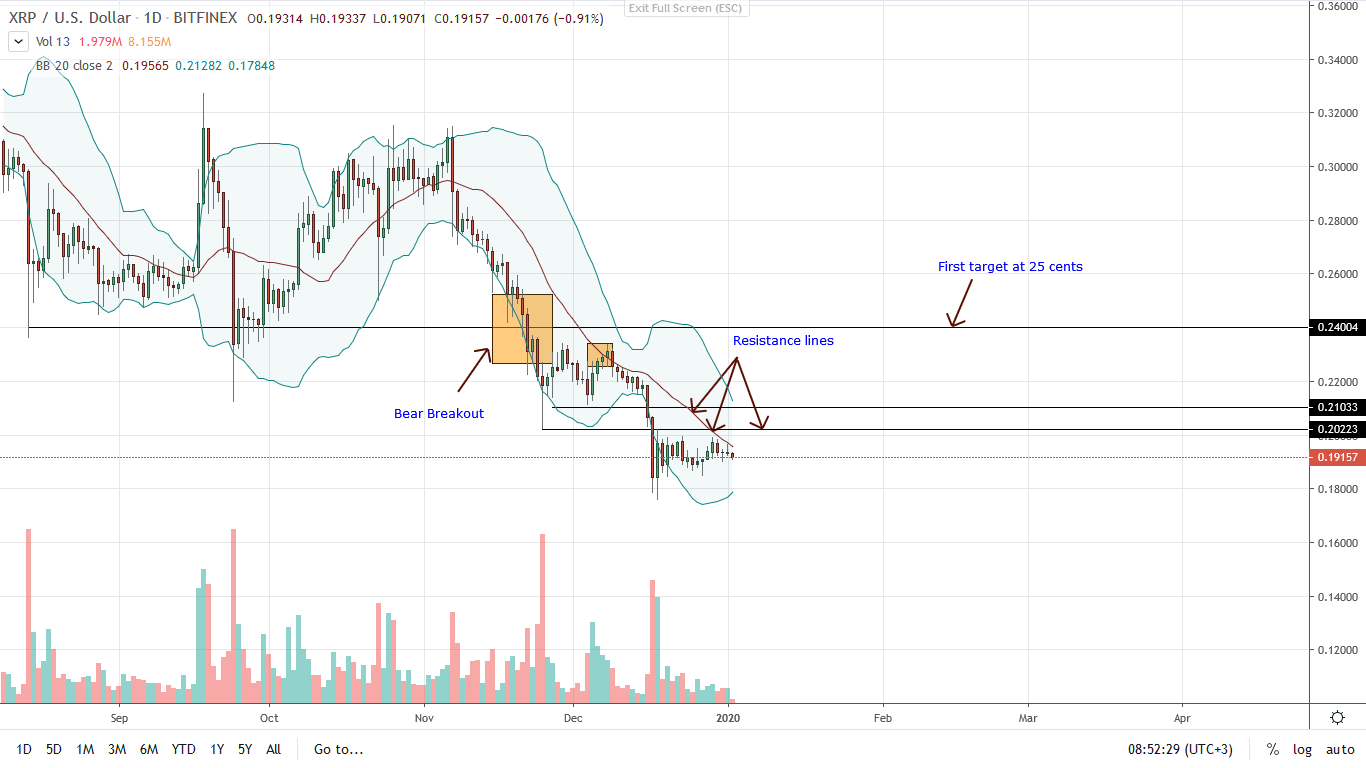 XRP losses against BTC and USD is pronounced year-to-date. Confidence can be drawn from candlestick arrangement.
Foremost, prices are consolidating-and they have been stuck in range mode for the last week or so. Dec 17 bear candlestick seemed to mark the end of a bear leg. Reason is that despite being a conspicuous bear bar with high trading volumes, it wasn't confirmed.
Instead, the bull bar of Dec 18 was bullish with comparatively high participation. Bears are yet to press lower and as prices range inside Dec 17-18 trade range, traders may consider pausing until when prices rally past the 20-day MA and 21 cents as bulls flow back, reversing losses of Dec 17, or when prices sink below Dec 2019 lows of 17 cents in a bear trend continuation.
Before then, patience is key. If prices find support and rally past 21 cents, XRP could lift off to 25 cents and even 30 cents by the end of Q1 2020. On the flip side, losses below 17 cents may spur losses towards 10 cents or worse.
Chart courtesy of Trading View-Bitfinex
Disclaimer: Views and opinions expressed are those of the author and is not investment advice. Trading of any form involves risk.  Do your research.