Latest Ripple (XRP) News
June will be a significant month that cryptocurrency enthusiasts will have to mark. It is the time when cryptocurrencies were approved and stamped by Wall Street. Limitedly dabbling with cryptocurrency as caution prevailed, the entry of Facebook together with other mainstream companies in Visa and PayPal is a show of intent.
With Facebook, more than 1.7 billion users will now have a chance to send money freely from a dashboard they are so used to. Through Messenger and WhatsApp, the tech company are rolling out a stablecoin that analysts say could threaten banks as well as Ripple, a startup that wants to create a platform for banks.
While Brad Garlinghouse is bullish on Bitcoin saying he is invested in the world's most valuable coin and expect the asset to rally, he his unexpectedly jubilant of David Marcus of Facebook. Nonetheless, it will be until next year when Libra will be launched.
Before then, Ripple is working overtime to fortify their turf. Keen on showing the world the benefits of xRapid, a solution that use XRP as a medium of exchange, the investment in MoneyGram is a commitment.
By collaborating with a money transfer stalwart in need of some competitive upgrades, the remittance world is aware of the option and most importantly XRP. Besides, Western Union will continue with their piloting and if everything comes to pass, XRP investors stand to benefit as the demand for the asset spikes.
XRP/USD Technical Analysis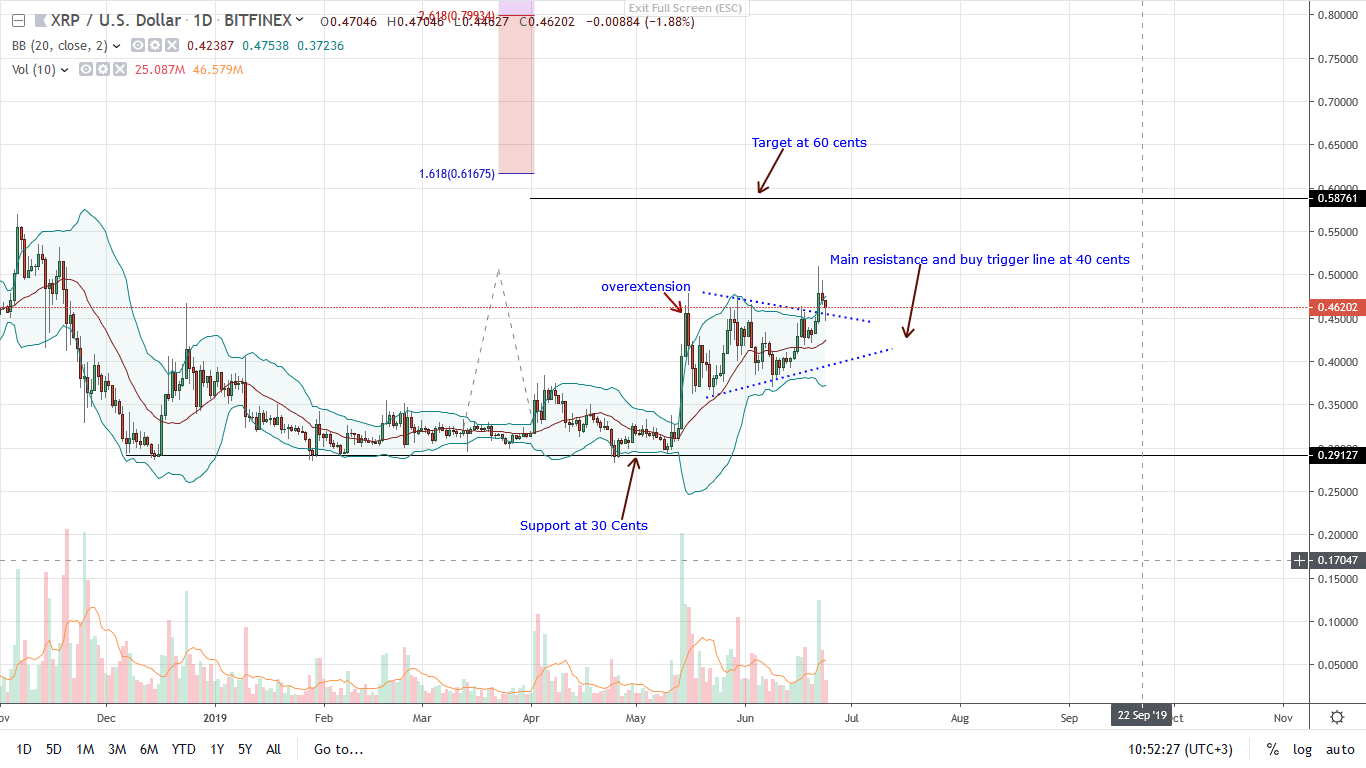 Presently, XRP is trading 8.3 percent higher than last week's close. Overly, that is bullish and is the basis from where buyers will enter the market, building the necessary momentum required for XRP to lift off above 50 cents. Technically, buyers are in control.
In a bull flag constricted within May 2019 high low, there is a chance for more upsides. Notice that there is an unconfirmed breakout thanks to June 22 uptick. By closing above the upper Bollinger Bands, XRP was temporarily over-valued and the resulting correction saw prices dip in an equilibrium.
However, with today's long lower wick signaling support in lower time frames, aggressive traders can buy the dips while aiming at 60 cents or 80 cents more so if the confirming bar is at the back of high trading volumes exceeding 113 million of June 22.
Once there is a breakout above 50 cents, traders can enter with targets as aforementioned as buyers of Mid-May 2019 flow back as Sep 2018 main trend resumes.
Chart courtesy of TradingView—BitFinex
Disclaimer: Views and opinions expressed are those of the author and aren't investment advice. Trading of any form involves risk and so do your due diligence before making a trading decision.