Latest Ripple [XRP] News
Behind blockchain is the power to disrupt the status quo. Promising transparency, speed and efficiency, blockchain proponents are adamant that the technology is the future. There are tons of evidence to support this overview.
While Bitcoin has been around for roughly 11 years and solving one of the perhaps infinite use cases that can be built on top of the distributed ledger tech, Ripple and other alternatives are far from dislodging or in crypto terms flippen, the most valuable coin from its mantle.
Made worse by the hype element and the low adoption rates when prices tank, the head of social impact at Ripple, Ken Weber is calling on universities to expand their courses to include blockchain and digital asset causes more so touching on the role they play in the industry.
In an interview with OpenAccessGovernment that was published on Aug 22, the crypto leader highlighted the impediment on total adoption and the lack of blockchain work force:
"A large part of the issue is that companies need two types of blockchain professionals. Firstly, they need engineers who possess a deep understanding of the technologies and can implement changes immediately. Secondly, they need to fill non-technical roles with senior employees who can make decisions involving the application of blockchain to business objectives. To do this, however, these employees need a working knowledge of the technology."
XRP/USD Price Analysis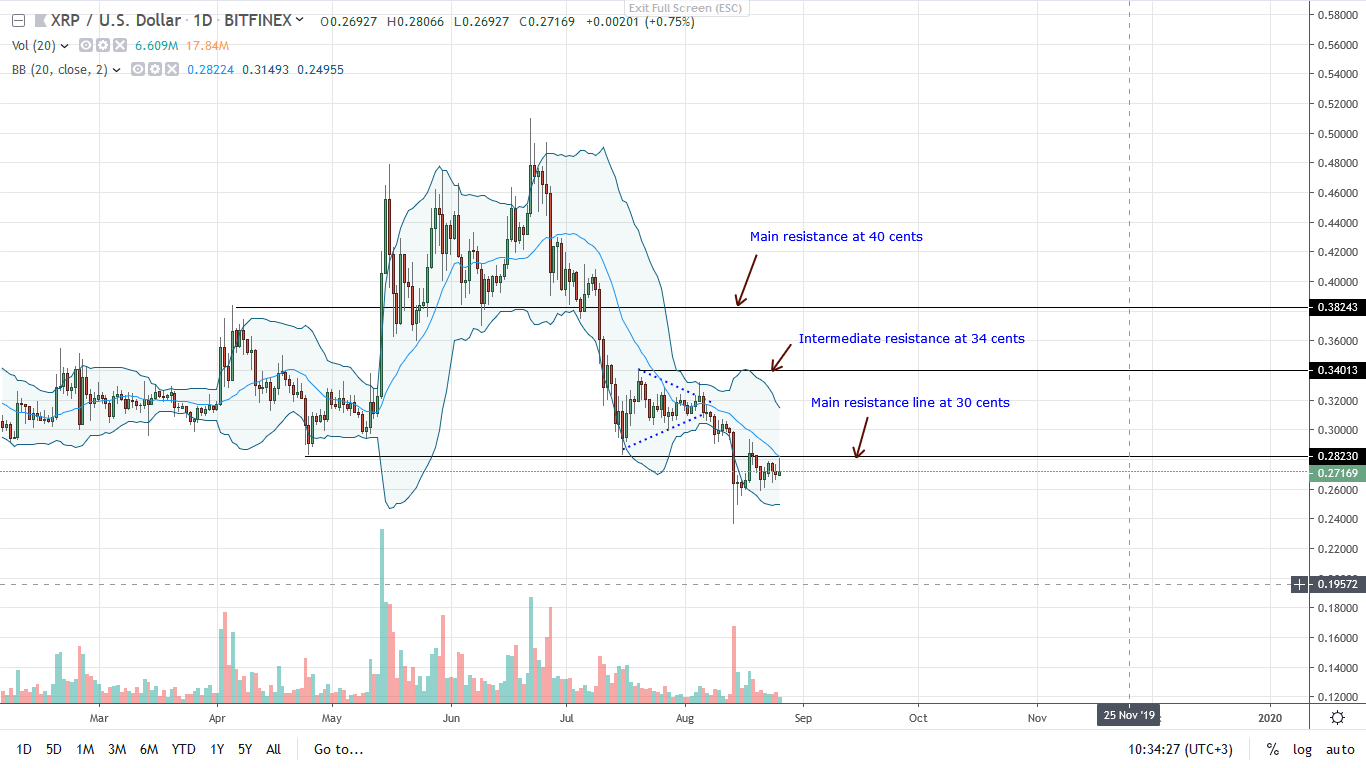 Controlling 4.3 percent of the total market share, XRP is down 3.6 percent in the last week. Albeit the bullish signals and support in smaller time frames in the last few days, bears are in control. With a conspicuous bear bar closing below the main support level at 30 cents accompanied by high trading volumes, the path of least resistance is southwards.
Therefore, in light of the above, every high is technically a selling opportunity with the first target at 17 cents. The only time this preview will be null is if prices rally, reversing sharp losses of Aug 14, the anchor bar. Ideally, behind the resurgence should be high participation exceeding 82 million.
If that happens, then the bar would effectively be the "spring", and from an effort versus result point of view, will precipitate a wave of higher highs towards and above 34 cents. In that case, there will be ample opportunity for traders to buy the dips while angling at 40 cents and 50 cents in days ahead.
However, as it is, bears are in charge, and if there is resistance at 30 cents and the 20-day moving average marked by the middle BB, odds are XRP will slide to 17 cents as aforementioned.
Chart courtesy of TradingView—Bitfinex
Disclaimer: Views and opinions expressed are those of the author and is not investment advice. Trading of any form involves risk.  Do your research.