Ripple as a company is firm.
The lights are cast on XRP, the priming currency whose creators released to breathe life into the boring traditional finance sector, which had failed to innovate for over three decades.
Forcing innovation in the Understandably Rigid Banking Sector
SWIFT is the main innovation of the expectedly rigid banking sector.
This protective mechanism could be by design considering its vital role in stabilizing the global economy.
A mega disruption as evident during the Great Financial Crisis (GFC) of 2008 and 2009 could easily see some economies spiral down, pulling the markets with it.
For their ambition, it has never been easy for Ripple.
The old guard won't want disruption and, most importantly, being put out of business by community-inclining innovations which cryptocurrencies present.
Utility currencies like XRP are the main force and continue to force change.
Applications leveraging on On-Demand Liquidity (ODL) can send funds across borders, promising immediate settlement and a fraction of the cost of what was previously charged.
A Bullish Case for XRP
That's why the ongoing Ripple-SEC case is being closely watched, as it could be consequential to the entire space.
While XRP might receive the required clarity, the shifty nature of the SEC—whose position on Bitcoin—thus far is at least clear, could after ETH (and the entire DeFi and NFTs market), once a settlement is reached. It is why one vocal Ripple support is adamant that the XRP coin is underpriced at spot rates.
2) an Altcoin Bull Market 📈 causing #XRP to surpass its all time high (for example, hitting $5 dollars or higher).

Ripple owns over 50 billion #XRP. A $5 XRP equals Ripple being worth $250 billion dollars – significantly more valuable than @MorganStanley or @GoldmanSachs.

— John E Deaton (@JohnEDeaton1) December 7, 2021
A favorable settlement could build a mega bullish case for XRP—expanding by several folds from spot rates, even to $5—or better.
Ripple Price Analysis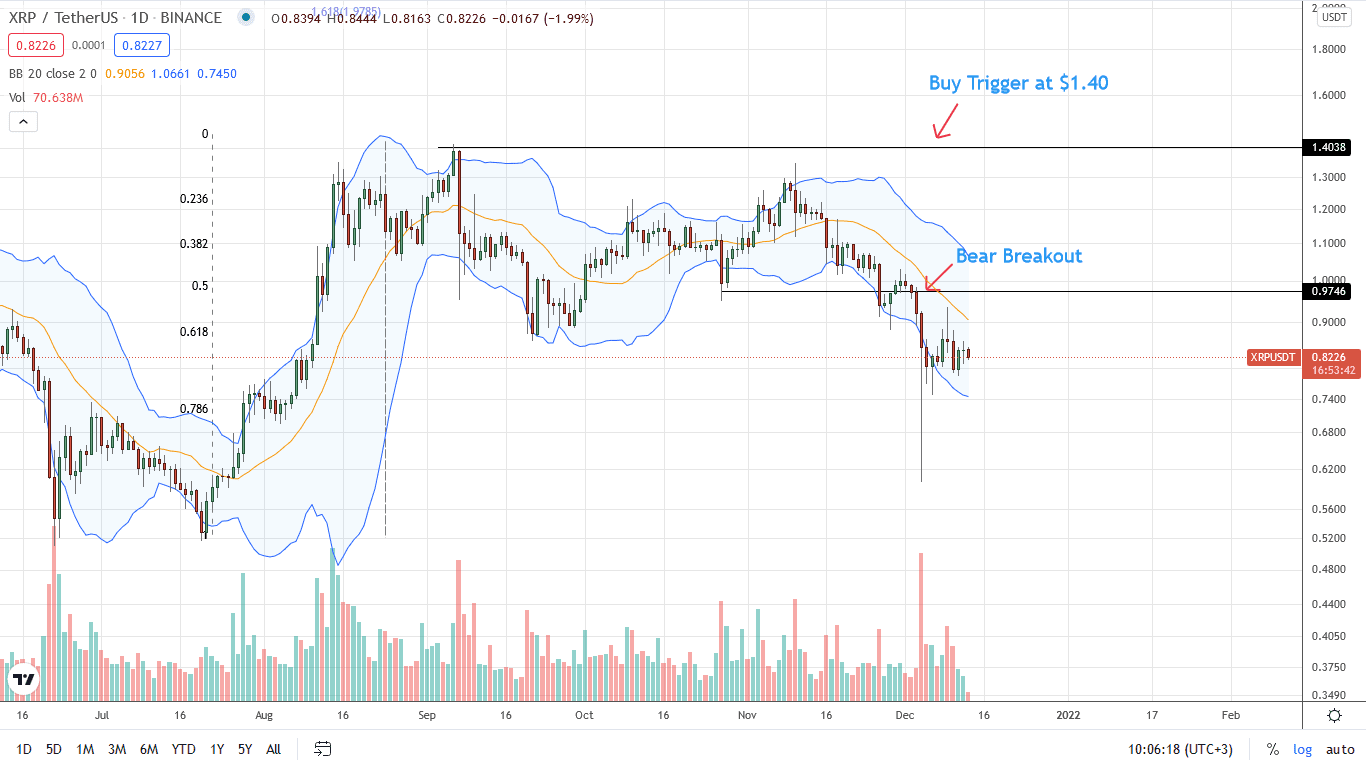 The XRP price is down 40 percent from H2 2021 highs when writing. Although the community is bullish, this sentiment isn't translating to a rally, at least per the development in the daily chart. Currently, XRP/USDT prices are stuck in a sideways movement, with caps at $1 and $0.75 to $0.80 on the lower end.
For all there is, XRP/USDT prices are within the trend defining December 4 bear candlestick. There have been rejections of lower lows. However, the inability of Ripple bulls to build on gains of last week and soar above $1 is negative.
As such, the primary trend is bearish from a volume analysis perspective. The only invalidating move would be a move higher above $1, reversing the weakness of December 4 and realigning price action with the primary trend.
Technical charts courtesy of Trading View
Disclaimer: Opinions expressed are not investment advice. Do your research.
---
If you found this article interesting, here you can find more Ethereum News